Where to Shop in Seoul: Luxury Clothes, Electronics, and Cosmetics – The 5 Star Luxury Hotel Community
5 min read
In destinations like Korea, where there are four distinct seasons, weather conditions play an important role in travel. Snowy and rainy days, sweltering heat, and cold weather can cause various inconveniences.
However, the whims of nature will not stop you if you go to the underground world of shopping malls in Korea. In this article, we will tell you about places to shop when in Seoul.
Thanks to convenient connections to subway stations, it is easy to get back and forth. Let's dive in!
Luxury shopping
Lotte World Mall
Lotte World Mall, part of the Lotte World Tower, aims to be the best and largest luxury department store. A place where you can experience the latest trends in fashion and high-end lifestyle.
There are several entertainment options, including luxury shopping areas for international goods, the city's largest aquarium, movie theaters, Lotte Mart, Hi Mart, Hallyu Mall Star Avenue, beauty salons, spas, and more.
You can spend an entire day here and still not have time to enjoy all the great shopping, dining, and entertainment that Lotte World Mall offers.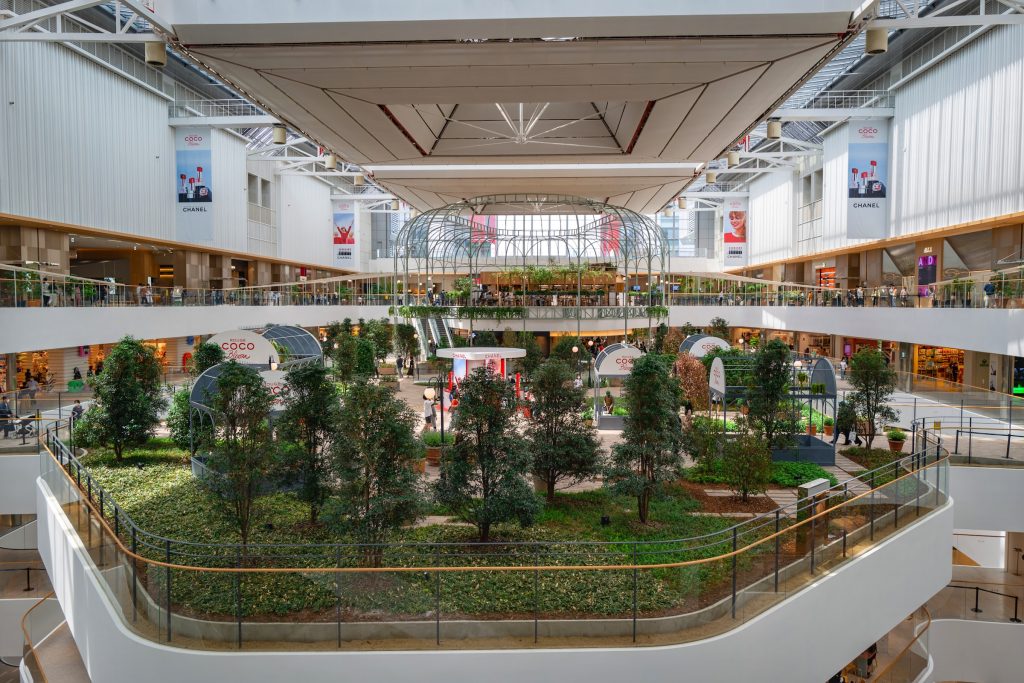 Hyundai Department Store
This flagship store first opened its doors in 1985 and has been a pioneer in the luxury shopping culture in Korea ever since. It is known for its beautiful merchandise and exceptional customer service. Plus – the surroundings are gorgeous too!
Outlet stores
All shopaholics will enjoy the huge outing shops in Seoul. Local shopping malls like Yeoju Premium Outlet and Paju Premium Outlets offer things from Armani and Burberry, Diesel and Dolce Gabbana, Gucci and Hugo Boss, Adidas and Nike, Ferragamo, Valentino, and more.
Mario Outlet and Lotte Seoul Station, outlet stores near Seoul, can help you save up to 25-60% on clothes and shoes.
Pay attention! Twice a year – in winter and summer – the city holds grand sales. Such shopping in Seoul allows you to save about 80% on purchasing coveted branded goods and up to 50% on the services of local cafes and restaurants.
If you are planning a trip to Korea, check when this year's big sales and shopping festivals are scheduled.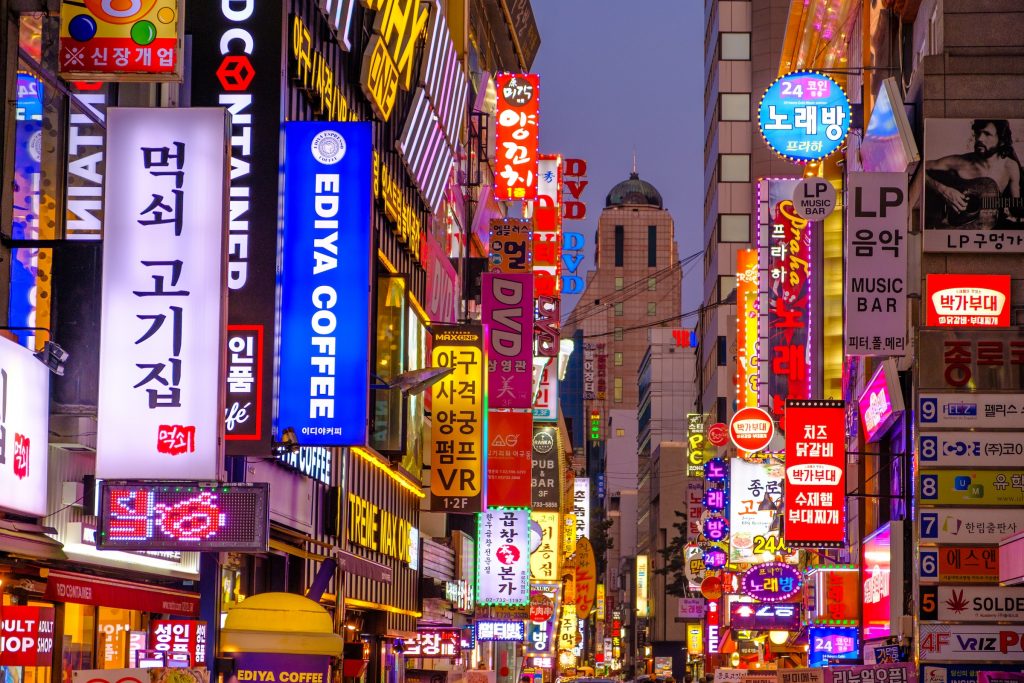 Clothing and shoes
Korean fashion differs from European. Here you will see loose or slightly fitted silhouettes, always high-quality fabrics, and eye-catching jewelry.
Seoul has quite high prices for clothes, but the range is much more interesting. In addition to the mass market, there are many local designers here. For the price of Zara or Massimo Dutti, you can often get a unique, high-quality designer item.
Clothing sizes in South Korea are given in centimeters, shoe sizes – in millimeters, and only the waist circumference – in inches. For your convenience, print out a table with all the sizes and carry it with you.
Most popular brands in Seoul
There are countless clothing brands in Seoul, with stores concentrated in popular shopping districts and malls. Some of the more interesting ones include:
Ader Error – casual clothing made of quality denim featuring minimalist designs and sporty cuts, lots of funny inscriptions, and prints.
Eye Eye offers clothing in the style of the 90s, which is coming back into fashion again. Here you will see checkered cardigans and sundresses, suede jackets and miniskirts of acid colors, bomber jackets, sweatshirts, and sundresses.
Thisisneverthat is another Korean designer inspired by the 90s era. This brand is very popular with local rappers. Expect baggy pants, bright minis, lots of sportswear with large prints, and flannel shirts.
IISE is a great example of traditional Korean fashion – bright sportswear, oversized shorts with reflective strips, nylon bomber jackets, tunics oversize, etc. Originally, it focused on menswear, but since women love it just as much, it has become a unisex brand.
Diagonal – a place to find women's clothing. Blouses with voluminous shoulders. Also, cotton shorts and skirts, pants with flounces, a lot of knitted summer clothes, dresses with lacing, open shoulders, and other clothes in the romantic style.
Almost all Korean designers have excellent leather goods – bags, accessories, and outerwear. The leather will be rougher but always high quality and natural.
Cosmetics
Wish to learn more about Korean beauty? The country's cosmetics are appreciated almost all over the world because they really do work. What is great, they are relatively inexpensive, so you won't have to spend a fortune to treat yourself to good products.
In Asian countries, the concepts of health and beauty are inextricably linked, so all the ingredients are environmentally friendly. The composition is mostly natural and organic.
This applies even to the most expensive cosmetics. The only difference is the concentration of the beneficial substances. Korean luxury cosmetics contain rare and costly ingredients such as algae extracts or natural pearl particles, but you'll find good products in any price range.
The most popular ingredient is snail mud. Aloe vera gel, snake venom, ginseng, and pearl powder are also commonly used in Korean cosmetology.
Where can you buy cosmetics in Seoul?
If you wish to buy products like disposable tissue masks, snail moisturizers, and scalp peels,  you'll find them in most brands. Pay special attention to the following companies:
Mizon – this brand has excelled in creating cosmetic products based on snail slime, like their Snail Repair Perfect cream, which visibly tightens skin and makes fine lines and wrinkles invisible.
Tony Moly is another popular Korean brand. Make sure to try the Tomatox White Magic mask, which cleanses and whitens the skin, the Egg Pore egg with activated charcoal, as well as disposable cloth masks, including those with red wine extract.
Missha – the company is famous for its regenerating night mask Super Aqua, which, of course, includes snail slime.
Erborian is a brand that has combined the best of Asian and European beauty traditions. The Au Ginseng serum is worth special attention, as well as a collection of CC creams.

Electronics and appliances
Wish to get your hands on electronic goods? In Seoul, people usually go to Yongsan Electronics Market. This is the largest electronics market in the area, which occupies an entire city block and several dozen buildings.
Here you can buy computers, accessories, all kinds of equipment, household appliances, and software not only from Korea but also from Japan and China.
Seoul's best shopping malls attract shoppers from all over the world, making them famous tourist destinations.
These malls also include a number of entertainment venues, such as museums, theaters, and art galleries, that you can visit while shopping. There are fashion shows, art exhibits, cultural events, and musical performances throughout the year.
If you are wondering where to stay during your trip, check out PrivateUpgrades and choose the hotel of your liking! As a member, you will receive many benefits that will enhance your travel experience.