Trangia 25 Review – Trangia Stove for Camping
6 min read
Our Trangia 25 Review after two years of use on camping, cycle touring and backpacking trips
---
Food plays a big part in outdoor trips. It's the fuel that powers you up and down hills and the carrot on the string for the particularly hard parts of a trip.
So naturally, how you prepare and cook your food plays a huge part. You want a stove that is easy to use, durable, reliable and the right stove for your type of trip.
Over the past two years, we have been putting the Trangia 25-1 to the test, to see how it holds up in the outdoors. It's been our primary stove for multi-day trips and countless meals and we've certainly put it through its paces.
Rather watch a video? Scroll to the end of this post where you can find our video review if watching is more your thing
This product was sent to us to review by the manufacturer but the thoughts and opinions are completely our own. This article may also contain affiliate links.
What Does the Trangia 25-1 Say on the Box
Trangia's larger stove is designed for 3-4 people and is made from ultralight aluminum. The materials in the windshield are different from the material combinations in the pots and frying pan. You then have the option to choose from a gas or spirit burner.
Trangia wants to encourage people to get outside and cook over an open flame, forcing people to slow down and embrace their natural surroundings through cooking.
What's Included with the Trangia 25 Stove System
The Trangia 25 series is designed for 3-4 people and there are different sets available to choose from. You can also choose between the gas or spirit burner.
With the 25-1 Trangia Stove you get:
1.75-liter pan
1.5-liter pan
Frying pan
Upper and lower windshield
Handle
Strap
Burner – either gas or spirit burner
How We Put the Trangia 25 Cook System to the Test
Over the course of two years, we've put this stove to the test. It's accompanied us on multi-day camps, long-term cycle touring trips, spontaneous backpacks into the hills and mid-week meals outside.
We've used it for brewing morning coffee, creating camping feasts and instant meals. From summer through to winter cooking inside and outside the tent.
We've used both the gas and spirit burner attachments across our time using this stove.
We've definitely put this stove to the test with the countless meals and trips it's been on. So after 2 years, we thought we'd tell you what it's been like to cook on and how it holds up in the wild.
---
Want more adventure food fodder and guides in your life? Sign up for our newsletter to get our latest posts
---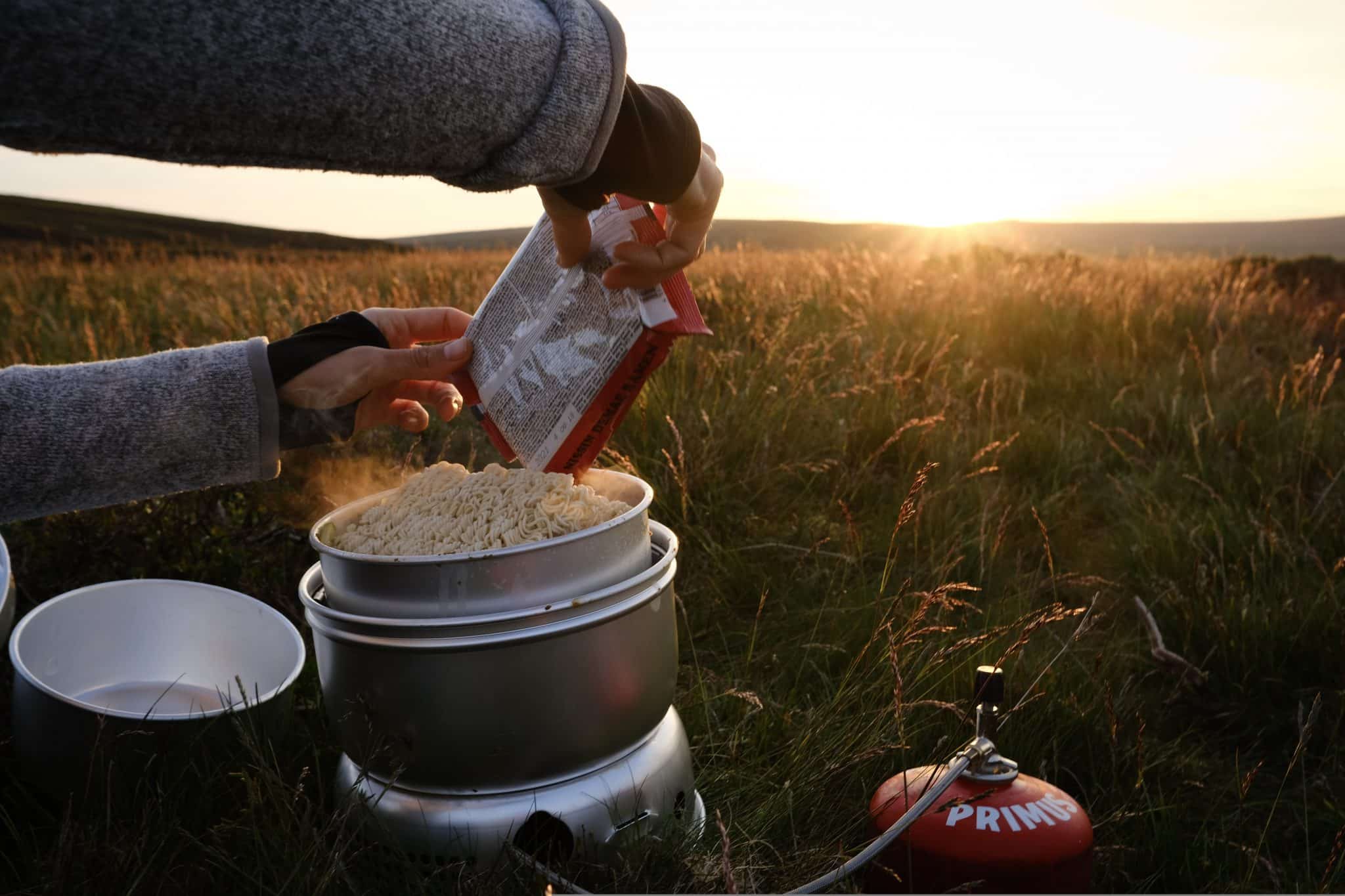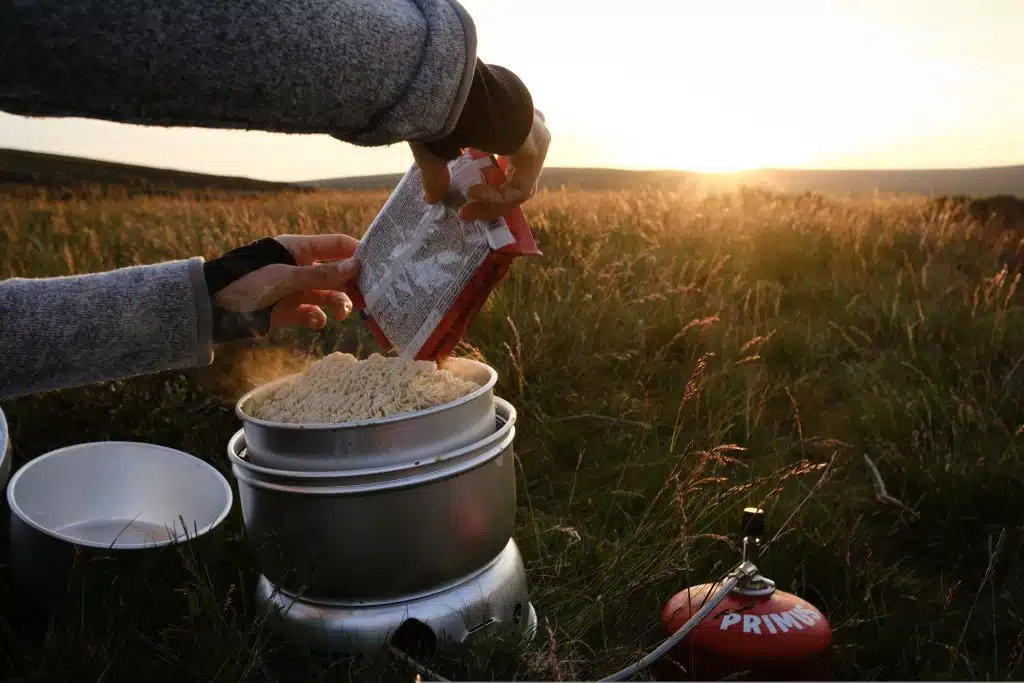 Pros of the Trangia Stove System
Packability & Weight
The packability of the Trangia is pretty awesome. The design means that it all packs away inside itself to 22cm in diameter and 10.5cm high.
We've also been able to fit two bowls, 2 folding sporks, a cooking spoon and a sponge inside meaning nearly our whole cooking system can be packed away into one unit. This makes it really easy come dinner time to find in your bags rather than looking for bits in separate bags.
The total weight is 845 grams which may seem on the heavier side but when you consider that this is a complete cook system, it's not bad. Depending on the fuel source you use this will change.
Ease & Practicality of Use
Everything being packed away together makes setting up the Trangia stove pretty straightforward. It is easy to put together, even after a tiring day in the hills and cooking on it is pretty foolproof.
The upper and lower windshield make the stove really secure on uneven ground. We've used the Trangia in some pretty hairy conditions, with wind bellowing in from the tent porch and it's held true with a pot of bubbling dinner.
The windshield is also one of the best we've come across in the stoves we've tested. The upper and lower sections mean the heat source is completely protected and the pot holder allows the pot to nestle directly above the heat source.
This makes it really effective at preserving fuel and means cooking is a speedy process as none of that heat is lost. It also saves money on having to top up on more fuel and saves time when cooking. Both of which are super important on trips.
It also serves to protect your tent and kit when cooking in the tent porch, which on multi-day trips can be a cramped place.
It's also simple to clean as the parts separate easily and there are no fiddly bits for food to get lodged. You can easily soak the whole stove in water and clean it effortlessly.
Using the spirit and gas burner is also great as you can choose which fuel source best suits you and the trip you have planned.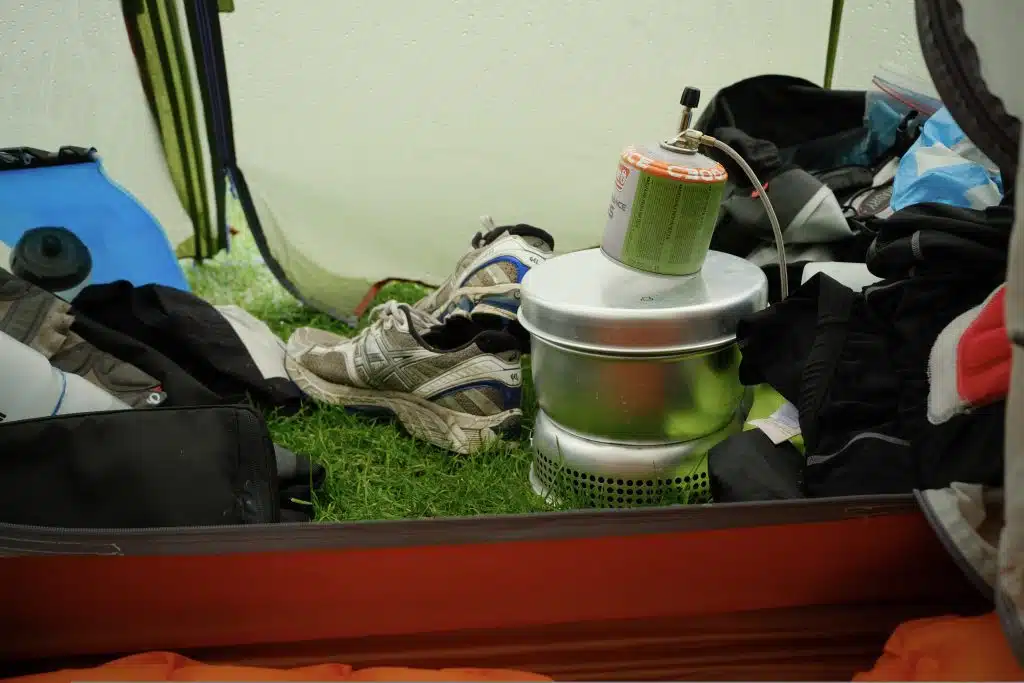 Durability & Reliability
After two years of use on multiple trips, we've found the Trangia system to be extremely reliable. We've bashed it about in our bike panniers and rucksack and there have been barely any signs of wear.
Although the aluminum material it's made from is really lightweight, it's super durable. We've even used the pans and frying pan on an open fire and they've held their own. With no signs of warping from the heat or damage from the countless trips we've used the stove on.
Price
Although this can vary depending on where you buy it from, the Trangia 25 stove is fairly priced. There are definitely cheaper stove options out there, but when you consider this is a whole stove system it's competitively priced.
If cooking is an important part of your trips, this stove's windshield, ease of use and durability make it a top contender. If on the other hand, you're looking for a smaller, budget stove there are other options out there.
---
---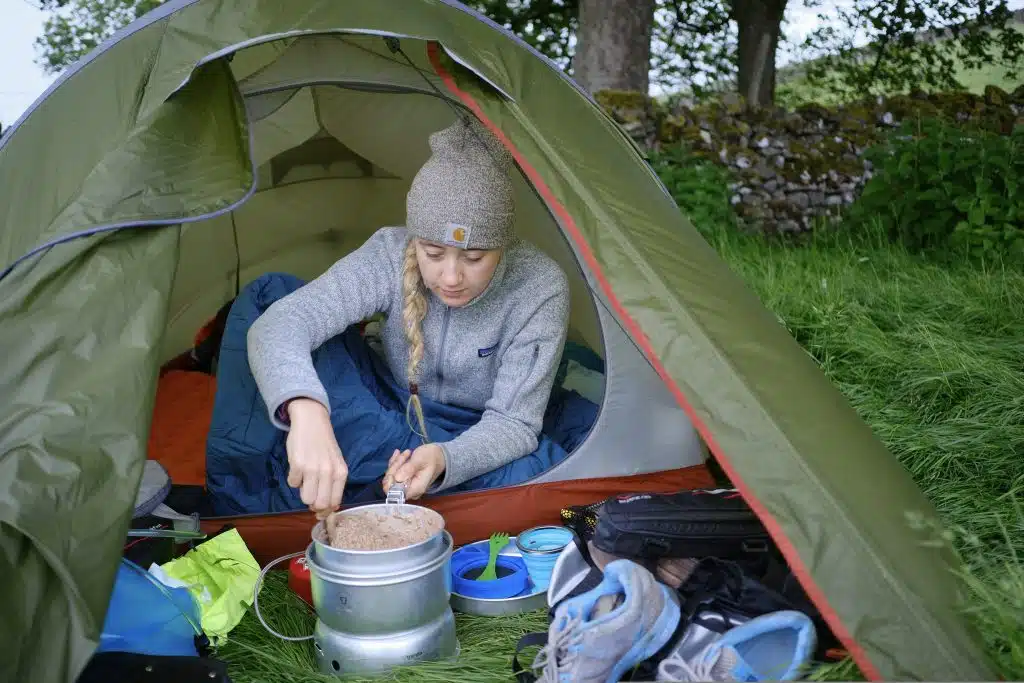 Cons of the Trangia Camping Stove
Weight & Size
For a complete cook system with an impressive windshield, 845 grams isn't bad. However, it's not a lightweight stove.
When it comes to stoves, that's at the heavier end of the scale which means this isn't the ideal stove for lightweight trips.
A diameter of 22cm and height of 10.5cm is also pretty large as far as stoves come. We've found at this size it doesn't fit in bikepacking bags, such as a tail bag, fork bag, or handlebar bag. It will fit inside most rucksacks for bikepacking or backpacking trips but it takes up a lot of space if you're trying to whittle down your kit.
You also have to carry your fuel source such as gas or spirits which can add weight and space to your kit list.
Versatility
Although you can use gas and spirits with the Trangia 25, it cannot burn wood. This is because the windshield is made of less durable materials compared to the pots and pan, which is liable to warping and getting damaged.
This means that for more remote trips the Trangia isn't the best option. You are limited to finding gas and spirits to be able to use it.
Final Thoughts
Overall we are big fans of the Trangia 25. Food and cooking are a big part of our outdoor trips so a sturdy, reliable stove is pretty important to us.
It is however heavier and bulkier than some other stove options out there so isn't ideal for lightweight trips.
Pros of the Trangia stove:
Packs away inside itself and we can include almost all we need for cooking
Excellent windshield
Stable and easy to cook with the windshield and pot holder
Durable and hard-wearing
Fairly priced
Cons of the Trangia 25:
Bulkier and heavier than other stoves out there so not made for lightweight backpacking or bikepacking
Can't burn wood
Where to Buy the Trangia Stove
Trangia 25 Spirit Burning Stove
Trangia 25 Gas Burning Stove
---
---