Perfect 2 Days In Bologna Itinerary | 2022
8 min read
Wonder what an amazing 2 days in Bologna itinerary would look like? Keep reading!
It may not be as popular as cities like Florence and Venice, but Bologna has an authentic feel and a host of historic attractions that are well worth visiting. 
Ready to travel again? Don't go without travel insurance.
I recommend SafetyWing Nomad Insurance. I've been using it since 2019 and I can assure you it's the perfect solution for nomads like you and me.
Located in northern Italy's Emilia-Romagna region, Bologna is the country's 7th largest city. It is affectionately known by three rather unusual nicknames – La Dotta, La Rossa, and La Grassa.
La Dotta means 'the learned' – a reference to Bologna's university. Founded in 1088, it is the oldest in the western world.
These days, Bologna's student population has a big influence on its culture, lending it a fun and vibrant atmosphere.
La Rossa means 'the red'. It might not take long after arriving in the city to realize that this refers to the terracotta-tiled rooftops and red walls you'll see almost everywhere.
La Grassa means 'the fat', and – as you might guess – this nickname celebrates Bologna's excellent food scene. There are so many culinary delights that originated here, including Parma ham, parmesan cheese, and balsamic vinegar. 
If you're lucky enough to be able to spend 2 days in Bologna, you'll have time to experience more than a taste of its history, culture, and food. Use this itinerary, and you'll be confident of seeing all the best that this charming city has to offer.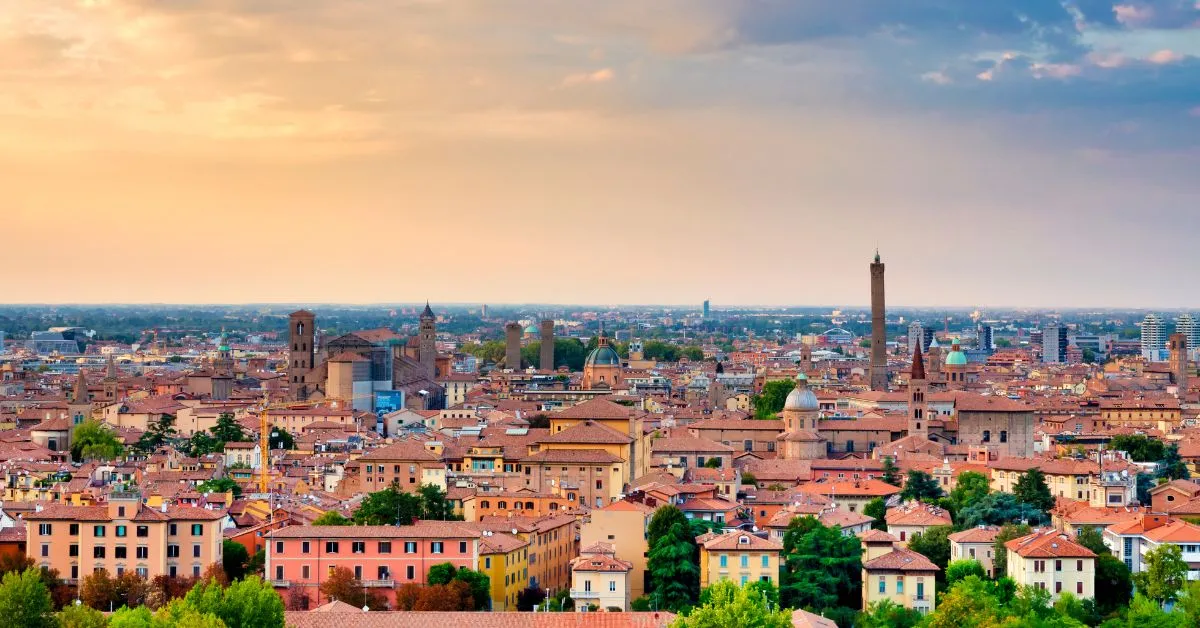 Day 1
The first of your two days in Bologna will be spent exploring the historic heart of the city and seeing many of its major landmarks. You'll finish the day with a leisurely stroll around some of its best shops and boutiques. 
Morning
Start your day with breakfast in one of the many cafes at Piazza Maggiore. This is Bologna's public square and the most lively spot in the city, where locals come to meet and hang out.
As you sip your coffee, you can admire the amazing buildings around you, including grand palaces like Palazzo d'Accursio, Palazzo dei Bianchi, and Palazzo d'Accursio (which was once the Town Hall).
Head first to the Basilica di San Petronio for a closer look. This is the 6th largest church in Europe and the 10th largest in the world. 
It looks a little strange from the outside – a curious mixture of marble and brick. But inside, it's a different story, and the building is filled with beautiful chapels. 
You can also see the world's longest Meridian, which was used to help astronomer Giovanni Domenico Cassini perform measurements, plus some fantastic frescoes and two ancient organs.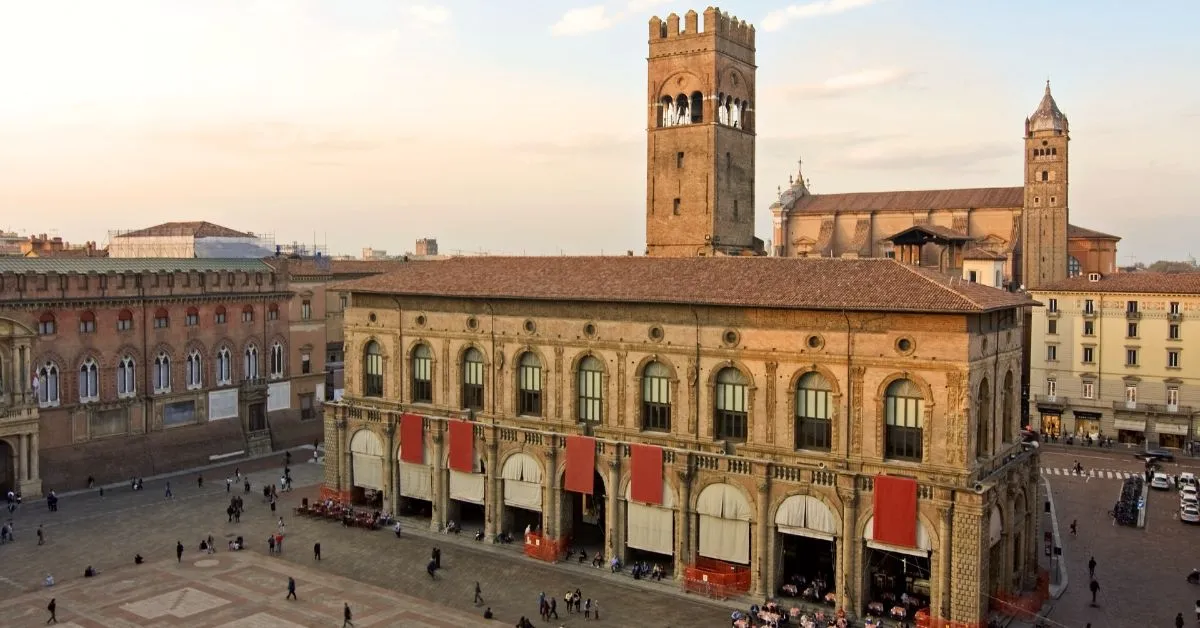 Just steps away, you'll come to the Piazza del Nettuno where you'll find the impressive Fountain of Neptune. It is made from bronze and stone and dates back to the mid-16th century. 
If you happen to be visiting the city at the right time, this is where you'll see the local students celebrating their graduations – a tradition that goes back many years.
The Welcome Bologna visitor information center is also located in Piazza Maggiore should you need it, and the square is home to the Biblioteca Salaborsa (Public Library). Be sure to take a look inside – you can see ancient remains beneath the building through the specially designed floor.
Now head over to Quadrilatero, just a short walk from the square. One of the oldest parts of the city, it is filled with shops and stalls selling traditional Italian foods.
This is the time to pick up some locally produced delicacies to take home, and to find something nice for lunch. We recommend the tasty little crescentine fritte – fried dough topped with prosciutto and cheese.
Or, for a sit-down lunch, head to Via Pescherie Vecchie. This pretty street is lined with beautiful restaurants.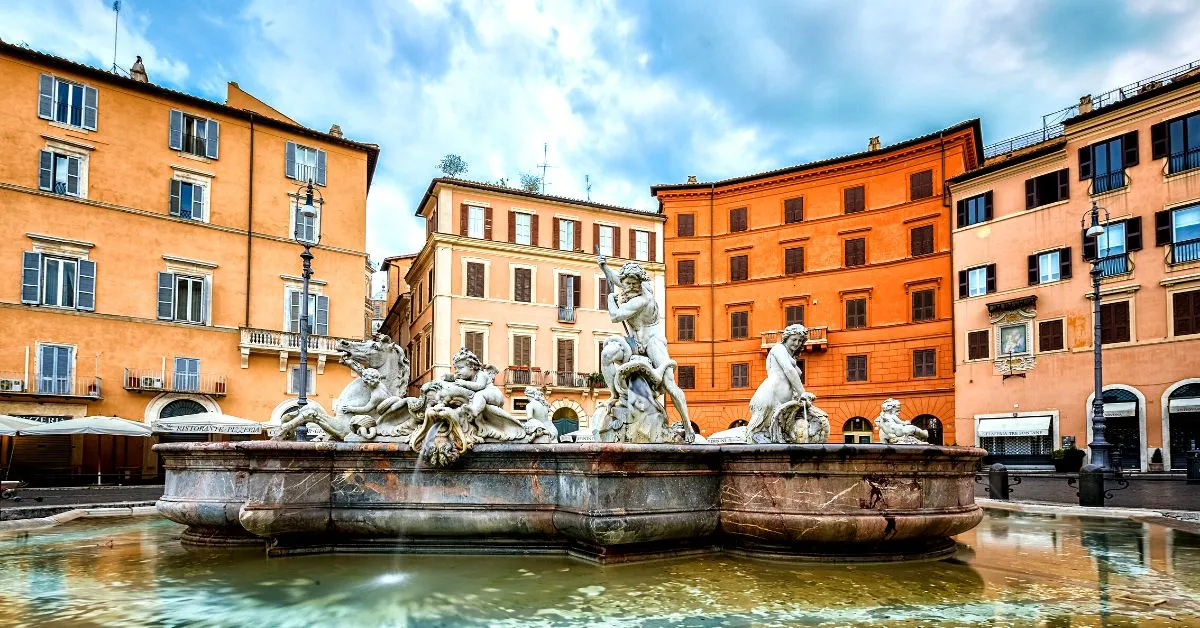 Afternoon
After lunch, it's time to visit the city's famous towers. These are the Asinelli and Garisenda, collectively known as the Torri Pendenti (leaning towers).
In fact, when seeing Bologna in 2 days, climbing the Asinelli Tower is something you simply have to do!
Dating back to the 12th century, these towers were originally constructed as status symbols by the Asinelli and Garisenda families. They would also have served as fortifications. 
The foundations of The Garisenda Tower have subsided somewhat, so it is not safe to enter, but the (almost) 500 steps of the Asinelli Tower are there for the climbing! It's hard work and the steps are narrow, but the views from the top are amazing!
Next, take a short walk to visit Piazza Santo Stefano. Here you'll find the Basilica of Santo Stefano, a religious site with several different chapels and buildings. 
There were originally seven churches here, but now there are only four. You can see the relics of San Petronio, and a natural spring that symbolizes the River Jordan.
To complete the first afternoon of your weekend in Bologna, take a 5-minute walk to the popular Via Rizzoli. 
This street has some of the best examples of the long arcades for which the city is famous. Under the cover of the porticos, you can shop to your heart's content or simply admire the lovely architecture. 
Other arched walkways worth exploring are the wooden ones at Via Marsala and Casa Isolani.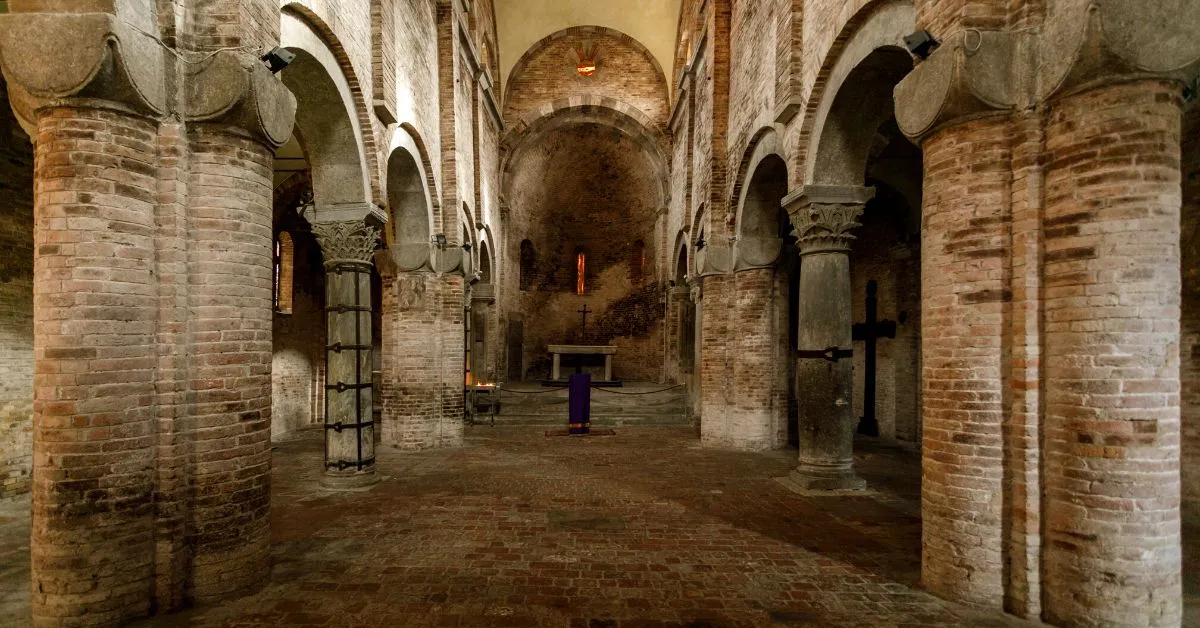 Evening
What better way to spend your first evening in Bologna than to enjoy a fabulous authentic Italian meal? For this, we recommend heading to Caffè Mercato Bologna, hidden away in one of the city's colorful alleyways.
This is a rustic restaurant with simple furnishings and perfectly cooked, traditional food made with local ingredients. Be sure to try the tagliatelle al ragù – it's amazing!
Day 2
On the second of your two days in Bologna, you'll be visiting museums, a bustling market, and one of the most beautiful parks in the city.
Morning
Your morning will begin at Teatro Anatomico, one of Bologna's more unusual attractions! This 17th-century anatomical lecture hall is located in the city's old medical school and is gruesomely fascinating!
Here you can see a copy of the original marble table that would have once been used to dissect cadavers. You can even take a seat on the tiers where medical students would have watched the procedure many years ago!
The professor's seat dominates the room and on either side of it are two quite creepy Spellati (skinless) statues, with their internal anatomy clearly displayed!
From here, it's just a 2-minute walk to Bologna's world-class Archaeological Museum. 
Packed with ancient exhibits, it teaches you all about the development of the city. Collections include Prehistoric, Roman, and  Greek, while the museum also houses the most important Egyptian collection in Europe.
After a morning spent exploring Bologna's history, it's time to turn your thoughts to its culinary scene. For this, visit the picturesque Mercato delle Erbe, a market renowned for its incredible seafood and local produce. 
There is a great combination of upscale restaurants and street food stalls here, so pick somewhere to stop for lunch and soak up the lively atmosphere.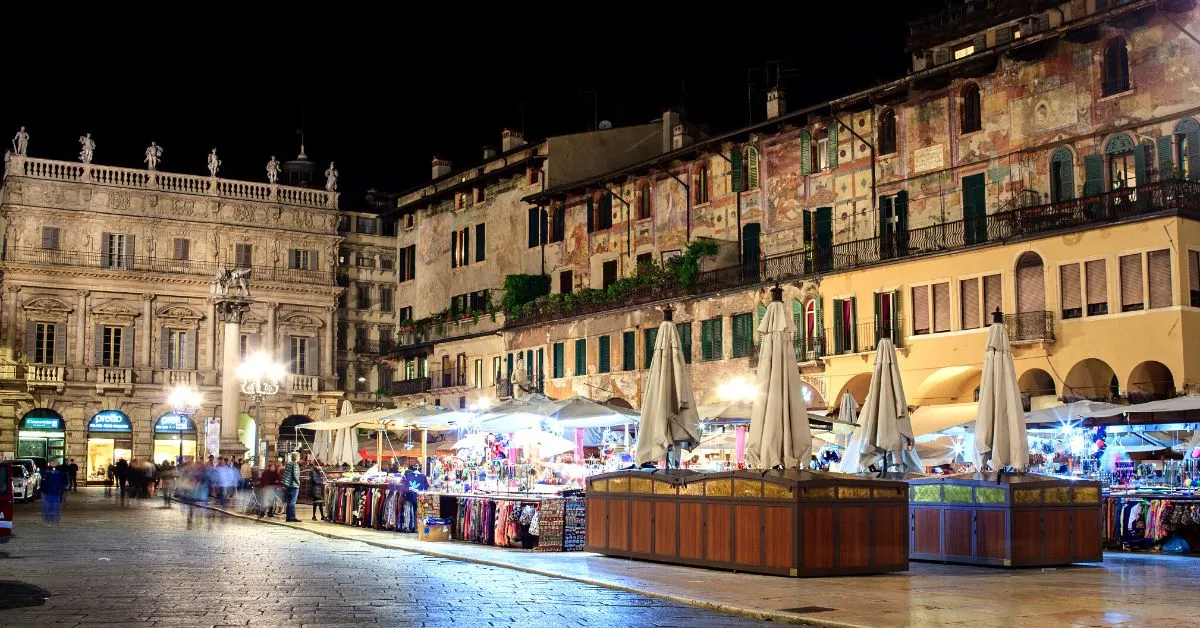 Afternoon 
It's now time to visit another museum – the impressive Pinacoteca Nazionale. Located in the old university complex in the former Saint Ignatius Jesuit novitiate, this art museum focuses on work connected to Bologna and the wider Emilian region. 
There are some amazing pieces to admire, dating back as far as the 13th century. The Accademia Clementina section contains ancient Byzantine paintings and later works appear in the Gallery of the Academy of Fine Arts.
Notable works include Raphael's 'Ecstasy of St. Cecilia' and 'Christ and the Good Thief' by Titian. 
You're probably ready by now to relax and reflect on all the beautiful things you have seen and done during your 2 days in Bologna. And the perfect place to do this is at the city's most popular green space – the Giardini Margherita.
This park is a 25-minute stroll from the art museum, just south of the city center. Extraordinarily beautiful, it has a layout that was originally inspired by England's romantic and classic parks. 
You can stop and watch the world go by at one of its cafes, take a walk around its lake, or run along one of many trails. If you're up to the challenge, you can even tackle the 1.5 km (0.9 mi) path that loops around it. 
Pop into Kilowatt whilst you're here. Known as 'Le Serre' by locals, this multi-functional space was once the park's municipal greenhouses. These days it is a trendy venue housing a restaurant with live music, a vegetable garden, and co-working facilities.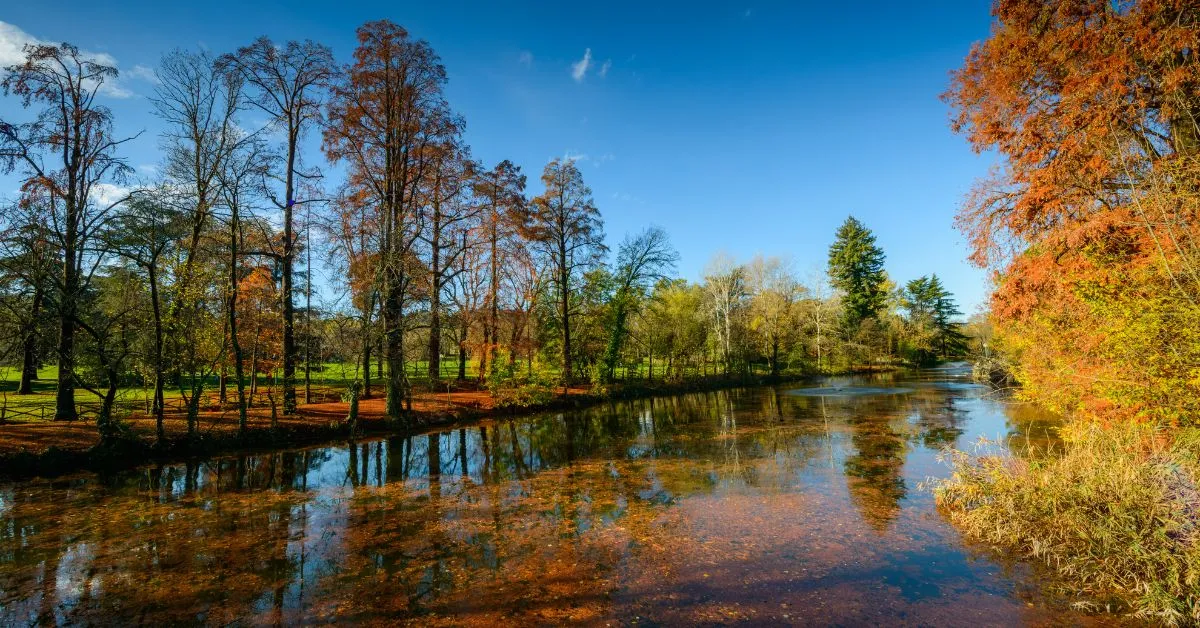 Evening
A popular evening spot for locals and visitors alike is the Cantina Bentivoglio Café. 
Serving traditional specialties from the Emilia-Romagna region, the restaurant is located in the wine cellar of a former palace. The wine list is impressive but the biggest attraction here – besides the incredible food – is the live jazz music that you can enjoy along with your meal!
---
---
Are 2 Days In Bologna Enough?         
When planning what to do in Bologna in 2 days it's good to know that the main attractions are all within walking distance of each other. This makes it easy to see a lot of the city in a short space of time and means that a weekend in Bologna is enough to take in the sights. 
That being said, this itinerary is based on spending two full days in Bologna. If your arrival time is late on your first day – or if you depart early on your last – then we would recommend adding an extra night to your stay.
Where To Stay In Bologna
Here are some of our favorite places to stay in Bologna, with a suggestion to suit every budget!
Best Budget Accommodation
Combo Bologna offers both rooms and dormitories and is located just 900 yards from Bologna Train Station. 
There is a 24-hour front desk and a bar, plus lots of useful amenities, including a shared lounge, shared kitchen, laundry facilities, and cycle hire.
There is also a TV room and a pleasant garden where, in the summer, you can enjoy concerts or a live DJ. An Italian breakfast is served using local ingredients.
Best Mid-Range Accommodation
The beautiful Albergo delle Drapperie enjoys a fabulous location right in the heart of the city, just a short walk from Piazza Maggiore square. 
It is housed in a 19th-century building and features air-conditioned rooms with either frescoed or wooden-beamed ceilings. Some rooms have balconies with gorgeous city views.
A breakfast buffet is served every day.
Best Luxury Accommodation 
For a real treat, book a room at the 5-star Grand Hotel Majestic gia' Baglioni. Located inside a sumptuous 18th-century palace in the city center, the hotel offers exquisite rooms furnished with antiques and beautiful frescoes.
Final Thoughts On This Itinerary For Two Days In Bologna
Bologna is unique – a city with a strong identity, rich history, and a sense of fun that makes it a pleasure to visit.
I hope this itinerary has helped you plan your trip and that you enjoy exploring Emilia-Romagna's capital.
Visiting Italy soon? Read one of the following guides: