Hospitality industry: A full guide for hoteliers
9 min read
A hotel business is built around hospitality, and generally spans across several sectors of the hospitality industry. Like all industries, the key to being successful starts with knowing the industry inside out.
From industry fundamentals to the latest technology, trends and tips, here we run through everything you need to know about the hospitality industry today – all from your unique perspective as a hotelier.
This comprehensive guide gives you the framework, knowledge, insights, actionable tips and tools you need to win more bookings and perfect the guest experience.
What is the hospitality industry?
The hospitality industry is vast and varied, covering hotels, motels, resorts, restaurants, cafes, theme parks, tour companies and much more, and falls into the broader service industry. It's a global industry that's expected to grow from $3,952.87 billion in 2021 to $4,548.42 billion in 2022 and reach $6,715.27 billion by 2026.
Hospitality is a word meaning "the friendly and generous reception and entertainment of guests, visitors, or strangers." Any business that aims to make people feel welcome, often through comfort or entertainment, will generally be considered to be part of the hospitality industry.
It is connected to travel and tourism – but goes beyond the bounds of those sectors. While the travel and tourism industry caters to holiday makers and those who have travelled away from their home, hospitality offers services to tourists, travellers, locals and anyone else who may be in the area.
The hospitality industry is characterised by a dependance on the discretionary spending, free time and interest of customers. As we've learnt in the era of COVID-19, it's also influenced by our freedom to travel and move about our neighbourhoods freely.
The hospitality industry spurs economic growth, serves people and communities and provides employment for thousands of people around the world, with some of the most common jobs being:
Cafe and restaurant wait staff and managers
Retail managers and sales assistants
Bar attendants and baristas
Airline and travel employees
Hotel receptionists, staff and managers
Hospitality industry defined for hotels
Hotels are at the very heart of the hospitality industry, and have been for hundreds of years. The definition of a hotel – an establishment providing lodging and often meals, entertainment and other personal services for the public – aligns closely with the hospitality industry definition that we've explored above.
Hotels provide paying customers with an enjoyable experience in a variety of ways – from room service to buffet breakfasts, themed weekends away and heated pool access for locals.

A breakdown of hospitality industry sectors
From a business perspective, the hospitality industry is traditionally divided into five major industry sectors: food and beverage, travel and tourism, lodging, recreation, and meetings and events.
Food and beverage
Food and beverage is one of the larger sectors within the hospitality industry, with food and beverage businesses both run independently and as part of a larger establishment. The category includes:
Restaurants and cafes
Bars and lounges
Caterers
Pubs and clubs
Hotels
Fast food restaurants
Pubs
Third-party food delivery services
Food and beverage is often used to enhance guest experience at entertainment venues or accommodation, for example a 5 star restaurant might be used as a drawcard to bring guests to other parts of the hospitality business.
Travel and tourism
Overseas holidays, work trips, day trips, weekend escapes… all of these fall within the travel and tourism sector. All involve a roundtrip, though for different purposes, and all require a form of transport. So the first part of this sector includes:
Airlines
Car rental
Boats, ferries and cruise ships
Buses and coaches
Trains
Even spacecraft these days!
Travellers and tourists also want to stay and explore once they reach their destination – so this sector also covers lodgings and recreation. Of course people need to eat, bringing in food and beverage under this umbrella, too. If travelling for work, the meetings and events sector may also be relevant. Finally, travel agencies, tour operators, tourism organisations, travel wholesalers and other travel trade businesses fall into the travel and tourism sector.
Lodging
Hotels may be the first thing that comes to mind when thinking about the lodgings sector of the hospitality industry, however it extends to vacation rentals, hostels, bed and breakfasts, Airbnb, camp grounds and other businesses that provide overnight accommodation for guests.
The lodging sector is a dynamic one, with properties ranging from one room rented out in a person's house via Airbnb to large complex-style hotels that offer a never-ending list of amenities.
Recreation
Recreation encompasses entertainment businesses and other businesses that provide activities designed to help people rest, relax or have fun. The list is long, and includes:
Movies and theaters
Music and comedy acts
Zoos and museums
Spectator and participatory sports
Day spas
Casinos
Shopping precincts
Tours
Swimming pools
Amusement parks.
As with the food and beverage sector, the recreation sector markets not just to tourists and travellers but also the local community.
Meetings and events
Meetings and events are an increasingly significant part of the hospitality industry, particularly in city locations. This sector covers:
Weddings
Trade shows and expos
Conferences and summits
Business events
Training seminars
Sporting events
Food fairs and markets
Farm shows and field days
Celebration dinners and fundraisers
While purpose-built centres have popped up to meet the demand within this sector, many hotels have also expanded their offerings to service this sector.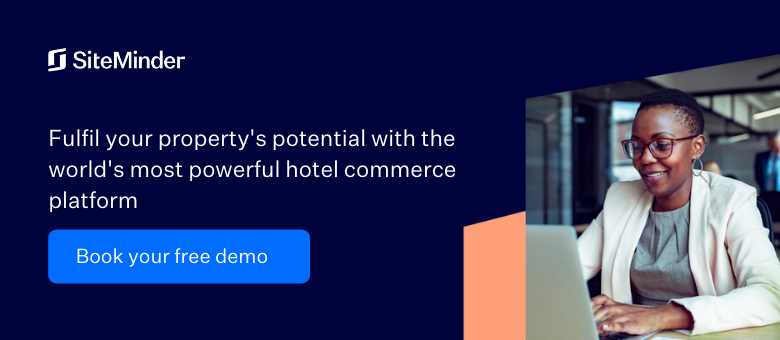 Current hospitality industry news and trends your hotel should be aware of
The hospitality industry is susceptible to an array of outside influences. Over the last few years, the tourism and hospitality industry has been hit particularly hard by the pandemic, with restricted movements resulting in complex challenges across all sectors.
As the industry recovers, it's becoming increasingly obvious that it's not "back to normal." Instead, the latest trends are indicating the market looks a little different with new forces driving the behaviour of travellers and hoteliers alike.
Safety and hygiene
Cleanliness has always been valued by guests at hotels, and expectations have reached new levels following the pandemic. The push for social distancing, quarantining, hand sanitiser and masks has heightened awareness of the risks of poor hygiene. Falling ill while on holiday, being required to isolate while travelling or being subject to a lockdown are new, and powerful, considerations for people when booking a hotel.
Staff shortages
In the US, there were 300,000 fewer workers in the hotel industry as at October 2021 compared with two years prior. Some hotels have responded by shifting housekeeping to a by-request-only model and cutting back on amenities such as room service. Finding staff, building a team and retaining your people has never been more important.
Having staff troubles? Check out our staff management cheatsheet here.
Bleisure travel
The pandemic has blurred work and life boundaries for many, with remote and hybrid working sticking around even as pandemic restrictions are lifted. This trend means the digital nomad is not the only type of person mixing work and play these days. It might be a professional taking off on a Thursday to beat the rush to a destination and "working from anywhere" on a Friday before a weekend away. Or someone who tacks on a weekend following a week-long conference since they haven't been able to get away for so long. This hybrid of business and leisure travel, "bleisure travel", is something all hoteliers should have on their radar.
Sustainability
Customers are increasingly demanding sustainable products and services, and data shows that people across all generations are willing to pay more for sustainable products. For the hotel industry in particular, sustainability is becoming a non-negotiable, with the sector depending on a healthy global ecosystem for its own survival. And when it comes to sustainability, it's important hotels truly embed sustainability in their business rather than making a token effort.
Hospitality associations: What's available for your hotel?
As a hotel owner, you're part of the juggernaut that is the hospitality industry – so take advantage of this broader network by accessing the support that comes with it. Depending on your location, there are various hospitality associations that you can consider joining.
Australia
Accommodation Association: Representing major hotel groups in Australia, providing essential services and creating connections with industry and government leaders to increase economic growth and environmental sustainability.
Australian Hotels Association: Representing more than 5,000 members across Australia, its aim is to "ensure a national legislative, social, economic and commercial environment" that secures the ongoing viability and profitability of Australian hotels and ensures they continue to add value to Australian culture and society.
Tourism Accommodation Australia: Focussing on "the needs and interests of the substantial operators of Australia's accommodation industry" and providing leadership through "advocacy, industrial relations and legal support, intelligence, research, education and networking."
United Kingdom
UKHospitality: Describes itself as the "powerhouse that advocates and protects the commercial interests" of its members, "campaigning and lobbying on their behalf to promote a fair and favourable operating environment for their business to thrive in."
North East Hotels Association, Bristol Hoteliers Association and other regional associations: Aiming to promote and protect hotel businesses within certain areas.
Europe
Hotrec: The "umbrella Association of Hotels, Restaurants, Bars and Cafes and similar establishments in Europe, which brings together 47 National associations in 36 countries." Aims to be the voice of European hospitality and unlock its potential.
United States
American Hotel & Lodging Association: The largest hotel association in the US, described as an "indispensable resource serving, supporting and advocating on behalf of the American hospitality industry."
American Hospitality Alliance: Harnesses the power of industry leaders toward more effective advocacy in an effort to promote and defend the hospitality industry at state and local levels.
Canada
Global
Four keys to succeeding as a hospitality business
There are many paths to business success as a hotelier, however most hotels that find prosperity as a hospitality business do these things:
Develop a strong brand
Research has shown that a strong brand is indeed critical for a successful hotel business. To develop that brand, start by looking at your competitors and your perceptions of their business. What are the things you like? And don't like?
Also ask yourself:
What problems are you solving?
What makes your business stand out?
If your business was a person, how would you describe them?
What do clients love about your business?
Understanding how to build a great brand will help you move forward with confidence and build on your success.
Pay attention to the details
It's the little details that can create excellent first impressions, build authenticity into your brand and add up to a memorable experience for guests. And it can also be those little details that – when overlooked – create disappointment or lead to disaster.
Develop your skills in this area by looking at things from your customer's perspective, keeping on top of maintenance, and thinking about presentation in whatever you do. Good attention to detail will iron out any little issues before they become bigger problems and keep service flowing and customers smiling.
Understand the numbers
You might understand the industry, the market and your clients, but how well do you know the numbers? Data and metrics are so important in driving strategy and making sound decisions. All hoteliers should have a good grasp of:
Follow the latest hospitality marketing tips
The hotel hospitality industry is dynamic and quickly evolving, so it's important to be agile enough to score some quick wins with easy-to-action marketing ideas. Examples of these hospitality industry marketing tips include:
Ask departing guests to complete a quick feedback form. Direct your biggest fans to an online review platform – helping to bolster your brand reputation and drive more bookings.
Create an ambient and brand-aligned "selfie space" – encouraging guests to spread the word about your business online.
Audit your hotel website and ensure each page and post has a clear call to action – prompt those who are thinking things over to take the next step and create a booking.
Set up a Google Hotel Ads campaign to get immediate results by reaching people who are actively searching for a hotel like yours – AccorHotels lifted year over year bookings by 65% and grew revenue by 84% by using a strategy that delivered more traffic to emerging markets.
Consider partnering with travel-focused influencers on TikTok to target a younger market – 81% of users use TikTok to discover new products and brands.
Hospitality technology solutions to run your hotel online
As the world moves online and technology gets increasingly "smart", success in the hotel game is also about selecting the right tech solutions and tools to streamline processes, improve the customer experience and gain a competitive advantage in the market.
Technology in the hospitality industry, when we're talking about hotel businesses, generally covers:
Online distributions
Direct bookings
Revenue management
Property management
Business intelligence
Websites and SEO
Customer service and guest-facing tech
Marketing
As tech has evolved, various and disparate systems have been brought in to solve the problems and dilemmas hoteliers face. That's changing, though, as hotel commerce platforms – based on tech used by online giants like Amazon and Uber – provide a single place with everything accommodation providers need to sell, market, manage and grow their business.
Find out more about the flexible pathways to start with hotel commerce and the opportunities available to upgrade or scale your business through SiteMinder's award-winning distribution and marketing technologies, 24/7 support and the largest ecosystem of best-in-class hotel technology integrations, apps and partners here.