Bushbox XL Titanium Review – Bushcraft Essentials Stove
7 min read
Our honest Bushbox XL Titanium Review from Bushcraft Essentials, after months of testing and countless meals prepared
---
Food is a big part of our trips, so the right stove is essential for creating some tasty grub and fueling your body on adventures. But finding the right stove is super important.
You want a stove that is durable, versatile, light and up to the job. That's why over the years we've tested loads of stove options to try and find the right one.
A few months ago we managed to get our hands on the Bushbox XL Titanium and ever since we've been putting it to the test. This mighty stove can be used with a variety of fuel options and packs away to only 1cm thick.
We've been using this stove on all our trips to find out whether this is the ultimate adventure stove. Read on to see what we REALLY thought and how it held up in the wild.
If watching is more your thing than reading, you can find our video review by scrolling to the bottom of this page
This product was sent to us to review by the manufacturer but the thoughts and opinions are completely our own. This article may also contain affiliate links.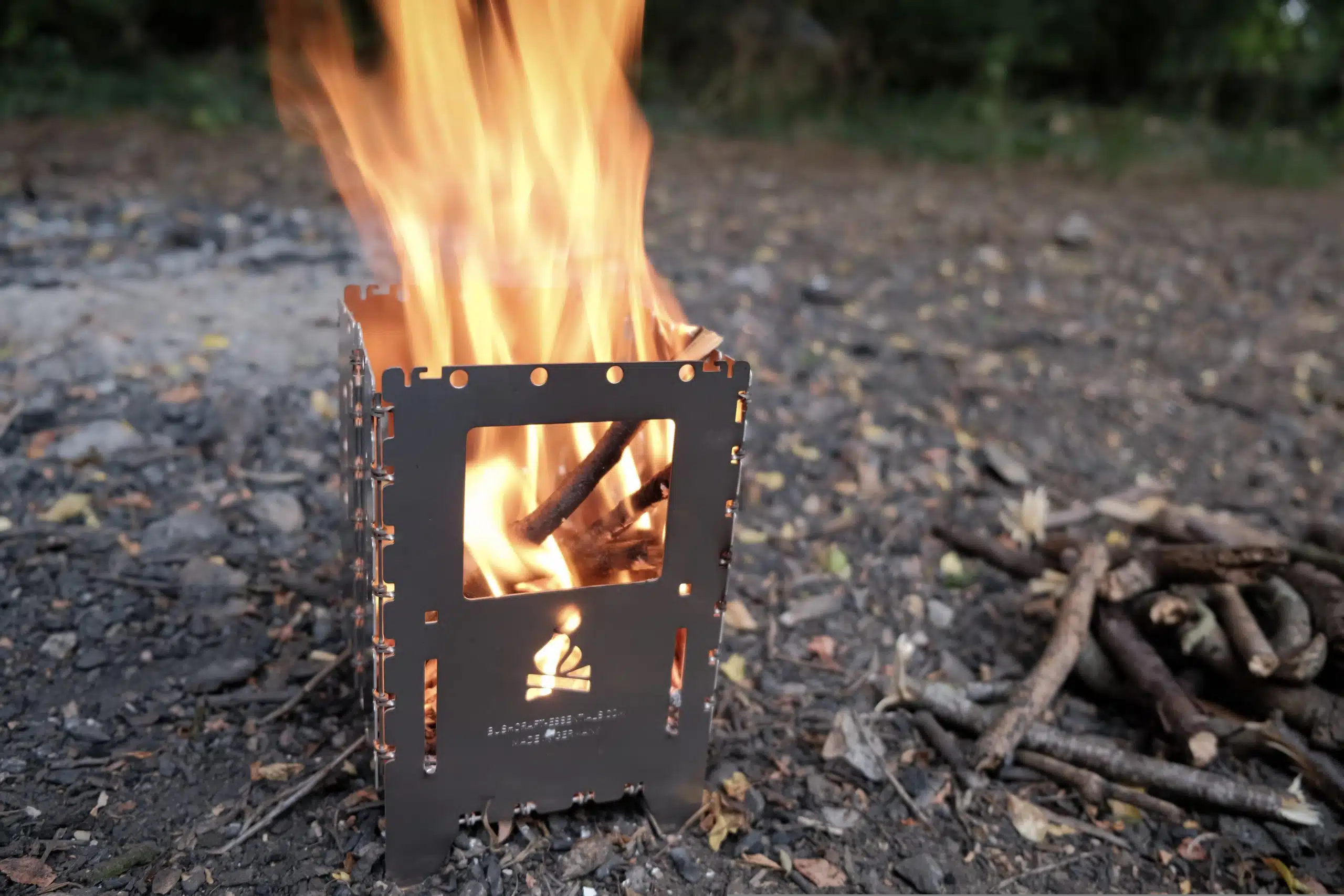 What do Bushcraft Essentials Say About the Bushbox XL
The folks at Bushcraft Essentials are pretty passionate about their Bushbox stoves. They say each stove is carefully designed for maximum comfort and versatility.
Each one is built to last for maximum durability and stability in the outdoors. The Bushbox titanium is the superlight version of the Bushbox XL weighing in at 490 grams.
It's built with an integrated ashtray to catch any embers and minimize fire hazards. The hinge design means it can pack away and be easily carried on trips.
It's primarily a wood-burning stove but can also be used with gas, alcohol and as a multi-fuel burner.
How We Put the Bushbox Titanium to the Test
Over the past few months, we've been using the Bushbox as our primary stove for the two of us at meal times on trips.
We have the Bushbox XL Titanium along with the heavy-duty XL outdoor bag and XL universal grate.
Whether it's a morning brew or bubbling curry for dinner, this has been the stove to fuel our trips. It's accompanied us on overnighters in the hammock to multi-day trips on a loaded bike.
We've used it to boil water, fry off ingredients and create camp stove feasts outside.
We've used it with a variety of fuel options with the Bushbox:
You can also use it as a multi-fuel stove with petrol, however, we haven't tested this yet as other fuel options have been easy to come by.
We've used this stove in wet and windy conditions, inside and outside the tent, to see how it held up.
---
For more outdoor fodder and adventure content, sign up for our mailing list below!
---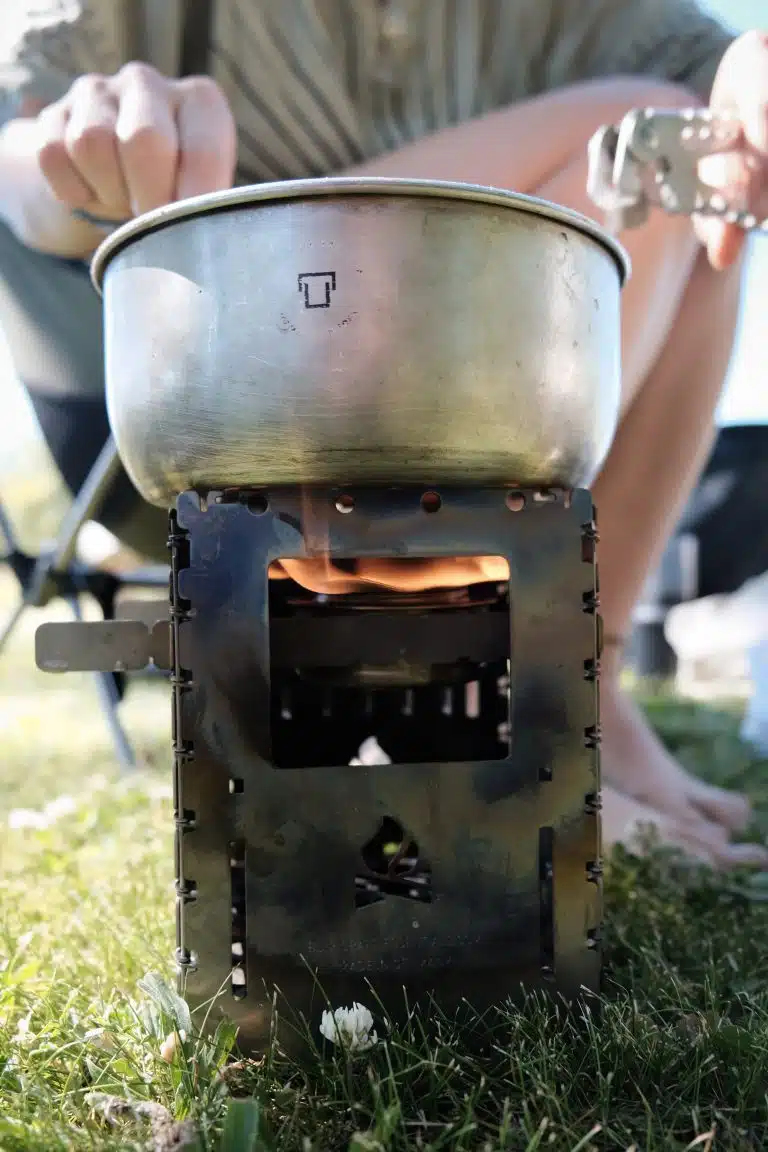 Pros of the Bushbox Titanium
The right stove is super important to us as food is often a feature of whatever we get up to. It's not only the sustenance for our adventures but it's the chance to tuck into something tasty and get joy from each mouthful.
So before we'd even got our hands on the Bushbox, we'd done a deep dive into whether it could tick all the boxes we were looking for.
Versatility
The versatility of this stove was the main thing that attracted us to it. We wanted a stove that could accompany us on a round-the-world trip and could accommodate a whole range of fuel options.
One thing we want to avoid is getting caught short without the option to cook. As the Bushbox can be used with gas, spirits, wood and petrol it ticks that box.
Using wood is so simple as you can get the fire going in the stove, then use the feed hole to keep it burning. The ashtray collects the bulk of the embers which also minimises fire hazards.
The metal prongs mean a spirit burner, gas burner or multi-fuel burner can sit inside the stove with a pot on top to cook. You can also just the height of the burner, with the multiple slots for the prongs.
Even though Bushcraft Essentials intend it to be a wood-burning stove, it works just as well with alcohol and gas. The burners attach and stay put whilst cooking and can be affixed easily.
Packability
The Bushbox's design with the hinges allows it to collapse flat and be stowed away.
We also got the heavy-duty pouch as this is the perfect size for the stove and attachments to slip into. With the pouch, the packed dimensions are 21 x 17 x 1cm. This makes it the ideal size to slide down the back of a pannier, rack back or rucksack.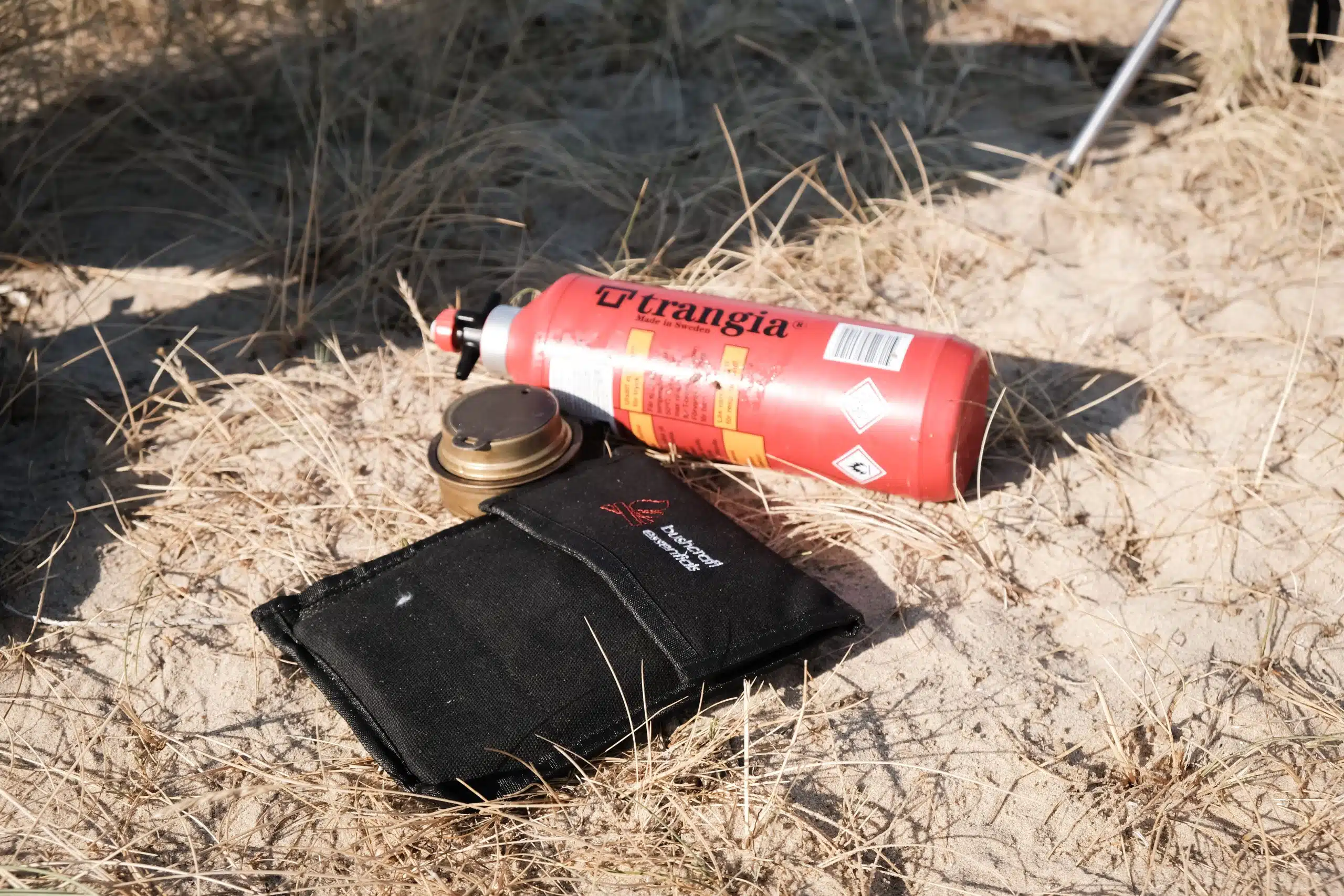 Assembling and Disassembling
The hinges also make the stove super easy to assemble. You can simply fold it open and the ashtray and lower grate fall into place. This takes less than 10 seconds which is pretty speedy.
Then if you're using a burner simply slide the prongs into place and place the burner in place. This takes a little longer but in total it's never taken us more than 1 minute to assemble.
When you're finished the Bushbox folds away similarly with a little shake to collapse the ashtray and lower grate. It can then just slide away in its case.
Strong and Reliable
The whole design of the Bushboox feels really sturdy and we've not encountered any faults in the months we've been using it.
After using it as a wood burner the metal hasn't warped and the hinges all operate smoothly.
Bushcraft Essentials employees, friends and families test their new designs in the outdoors and this shows. The stove is functional and smooth to use which is super important when you're out in the wild.
Other Pros
The feeding hole is a good enough size to be able to feed the fire whilst it burns yet still offer wind protection.
Ideal size for two people and fits up to a 1-litre pot on top just right.

Bushcraft Essentials is an ethical and sustainable company that makes products with the environment in mind. They avoid using surface refinements as these are harmful to the planet and employees. Safe working environments are also paramount for workers.

Grill attachments is functional and provides another method for cooking.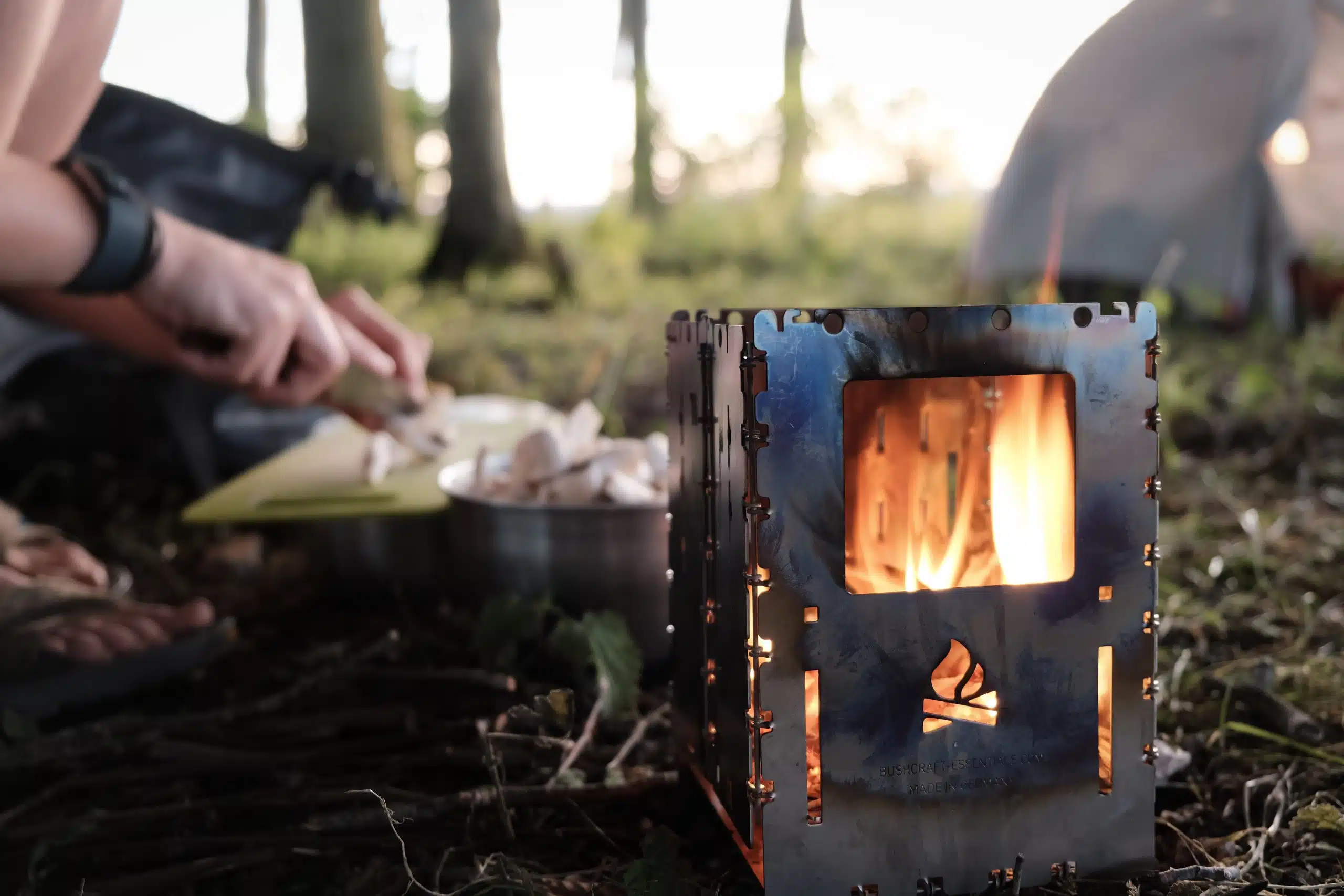 ---
---
Cons of the Bushbox XL
As with most things in life, there has to be a flipside and with the Bushbox, here's what we've found.
Weight
The titanium version of the Bushbox XL is their lighter stove weighing in at 490g and 540g with the pouch. That's not super heavy, however, it isn't a super lightweight option.
Because it's a wood-burning stove, it has to be more solid than gas and fuel stoves out there. So if you're looking to pack light, there are lighter options out there.
Size
Although the Bushbox packs down to 1cm thick, it is 21 cm high and 17 cm wide. This means you need a back big enough to accommodate it. If you're using small bike bags such as fork bags or a tail bag, then it may not fit.
Price
The Bushbox XL is definitely on the pricier end of the scale when it comes to stove options. There is a lot of skill and technology that goes into making this mighty stove so it's understandable. But if you're looking for a budget stove, there are cheaper options out there.
Other Cons
In very windy conditions, we do use an additional thin titanium windshield as the holes in the stove can cause wind to pass through.
It's quite big for one person, although Bushcraft Essentials do have smaller options of a similar design.
It's not ideal for cooking for a large group. For anything more than 2-3 people it isn't the most effective option.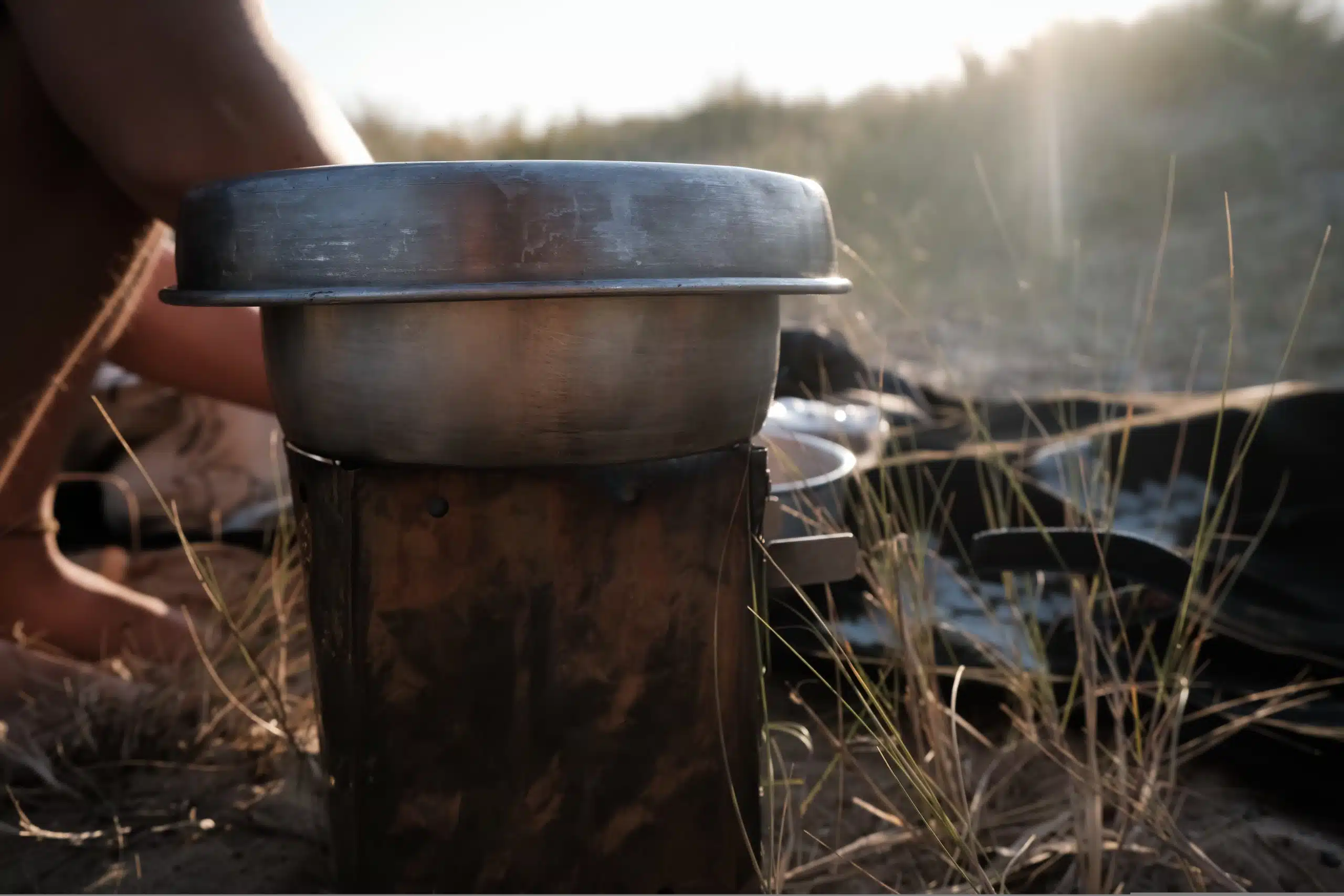 Where to Buy the Bushbox XL
Bushcraft Essentials ship to many countries around the world, so shipping charges vary depending on imports and costs.
Shop the Bushbox XL Titanium Here
Find the Rest of Bushcraft Essentials Stoves Here
---
Watch Our Video Review of the Bushbox XL Titanium from Bushcraft Essentials
---