Beginner Guide to Glamping | Etramping
5 min read
Glamping is known across the world as a glamorous form of luxury camping. Some more affluent travellers would like to create their own camping experience, while others enjoy putting their experience in the hands of a professional. Regardless of which one you are, glamping is definitely unique and can be a great eye-opening and indulgent experience.
How is Glamping Different From Camping? 
Glamping consists of facilities and camping accommodations that set it apart from the basic camping experience. 
Glamping can be as luxurious as sleeping in a dome tent and having a kitchen and a toilet. Some glampsites even offer additional amenities such as hot tubs and BBQ areas. Ultimately, glamping allows one to connect more with nature while staying in a comfortable and well-furnished accommodation. 
What makes glamping so appealing to millennials and generation Z is that it allows individuals to experience travel in a way they never have before. Glamping pushes individuals to connect with the outdoors while living comfortably, from experiencing nature and wildlife firsthand.
What Do I Need to Know Before Going Glamping?
Before setting off on a glamping adventure, you must know a few things. 
Travelers and campers alike can do glamping in two ways: DIY glamping and lodge glamping.
DIY Glamping
DIY glamping is done on your own. You get the tent and supplies and find a campsite. DIY glamping is excellent for frequent glampers who want to connect with nature affordably and luxuriously. You can even glamp in a regular tent!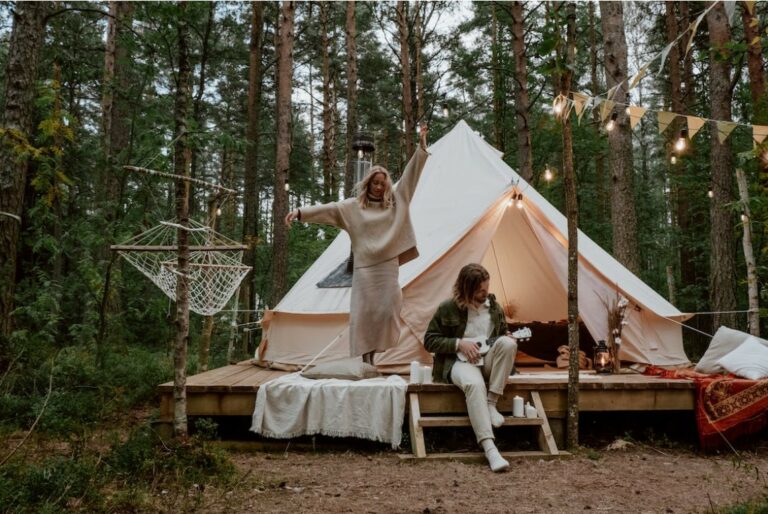 Lodge Glamping
Lodge glamping is excellent for the occasional glamper who wants to see the world at a low cost with little to no supplies. Glamping resorts/sites offer all the amenities you need and more. All you need to bring are some snacks and safety essentials. 
Amenities typically offered by glamping resorts are air conditioning, bathrooms, showers, kitchens, furniture, wifi, and outdoor sitting areas.
How Do I Select the Right Campsite?
The location of your glamping experience can make or break your trip. Some individuals prefer to be secluded, while others love to be amongst other glampers. Make sure to research your glampsite before booking a stay or spot.
Begin by identifying your level of comfort, especially if you're traveling with children. Some glampsites offer shared spaces, while others offer private areas. Shared spaces usually apply to showers and bathrooms, so beware before booking if this sounds unappealing to you. 
Glamping Sites Amenities
Consider whether you want an extra luxurious experience; some glamping sites offer hot tubs and air conditioning. If additional amenities sound like something that could improve your experience, then searching for more luxurious options may be right for you. 
If you're just looking for a spot to set up camp, ensure that your campsite has the proper hookups for glamping. Also, check in on the campsite's average population of visitors. A popular campsite might not be the best option if you like to stay away from people.
Glamping Prices
Pricing can vary depending on your location. When looking at all-inclusive lodges, prices typically begin as low as $50 per night. 
If you plan on doing a DIY glamping experience, all the supplies can add up, but it is also a one-time purchase. Sometimes, splurging on DIY glamping can be a great long-term money-saving technique for those looking for long-term savings.
Pick the site that allows you to get the best possible experience. Consider how many people will be there, your location, the amenities, and your comfort level. 
What are the Must-haves When Glamping?
Whether creating your own glamping experience or going to a lodge, you may need a different list of items. 
Lodge camping is usually the easiest as it requires few items and preparation. DIY camping gets a bit more complicated as it requires packing everything from a first-aid kit to your inflatable mattress.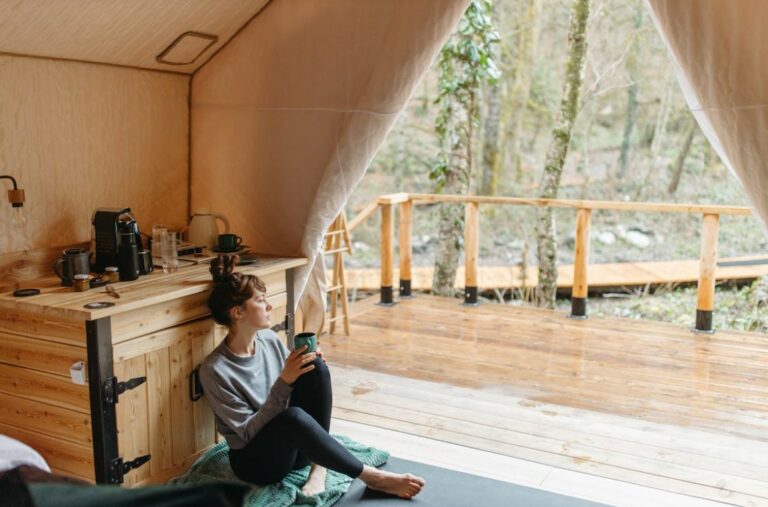 If you are going to a lodge, you'll want to have the following items:
Flashlight
Water bottle
First aid kit
Bug Spray
Additional food/drinks
If you are creating your own glamping experience, you'll want to have these essential items:
Cozy bed and bedding
LED lights
Tent
Homey accessories
Furniture (lawn chairs, table)
Cooking appliances (portable stove top, cooler)
Games
First aid kit
Flashlight
Bug Spray
Food and water
The amount of items you bring to your glamping experience is entirely up to you. Check-in with your lodge provider to find out what items will be provided within the lodge, often a lot of these are provided if it is a luxury glamping provider. Safety items typically aren't included and should always be carried when glamping.
What are the Benefits of Glamping?
Glamping can give you that short-term fantasy if you've ever wondered what it would be like to run away from city life and live in a tiny secluded home. 
Camping Experience
Glamping offers the best tiny home camping experience, from a well-designed tent to the necessary amenities. Ultimately, this means that glamping is exceptionally comfortable.
Convenience
Glamping is also highly convenient by eliminating unwanted factors such as an uncomfortable bed, unwanted critters, and even eating poorly. The benefits of a kitchen allow you to stick to your diet or cook adventurously; the choice is yours.
Glamping also brings you to locations that your local resort could never do. You can wake up in a meadow, beach, or mountain range with glamping. You can wake up amongst other bustling glampers or secluded near the water. Glamping is versatile and offers locations for everyone.
Glamping avoids mass construction, which contributes to deforestation. Lodges are created out of upcycled materials and have a minor impact on the soil they reside on. The electricity components also typically run on solar or wind power.
Glamping is all-inclusive, making it the best option for individuals on a budget and with no camping experience. Glamping can be for both veteran nature lovers and new campers.
Do Weather Conditions Affect Glamping Tents?
If you plan on renting out a lodge, these tents are typically weatherproof and made of high-quality materials that withstand local weather conditions. Remember that most of these lodges usually stay up year-round and are reliable shelter areas. Lodge owners should also know about their lodge's durability, so asking won't hurt.
If you are using your own tent, make sure you purchase a sturdy weatherproof tent. A sturdy tent will protect you from rain, wind, and other extreme conditions. Popular weatherproof tents are usually made of nylon or polyester; however, some individuals cover the fabric of their tent in silicone as well!
Conclusion
Glamping is a creative and enjoyable experience for anyone looking to connect with nature affordably. Glamping offers something for everyone, whether you're looking to escape the city life, experience different cultures, or camp without having to worry about forgetting the tent.