Arnica Lake Trail Hike, Banff National Park
6 min read
Last updated:
The Arnica Lake trail can be done as a stand-alone hike or part of a multi-day hike to Egypt Lake in Banff National Park. If you're doing it on its own, larch season is the prettiest time of year to do it, but on a weekend at least, that comes at a cost – huge numbers of people. If possible, aim to do the hike in larch season on a weekday. What I do like about the hike apart from the larches, is that you can visit a minimum of two lakes and up to four lakes if you continue to Upper and Lower Twin Lake. In fall, the understory is particularly beautiful. In summer you'll see loads of the pretty yellow arnica flowers in the vicinity of Arnica Lake – for which the lake is named for.
This post includes some affiliate links. If you make a qualifying purchase through one of these links, I will receive a small percentage of the sale at no extra cost to you. Thank you very much for your support.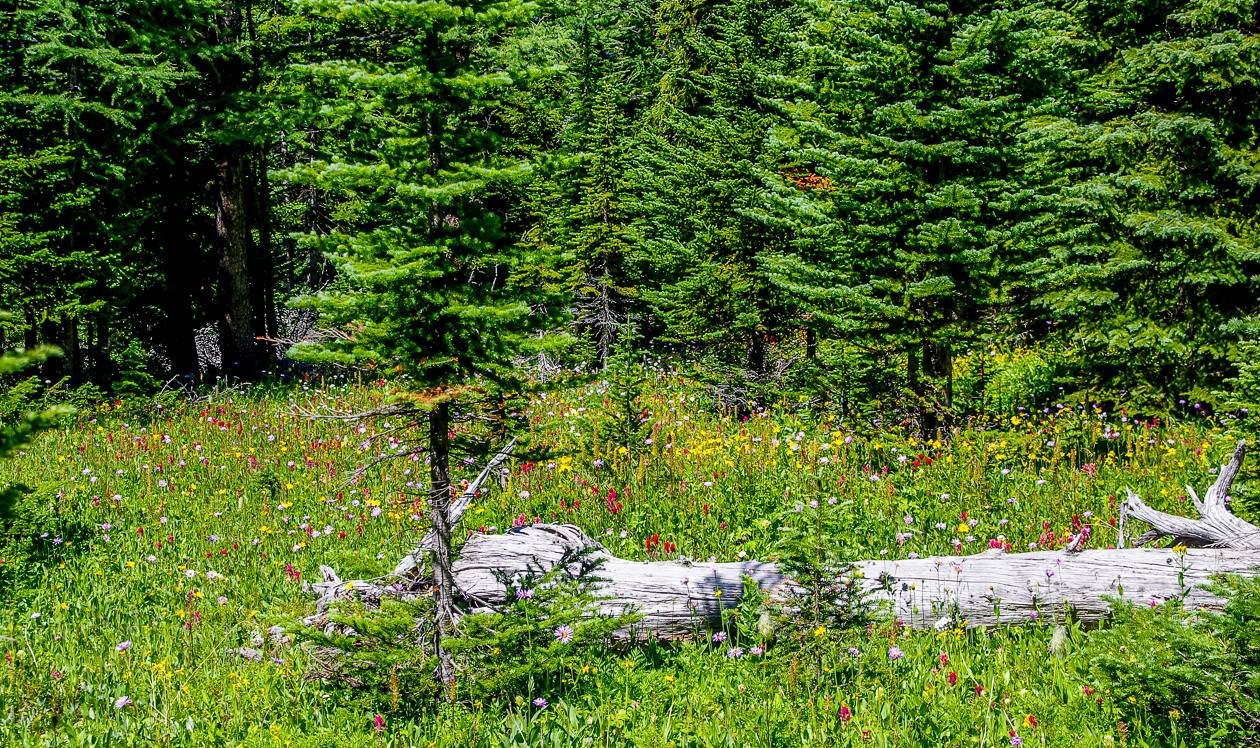 Arnica Lake Trail summary
The Arnica Lake Trail is a popular one in larch season. There are good colours along the way as far as Gibbon Pass. 
Be prepared for big crowds in larch season. There was a kilometre long line of cars parked along the highway in late September when larches were at their peak – though it's not a very busy hike outside of larch season.
The hike is 10.2 km round trip with an elevation gain of approximately 580 metres. Allow 4 – 6 hours to do it.
Arnica Lake is at the bottom of Storm Mountain in Banff National Park. From the lake you can continue to upper and lower Twin Lake.
You will pass Arnica Lake if you do the hike to Egypt Lake via Gibbon, Whistling and Healy Passes.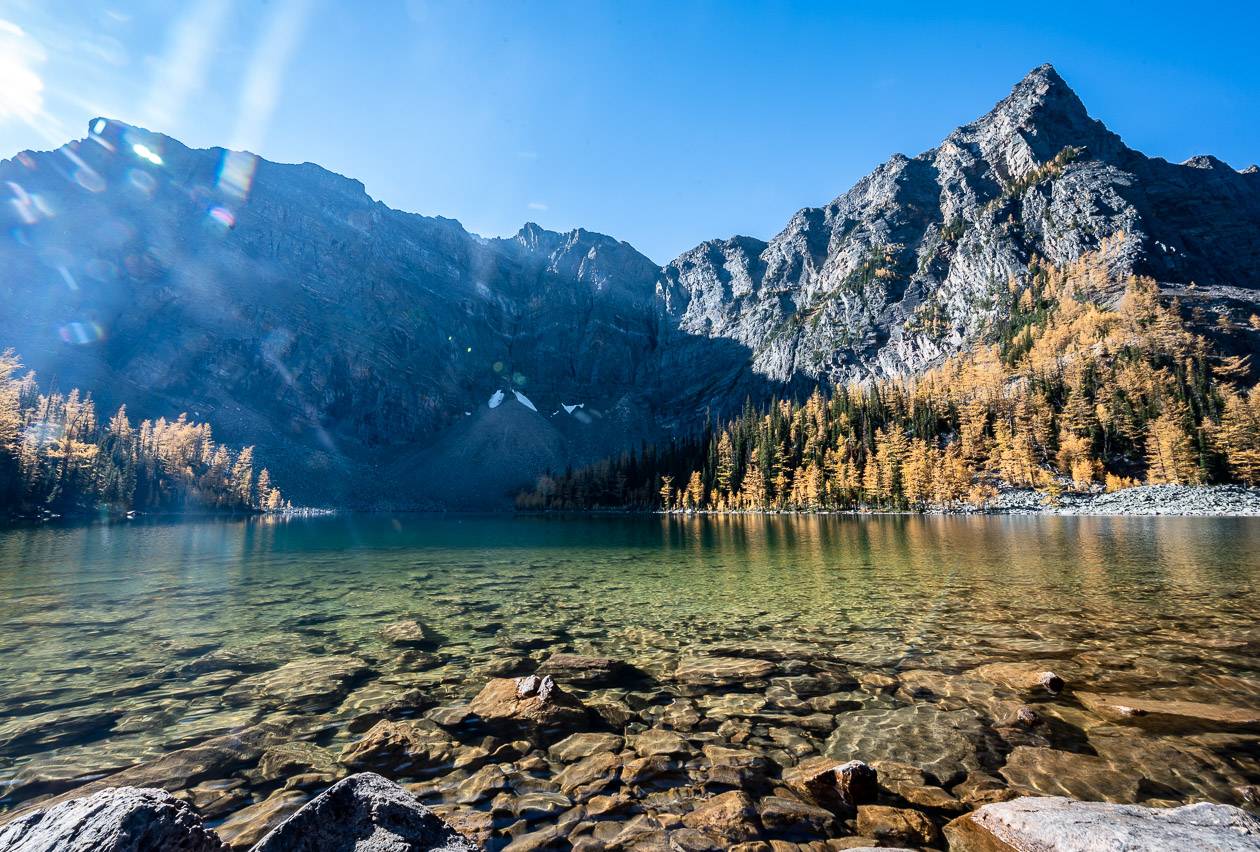 Arnica Lake Trail hike details
Distance: 10.2 km round trip
Elevation gain: 580 metres or 1902 feet plus a loss of 120 metres or 393 feet
Difficulty: Moderate
Time needed: 4 – 6 hours
Location: Off Highway 93 at the Vista Lake Trailhead in Banff National Park
Dogs allowed: Yes, on a leash
Map needed:  Gem Trek Banff and Mt. Assiniboine
Don't forget: Bear spray and the 10 hiking essentials
Before you go: If it's larch season, consider an alternative as the parking is crazy on a weekend – and I don't know how much longer Parks Canada will allow roadside parking along Highway 93.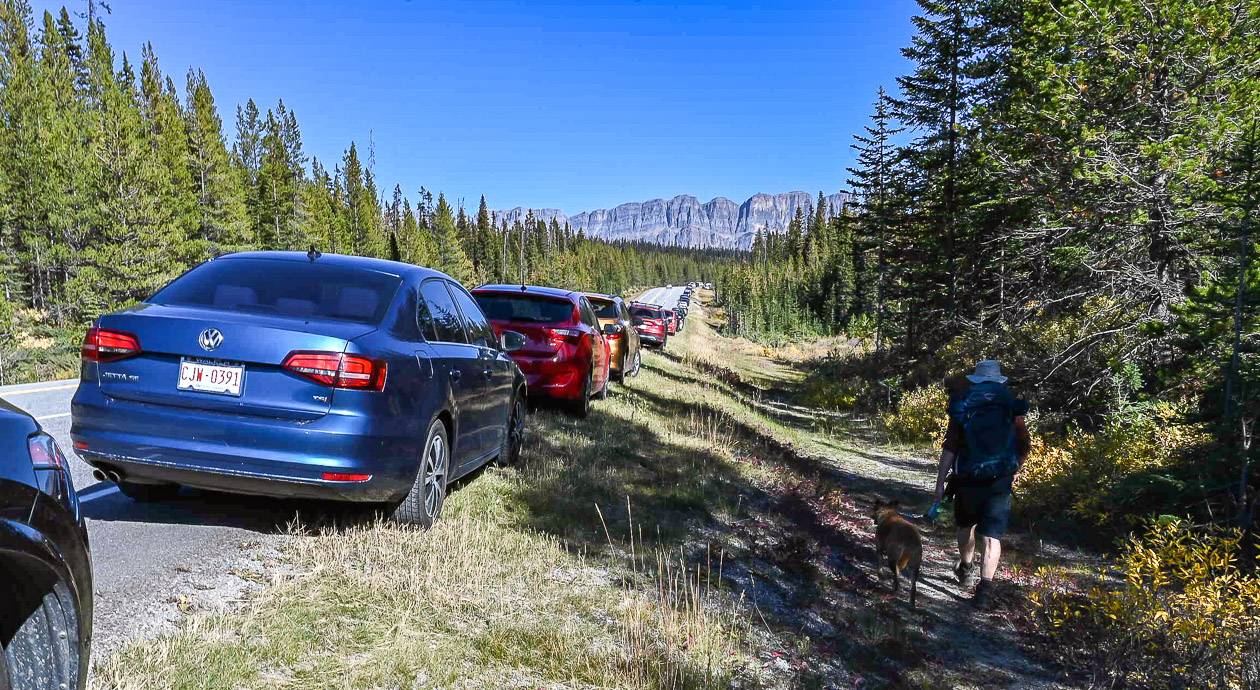 Location of the trailhead for the Arnica Lake hike
The Vista Lake viewpoint – the trailhead for the Arnica Lake hike, is located on Highway 93S, 8 kilometres south of Castle Junction on the east side of the road. It's near the Boom Lake trailhead. If you have reached the Stanley Glacier trailhead, you've gone 5 km too far.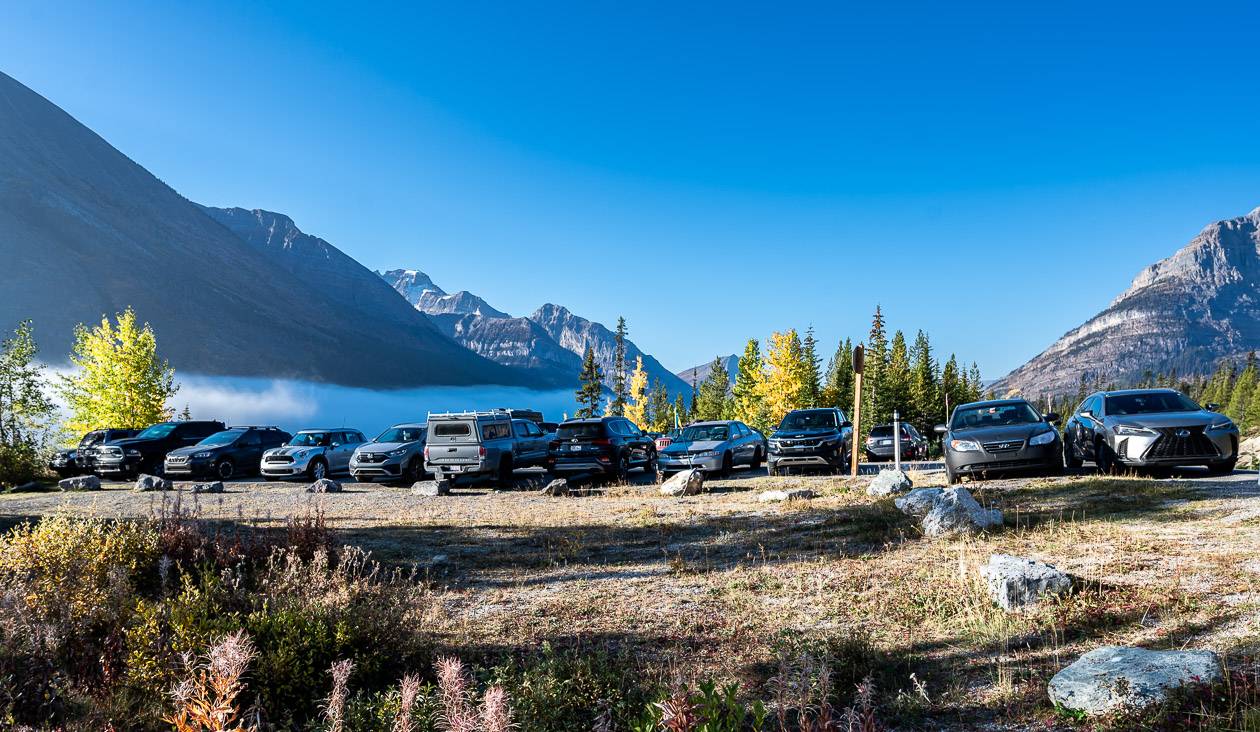 Location map
Arnica Lake Trail route description
The Arnica Lake trail hike was harder than I remember. Years ago, it was merely a pit stop for us as part of a multi-day hike to Egypt Lake. On paper, the 10.2 km round trip distance sounds quite easy, especially with only a 580-metre elevation gain. But the reality is a little different. Expect some steep sections and at the end of the day, be mentally prepared to ascend the 120-metre slope you hiked down at the start of the day.
From the parking lot, look for the trail heading down towards Vista Lake. You'll see the trail sign in the photo below. Descend through lodgepole pine forest, with some peak a boo views as you get closer to Vista Lake. Once you reach emerald-green coloured Vista Lake, the climbing begins in earnest. I think the lake is a good spot to take in the view, especially on a peaceful fall morning. If you're not that into hiking, it would make a fine destination, especially as it's only 1.4 km to the lake from the trailhead.
From the lake start climbing on one of the narrowest trails I've been on in Banff National Park. As it was quite a busy weekend, we had to pull over a lot to let people pass – both going up and down. When you get an opening in the trees, be sure to stop and admire the southwest face of Castle Mountain to the northeast.
In fall the understory is very pretty as you climb up towards Arnica Lake. But what is even more impressive are the larches you'll run into when you reach about 2000 metres. Shortly after that you'll pass what is left of a pond in a bowl full of trees. It's flat through here for at least 20 seconds – but then you climb again, though it's not as steep as it is earlier in the hike. Reach pretty Arnica Lake at 5.1 km. Admire the sheer cliffs of Storm Mountain along with the upper subalpine forest of alpine fir, larch and Englemann spruce. Nearby look for arnica and other wildflowers.
It's a great stop for lunch, and there's quite a bit of room to spread out and enjoy the scenery.
For those that want to continue – and enjoy even better larch views, Upper Twin Lake is 2.3 km away – and you'll need about an hour to get there. Lower Twin Lake is 3.4 km past Arnica Lake.
Retrace your steps to return. I was surprised at how slippery the rocks were on the way down with the morning dew still clinging to them in the early afternoon. I found the descent way harder, than the ascent on this hike as there was lots of small scree where I worry about going over on an ankle. A pole might make a big difference on the descent for some of you.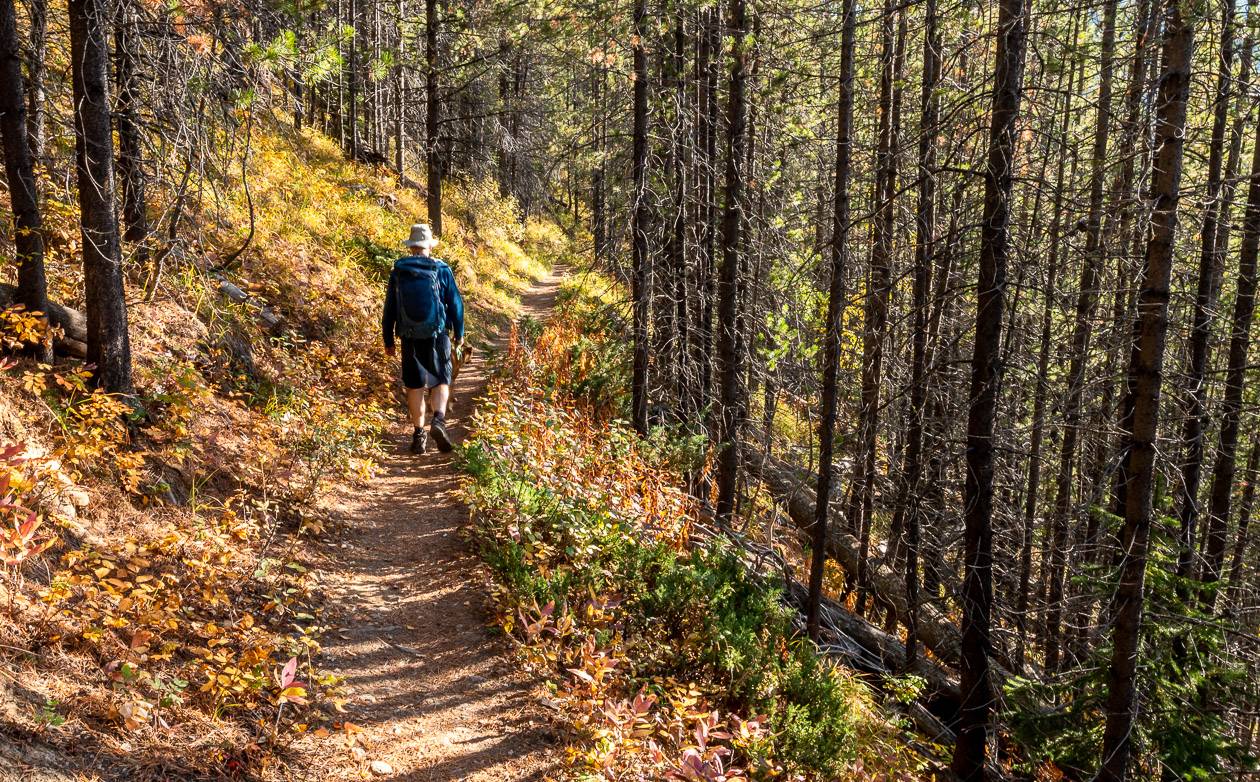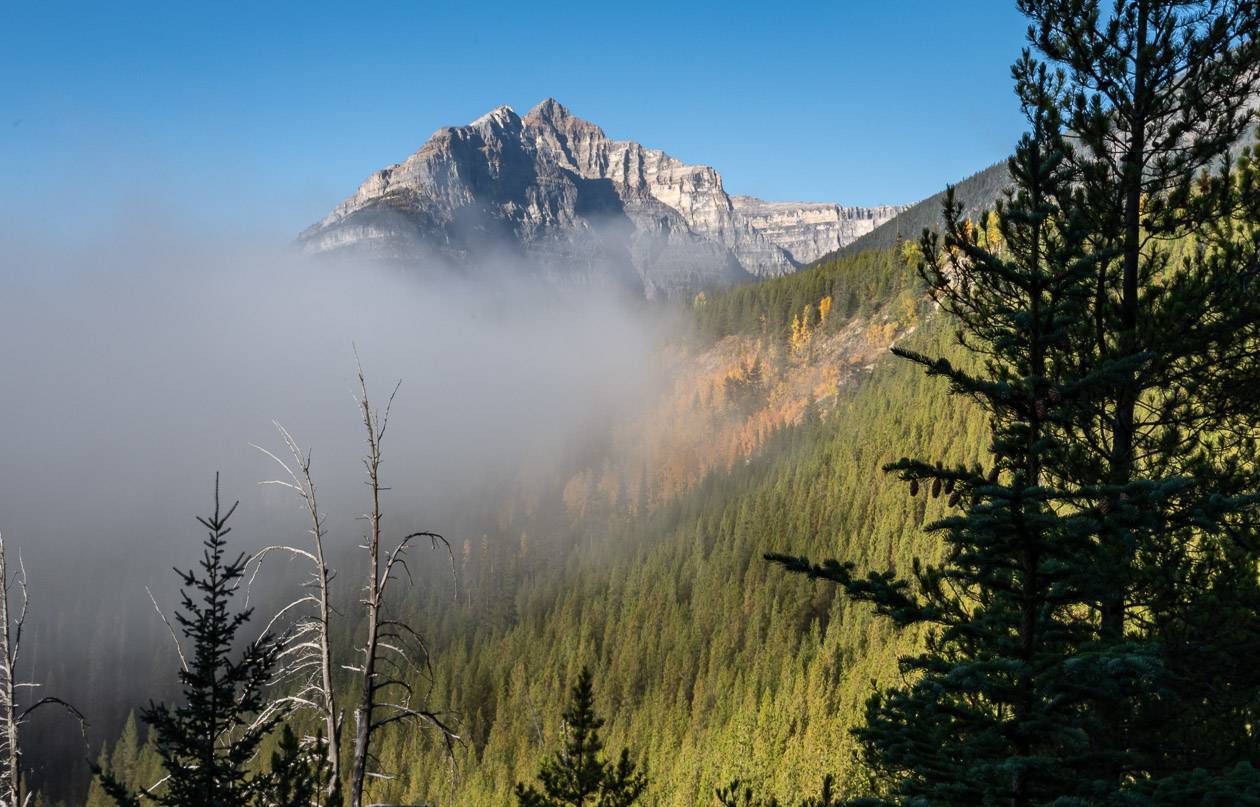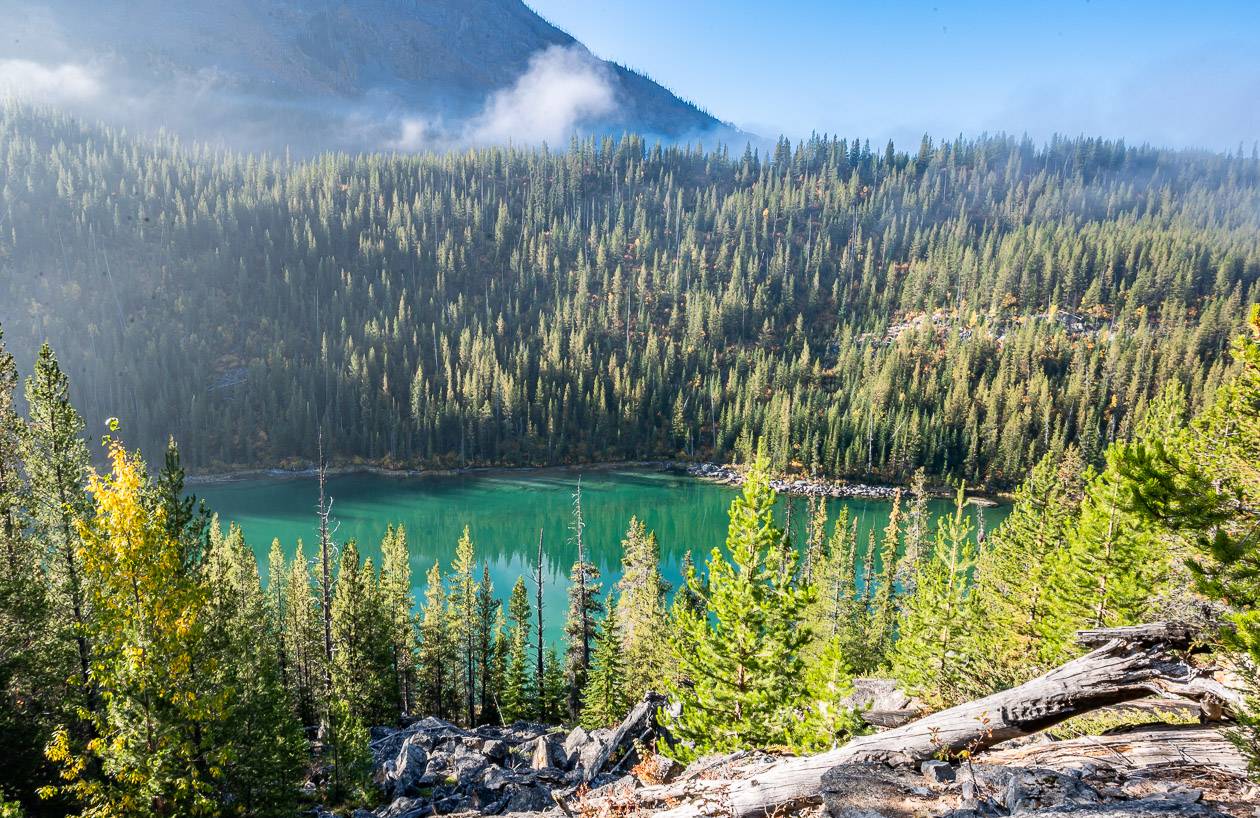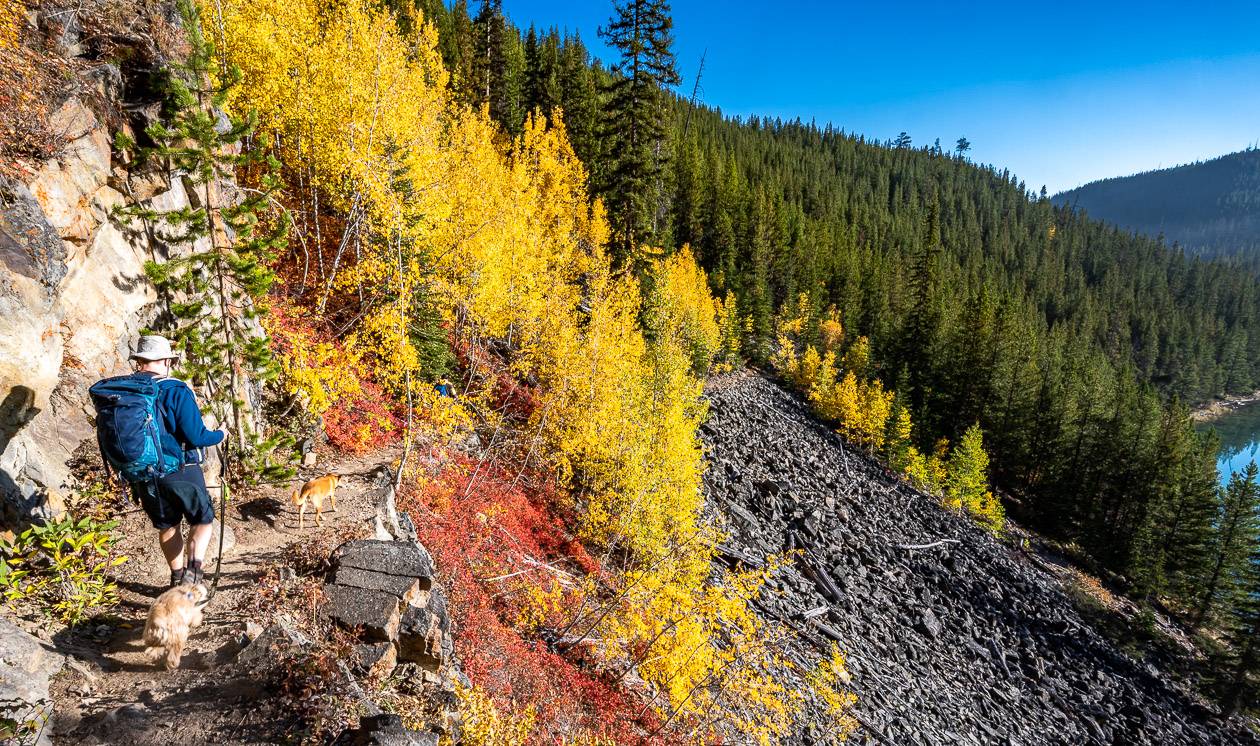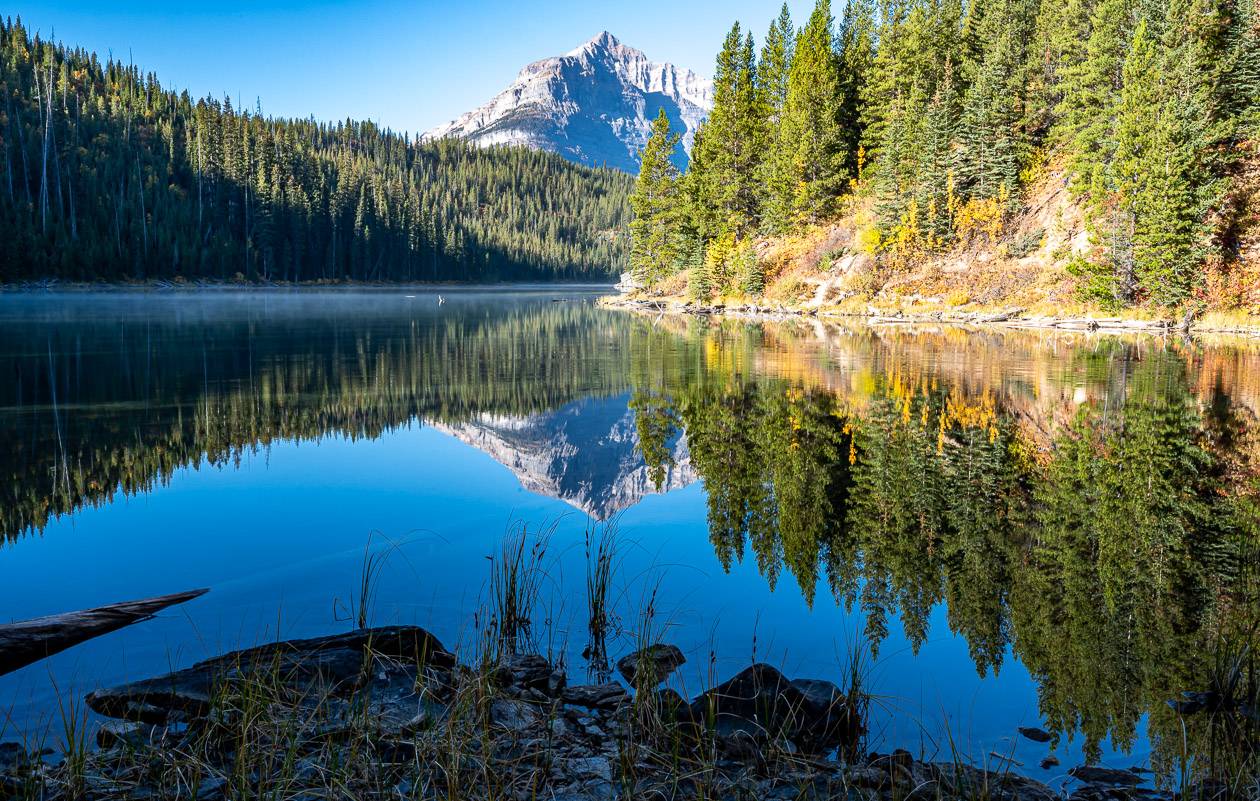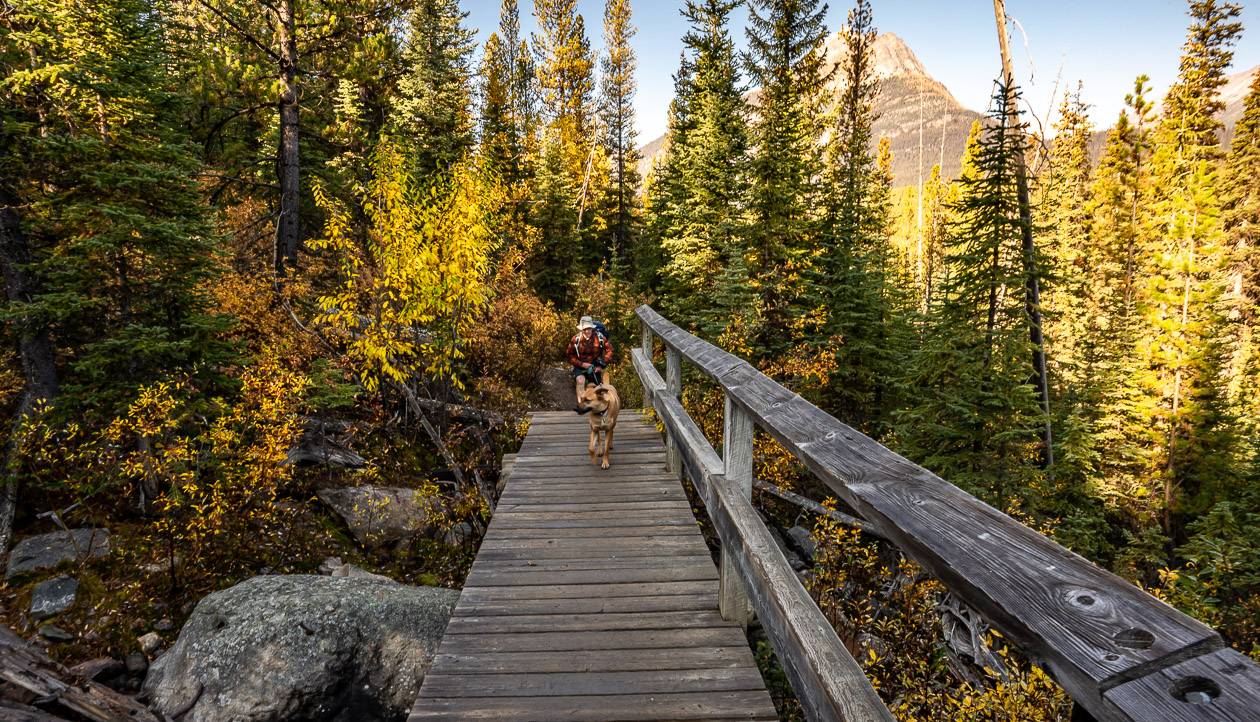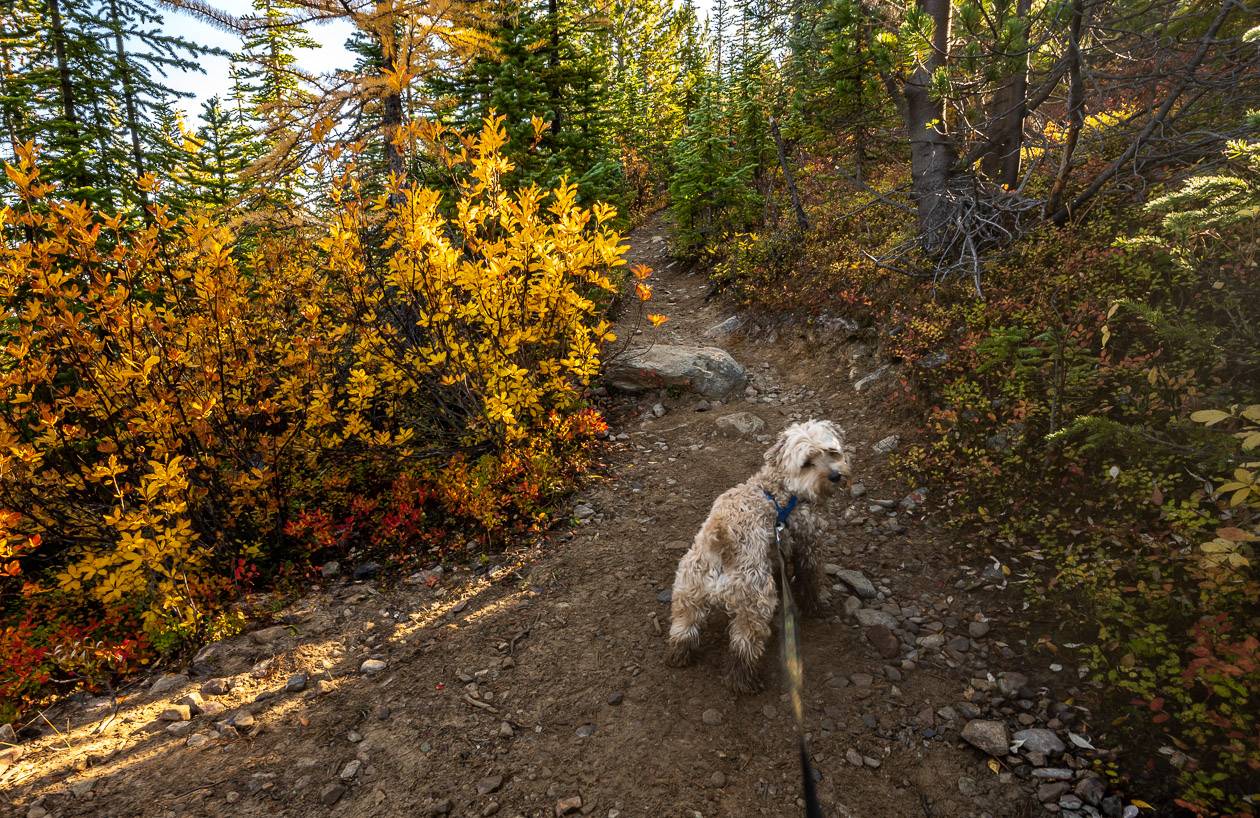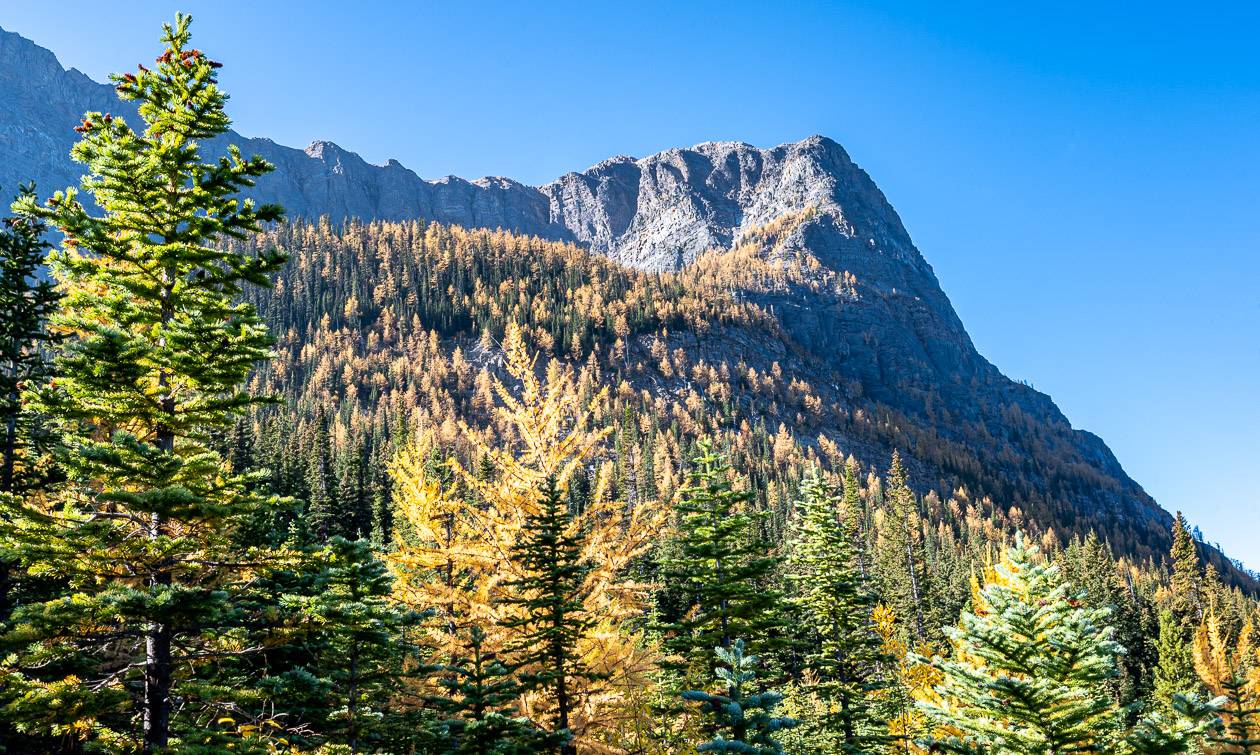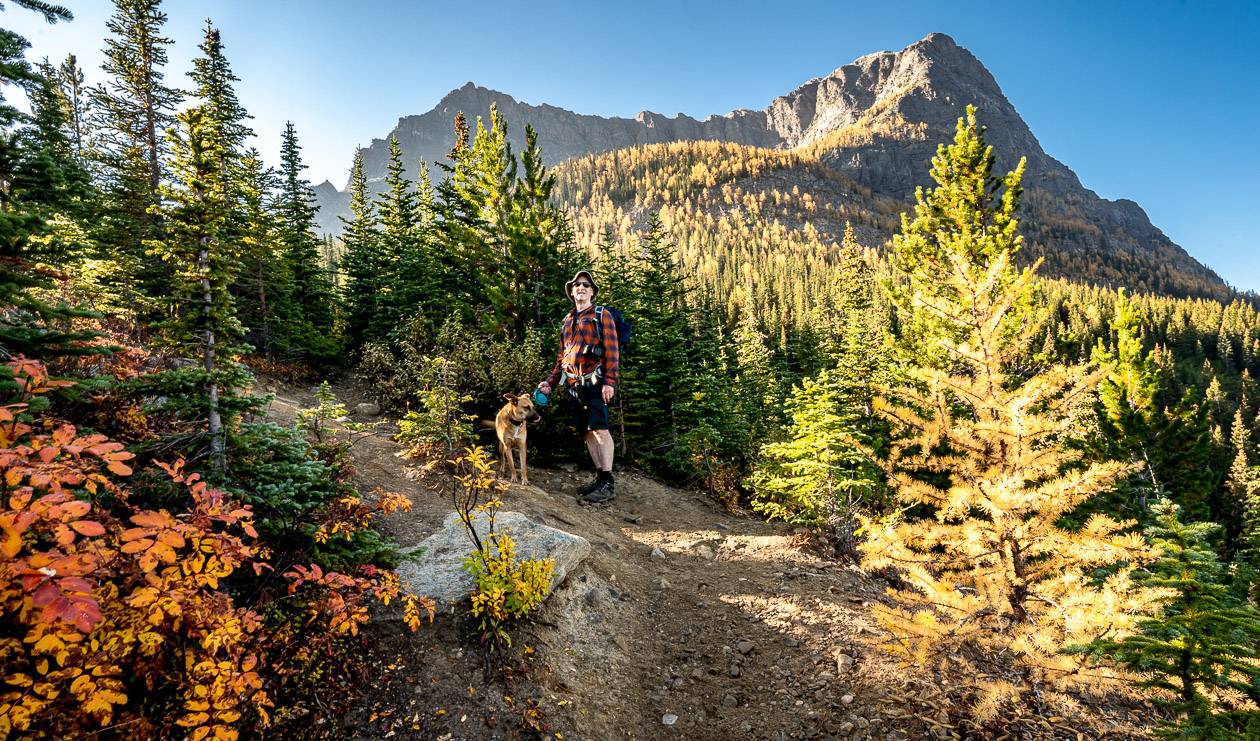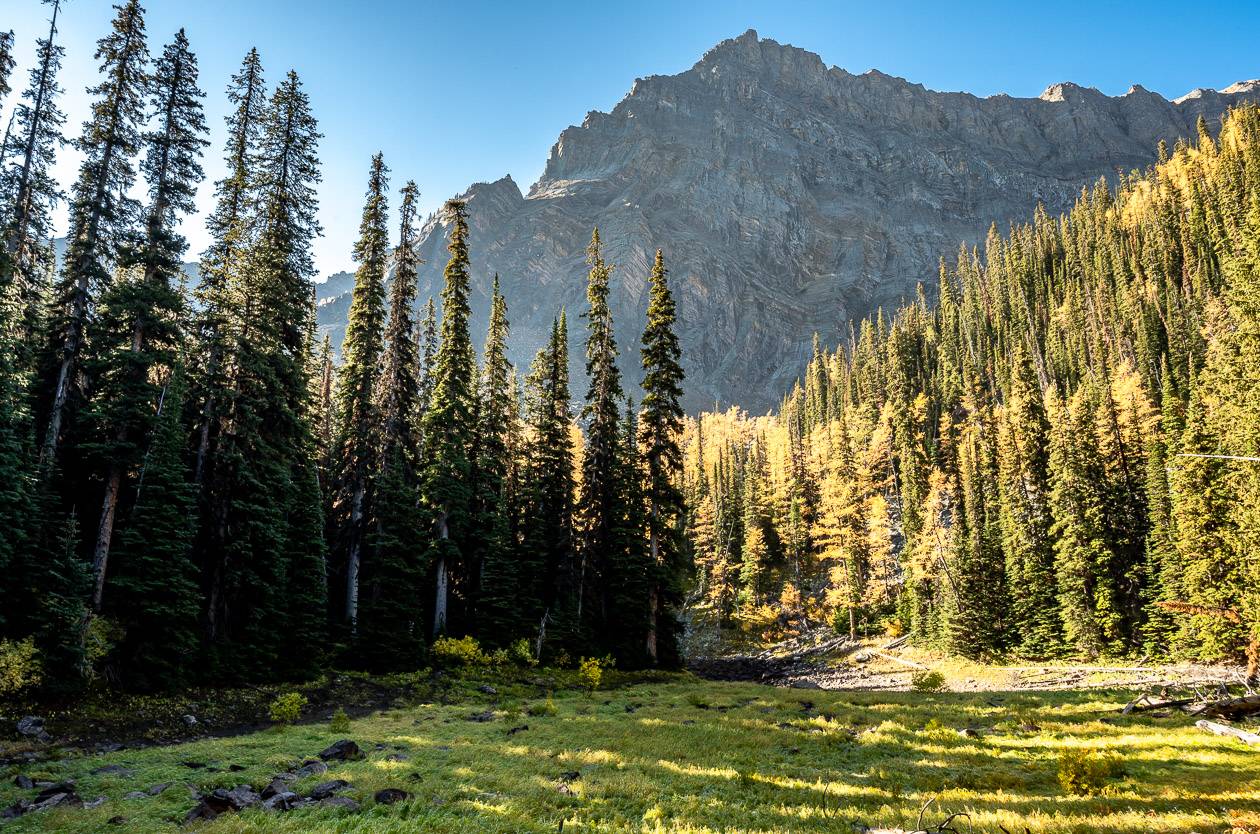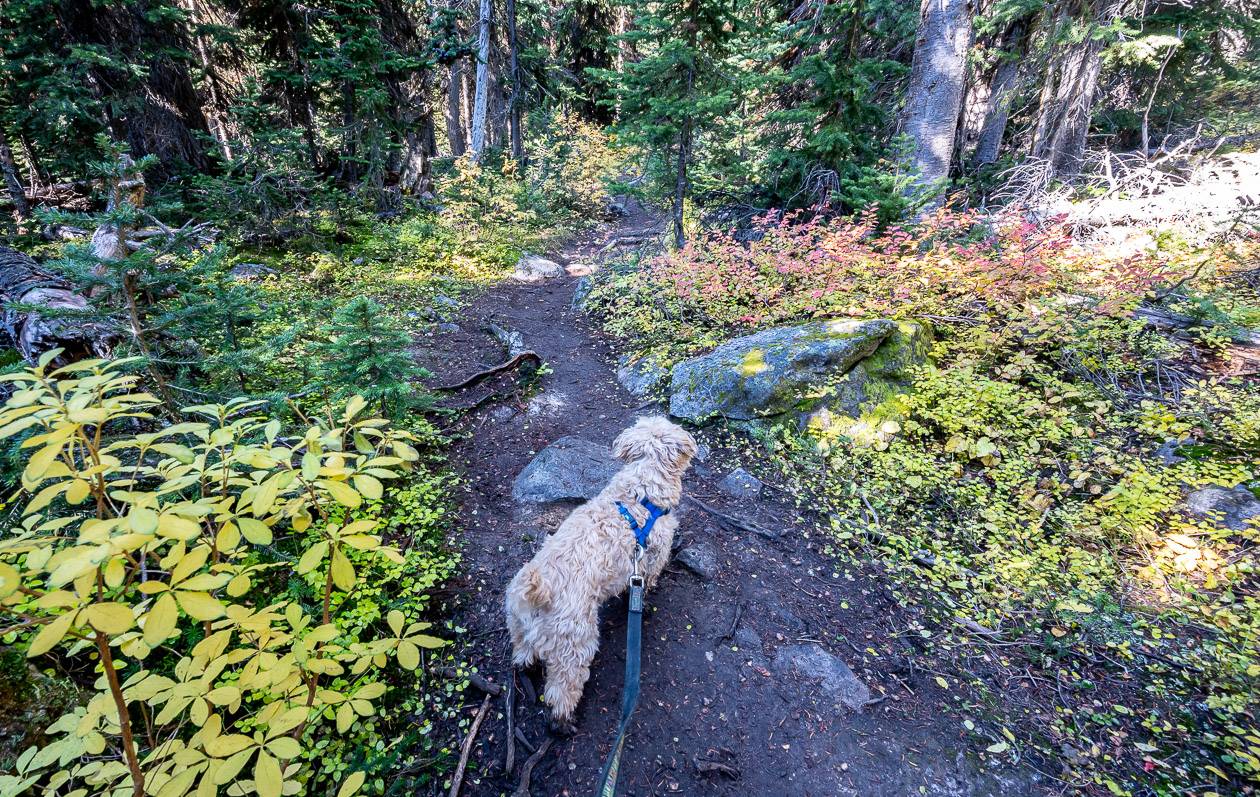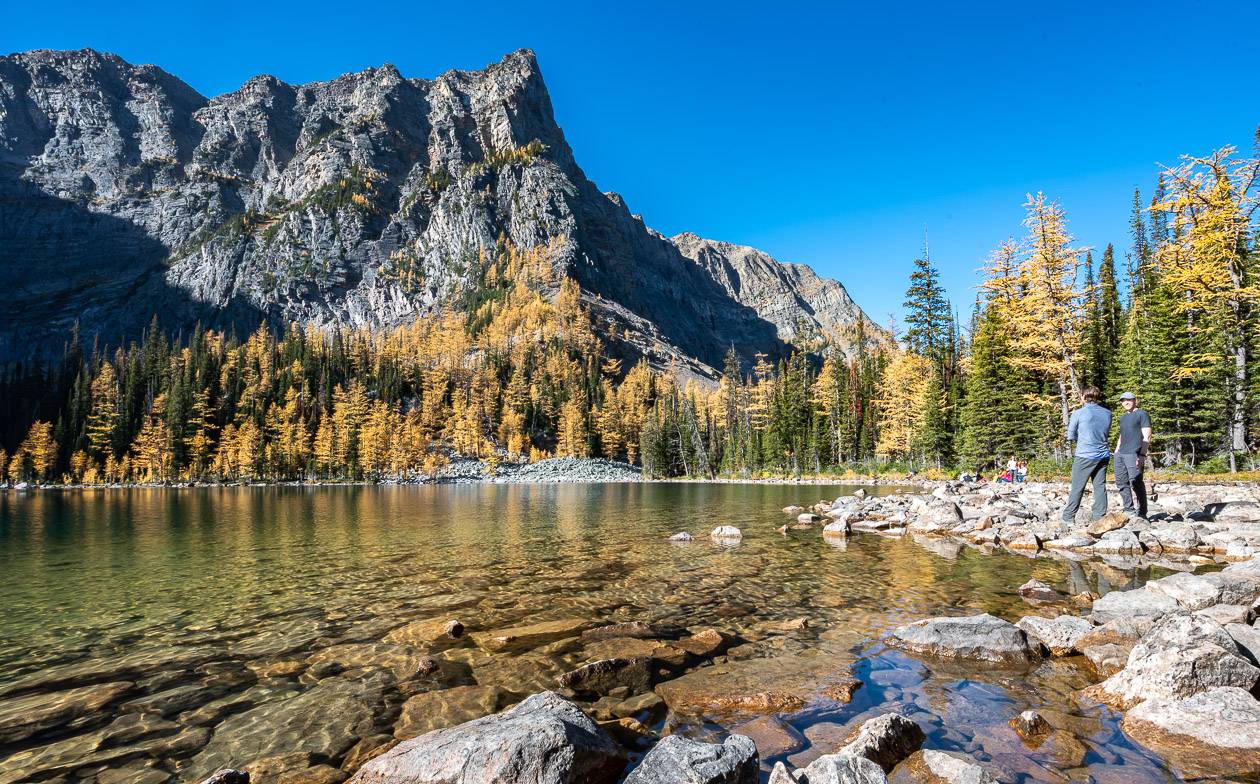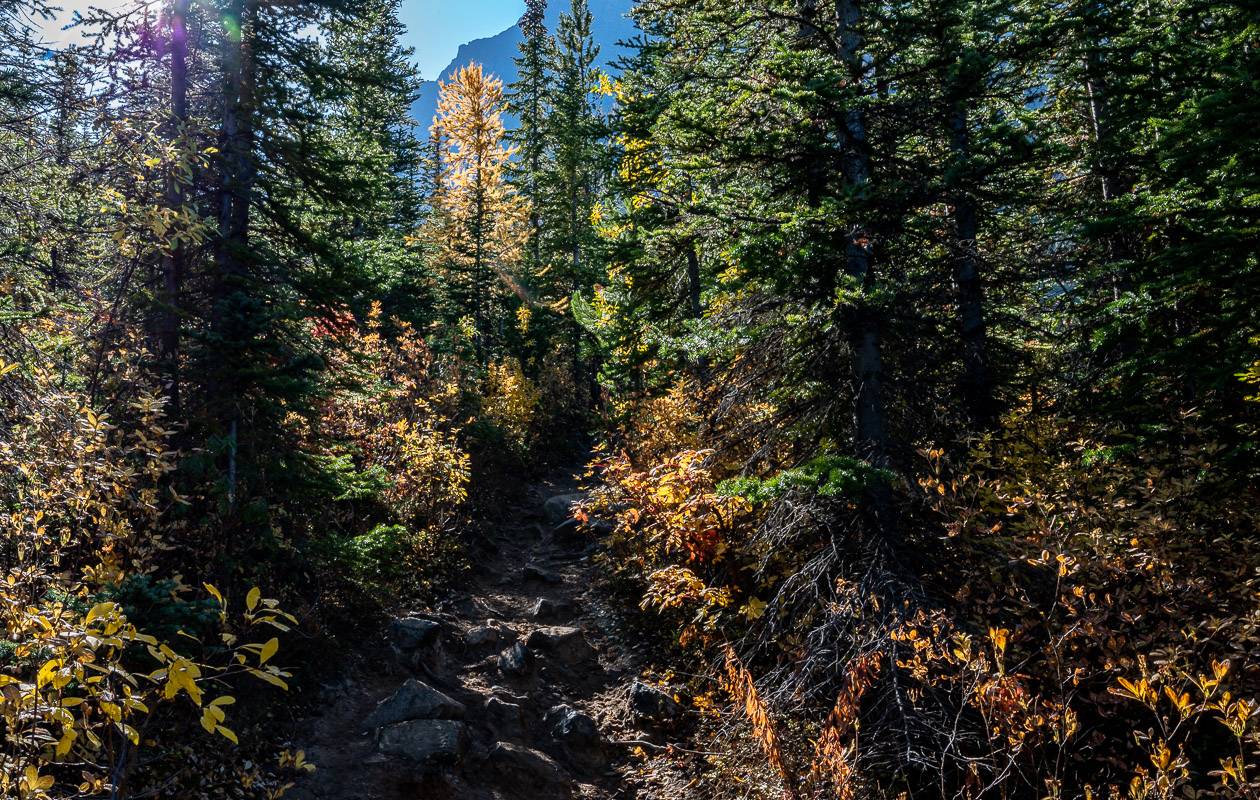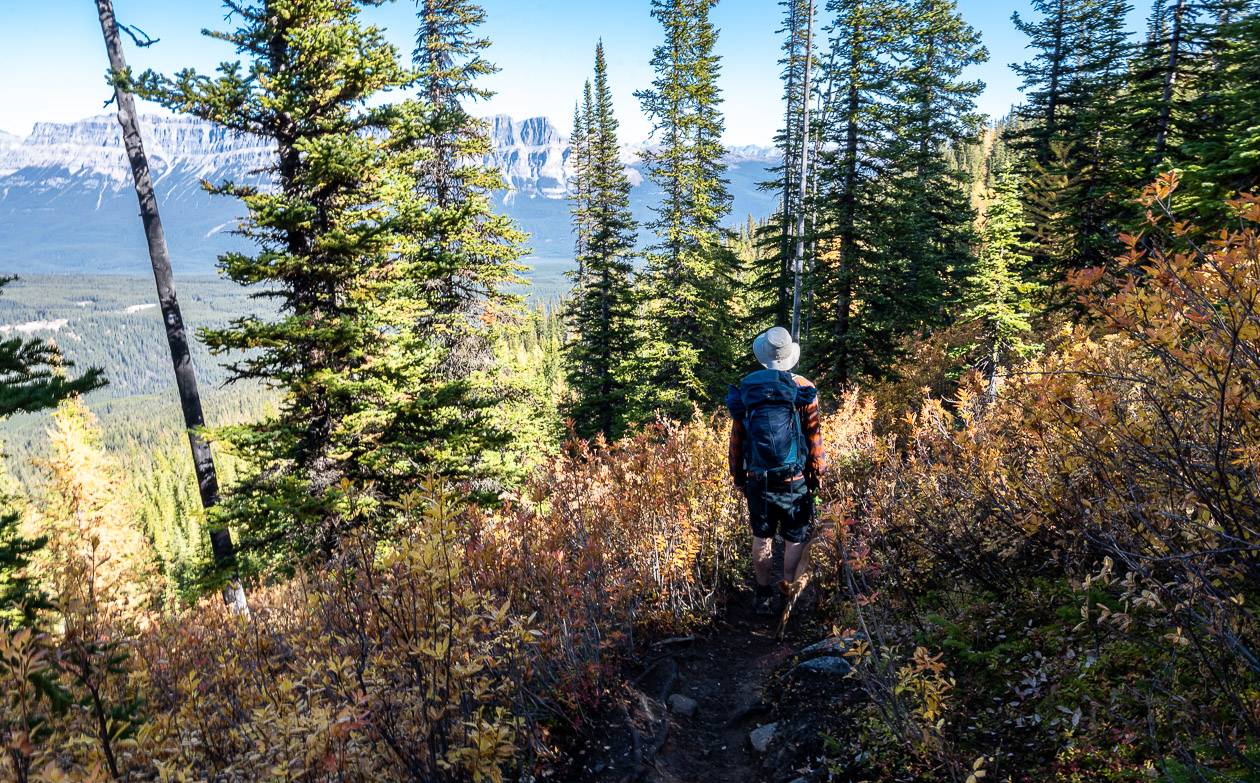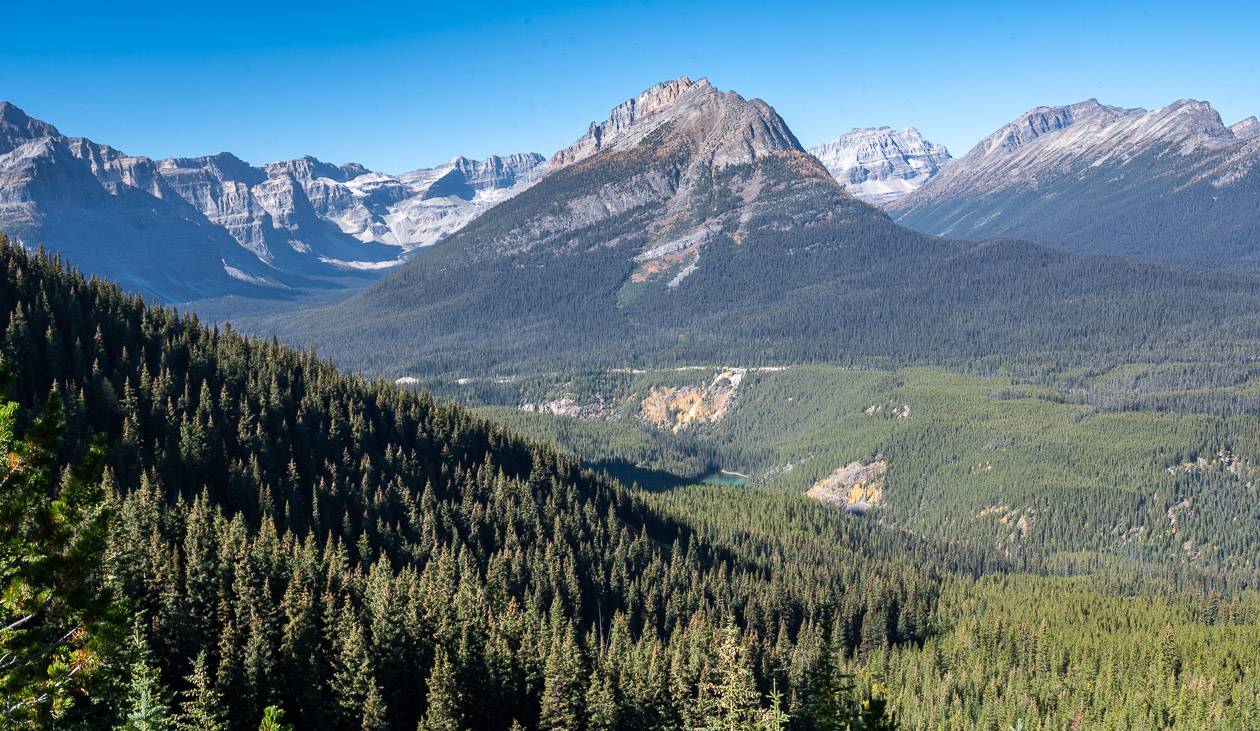 Where to stay in Banff National Park
If you're visiting Banff National Park and you want to do the Arnica Lake trail hike, head to Castle Junction. There are several options in the area including Castle Mountain Chalets, Johnston Canyon Lodge & Bungalows or the Castle Mountain Hostel. 
Storm Mountain Lodge is the closest accommodation to the trailhead.
Baker Creek by Basecamp is also quite close by. Enjoy fire pits by the creek. 
In Banff itself, I like the Moose Hotel & Suites and Buffalo Mountain Lodge.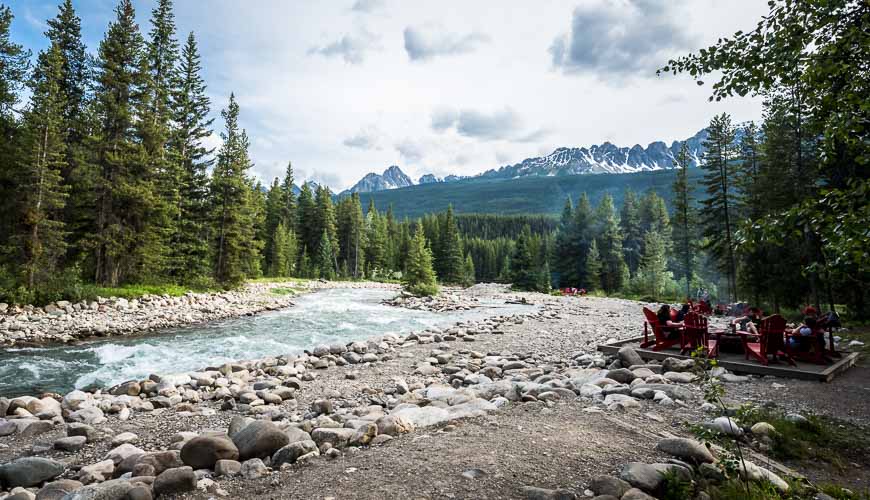 Further reading on hikes in the area
Click on the photo to bookmark to your Pinterest boards.