8 jaw-dropping cliff diving destinations
5 min read
Note: All travel is subject to frequently-changing governmental restrictions—please check federal, state, and local advisories before scheduling trips. 
Cliff diving isn't for everyone to attempt, but it sure is fun to watch the pros do it. The death-defying leaps, flips, and twists from towering clifftops and rock ledges belong to one of the oldest extreme sports in the world. In fact, cliff divers are featured in Greek and Etruscan paintings dating back to the 5th and 6th centuries B.C.
Fast forward to the 21st century: Cliff-diving daredevils, usually skilled locals trained in carrying on this athletic legacy, can be found performing for tourists in locations around the world. If you'd like to see it for yourself, here are a few places where you can witness these brave or crazy (take your pick) athletes dive from great heights that are often quadruple the height of the Olympic games' tallest diving platform, which is 10 meters high.
RELATED: Top 10 destinations for adrenaline junkies
Highest height: 135 feet (41 meters)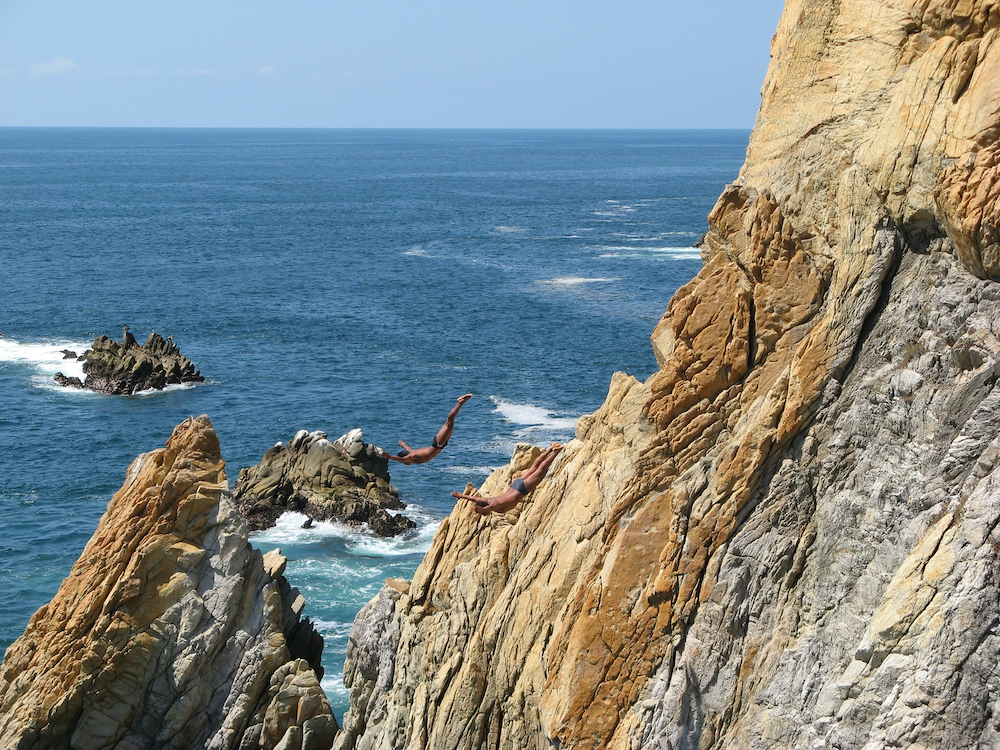 Elvis helped to make the La Quebrada Cliff Divers famous. The jumpers were featured in his 1963 musical, "Fun in Acapulco," and tourists have been flocking to see them ever since. They perform several times each day, scaling the steep rocks of the La Quebrada cliffs with their bare hands before leaping into a mere 12 feet of ocean water below at a speeds of up to 55 miles per hour. There's an observation deck to witness this must-see spectacle, and divers typically come to greet visitors afterward and receive tips. For the best vantage point, however, head to La Perla restaurant at the Hotel Mirador Acapulco, which boasts spectacular views.
Check here for Acapulco hotel deals.
Highest height: 92 feet (28 meters)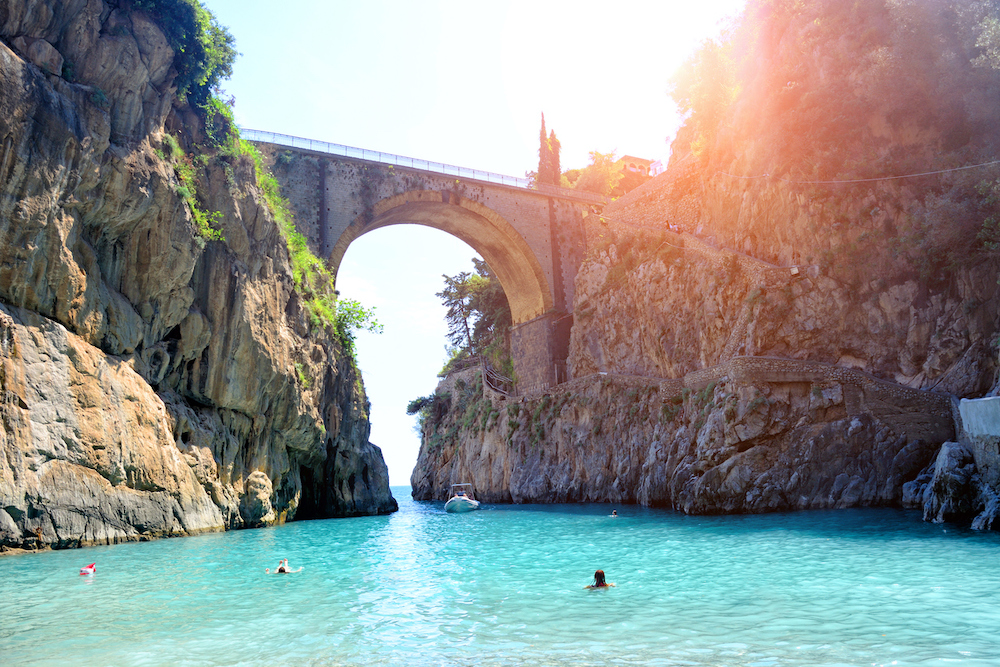 The fjord in this town on the Amalfi Coast provides a natural springboard for cliff-diving athletes. Each July, it hosts a Mediterranean high-diving championship—an event best viewed by hiring a boat or joining a water-based excursion. Afterward, you can recount the insane acrobatics over an Italian feast and plenty of local limoncello.
Check here for Furore hotel deals.
Highest height: 89 feet (27 meters)
Jumping off the Old Bridge (Stari Most) in Mostar dates back to at least 1664. That's when 16-year-old boys were encouraged to jump from the bridge as a right of passage into manhood. If you didn't jump, your life was predicted to be a failure. (How's that for motivation?) Today, members of the Mostar Diving Club regularly jump from the bridge into the freezing waters below. Visitors who are feeling brave can sign up with the dive school, which is run by dive experts who are considered the guardians of the bridge. They will teach you how to make the leap safely, at incrementally higher and higher heights. Those who complete the highest dive walk away with a certificate and a crazy story.
Check here for Mostar hotel deals.
Highest height: 85 feet (26 meters)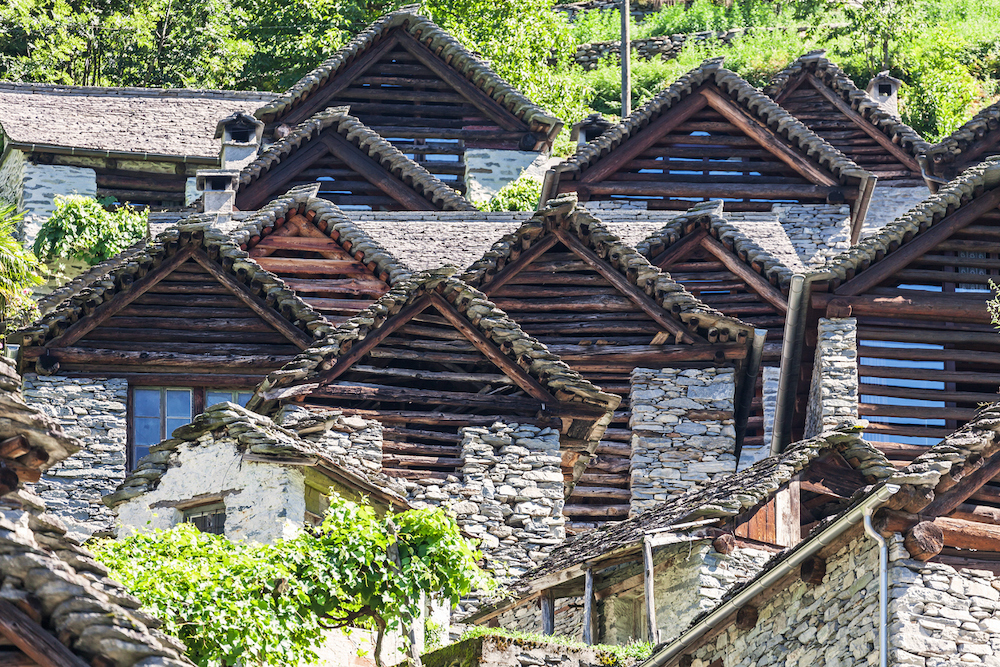 This Medieval village is known for more than its stunning alpine scenery and gorgeous hikes. It's home to the World High Diving Federation (WHDF), and its cliffs host the WHDF Cliff Diving World Tour each July. You'll find some of the best cliff divers in the world training here.
Check here for Brontallo hotel deals.
Highest height: 50 feet (15 meters)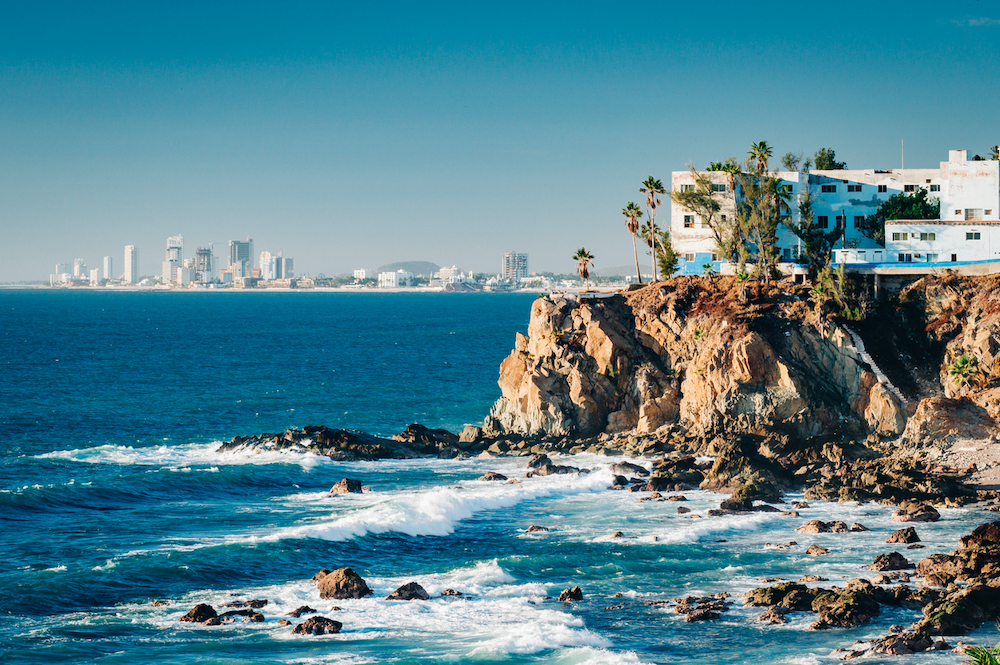 La Quebrada isn't the only place in Mexico to find skilled cliff divers. Mazatlan is home to a cliff at an oceanside park, also known as El Clavadista (translation: "the diver"). The park is an easily accessible area to watch skilled locals leap elegantly into the waters below. It's been a tradition since the mid-1950s, and tips from spectators are appreciated. Though the height of the Mazatlan cliff is nowhere near as intimidating as La Quebrada, the shallowness of the water certainly is: It's only 6 feet. Divers need to perform with extreme precision to make the leaps here.
Check here for Mazatlan hotel deals.
Highest height: 35 feet (10.5 meters)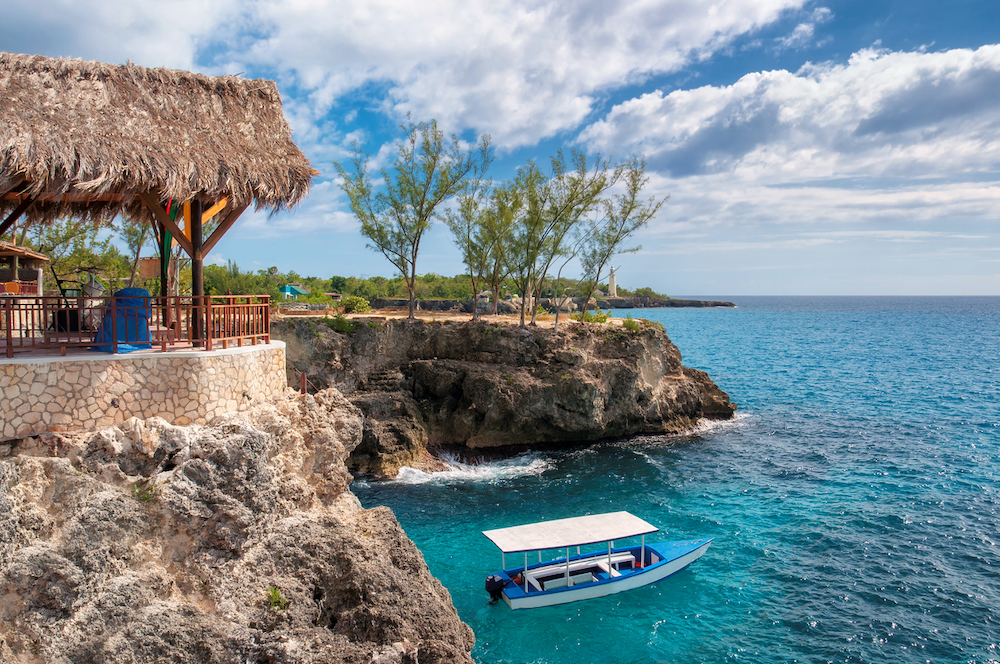 With a little bit of liquid courage, you might be inspired to make the leap with locals. Rick's Cafe in Negril is a must-visit spot at sunset for a few drinks and an acrobatic show. While most sun-burned tourists (quite hilariously) cannonball dive off the 35-foot cliff upon which this legendary bar is perched, the locals will wow you with more impressive acrobatic dives into the Caribbean waters below.
Check here for Negril hotel deals.
Highest height: 30 feet (9 meters)
The Sheraton Maui Resort & Spa has maintained a tradition since its opening in 1963: the ceremonial cliff dive from Pu'u Keka'a, also known as Black Rock. The ritual takes place each night at sunset, accompanied by live music and guided historical narration. The dramatic lele kawa (cliff diving) honors the legend of the last chief of Maui, who leapt from sacred Pu'u Keka'a into the Pacific. With Hawaiian chanting and torches lighting the way, a young diver retraces the chief's footsteps to the summit before making a breath-taking dive into the ocean below.
Check here for Maui hotel deals.
Highest height: 60 feet (18 meters)
In the walled city of Dubrovnik, spotting Game of Thrones filming locations isn't the only thrill visitors will find. Just outside the city's 13th century walls on the sea side, you'll find Buza Bar, a popular outdoor drinking establishment built into the side of dramatic cliffs. Below the bar is Buza Beach, which isn't much of a beach at all but rather a set of cliffs and small platforms where locals and tourists alike test their might by jumping about 60 feet into the Adriatic Sea below.
Check here for Dubrovnik hotel deals.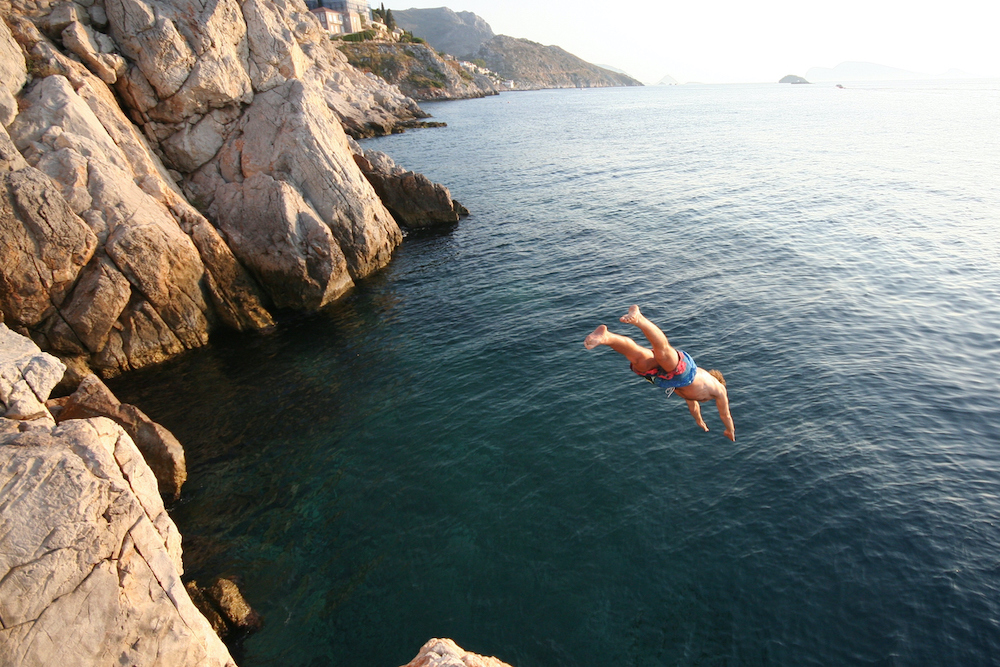 Leave it to energy-drink brand Red Bull to sponsor the world series for this high-risk, high-adrenaline extreme sport that makes the Olympic diving platform look like child's play. Competitions are held at cities, towns and villages around the world each year, dazzling spectators who can only imagine what it's like to dive from such insane heights. Plan to be one of them—one of the spectators, that is—by checking Red Bull's Cliff Diving World Series website for updates on where competitions will be held. Ireland, France, Norway, Azerbaijan—these are just some of the countries that have hosted competitions that typically run from June to October.
Tagged: Caribbean, Europe, Italy, Jamaica, Mexico, Switzerland
Note: Orbitz compensates authors for their writings appearing on this site.