20 luxury food treats to enjoy this Christmas (2022) – UK & Europe edition
10 min read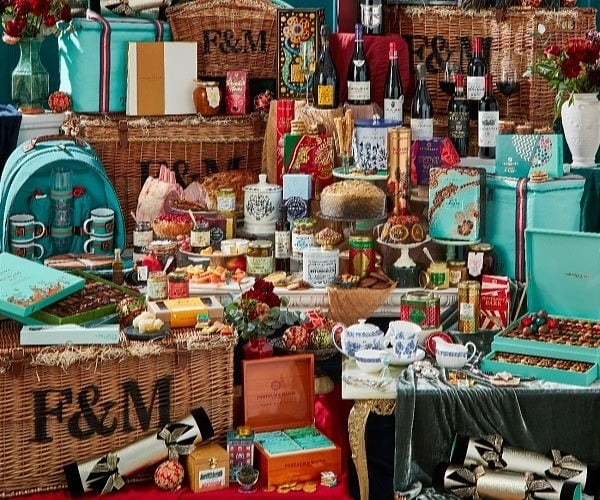 Feast your eyes on our round-up of gourmet Christmas treats, perfect for any foodie who appreciates the festive season. Expolore our exquisite range of food gifts to add some luxury to your Christmas celebrations. From the finest meats and fish to some indulgent sweet treats, our indulgent selection is sure to have your mouth watering!
For our other Christmas gift guides, please visit the following links:
20 luxury travel gifts for him this Christmas (2022) – US & Canada edition
20 luxury travel gifts for her this Christmas (2022) – US & Canada edition
20 luxury food treats to enjoy this Christmas (2022) – US & Canada edition
20 luxury drinks to enjoy this Christmas (2022) – US & Canada edition
20 luxury travel gifts for him this Christmas (2022) – UK & Europe edition
20 luxury travel gifts for her this Christmas (2022) – UK & Europe edition
20 luxury drinks to enjoy this Christmas (2022) – UK & Europe edition
Thank you, and happy shopping!
The Imperial Hamper from Fortnum & Mason
'Tis the season of giving, and this hamper is eligible for a £20 gift from Fortnum & Mason! Simply purchase this wicker – filled to the brim with joy – before Monday 5th December and they'll email you to say we've put £20 credit into your Fortnum's account. Use it on your next order and keep spreading the spirit of generosity!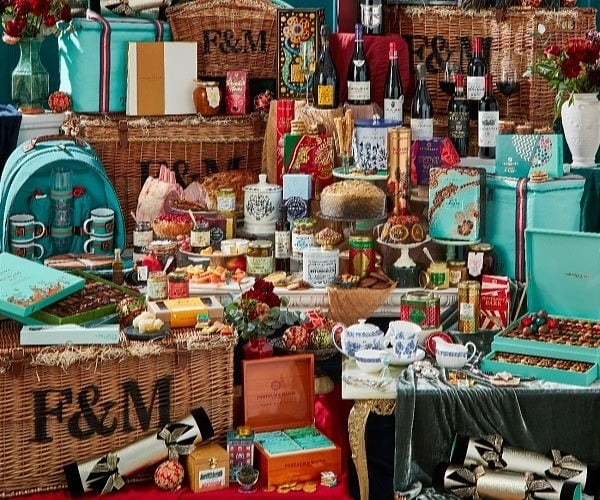 When it comes to this Christmas hamper, bigger is most certainly better. Inside the five hampers that make up The Imperial, you will find plenty of teaware and accessories, decorations, a copy of F&M's latest book, Time for Tea, and, naturally, every delicious thing for the very merriest Fortnum's Christmas imaginable.
British Hand Dived Scallops in Blankets from Pipers Farm
Move over Pigs in Blankets, it's time to make way for Scallops in Blankets, the ultimate in festive seafood luxury! These exquisite hand-dived scallops are carefully wrapped in Pipers Farm's native breed streaky bacon, creating such a fabulous combination, fit for the finest festive gathering.
Simply pan fry to crisp the more-ish bacon – its lacing of fat keeps the scallop wonderfully tender while it cooks to perfection. These hand-dived scallops are simply the best scallops in the land; they have a stunning butteriness and incredible sweet flavour. Partnered with award-winning, traditionally-cured streaky bacon, this is simply food from heaven!
You Cheddar Believe It! Christmas Cheese Gift Box from The Chuckling Cheese Company
You cheddar believe it! Christmas is just around the corner. It's time to start ticking off your list, so why not start with this brie-lliant Christmas cheese gift box for the foodie in your life, courtesy of The Chuckling Cheese Company. This cheese gift box features our range of festive cheddar truckles that have been introduced into our contemporary range of cheese truckles for Christmas 2022.
Chocolate Truffles from Lily O'Briens
Lily O'Briens' brand new Chocolate Truffles are the ultimate in luxury and indulgence. Made with only the finest chocolate, these truffles are rich, creamy, and simply melt in your mouth. The thick milk chocolate shell gives way to a smooth and silky centre that is oozing with flavour making them perfect for sharing with friends and loved ones or as a decadent treat for yourself! These latest creations from Lily O'Briens embody the ethos of founder Mary Ann O'Brien who honed her chocolate-making passion and skills among world-class chefs and chocolatiers both in South Africa and across Europe before starting her own mini enterprise from her Kildare kitchen.
These gourmet chocolate truffles come in a variety of delicious flavours, including classic milk chocolate, vanilla and salted caramel. So, no matter what your preference, you're sure to find one that you'll love. Each truffle is made with the finest quality ingredients and contains no artificial flavours or colours; best of all, they come in a beautiful box that makes them perfect for gifting. So go ahead and indulge in the finer things this holiday season with Lily O'Brien's Chocolate Truffles, you won't be disappointed!
Norfolk Black Turkey from Eversfield Organic
This delicious organic Norfolk Black Turkey from Eversfield Organic is a succulent and flavoursome choice for your Christmas centrepiece. These organic heritage Norfolk Black Turkeys are fed a mixture of organic cereals and love to forage for themselves too. Completely free range, these Norfolk Blacks are closer to a wild bird, hung for two weeks to develop an outstanding, slightly more game-like taste and texture.
Limoncello Panettone by Sal De Riso from Sacla
Who hasn't tried, or at least heard of, Limoncello? It's one of Italy's most famous liqueurs, hailing from the Amalfi Coast where delicious, zesty lemons grow in abundance. But you probably haven't tried a traditional Limoncello Panettone filled with a limoncello cream. Oh, and did we say, the cake is liberally doused in limoncello too?
Half pudding, half cake, this is a sweet sensation that'll get everyone talking. Salvatore de Riso – or Sal to his friends – brings you a taste of the Amalfi coast just in time for Christmas. With two decades of experience making truly Italian deserts, he's become famous for his inventive recipes that bring a touch of sweetness to the holiday season.
Luxury gift hamper with whole side of smoked salmon from Alfred Enderby
Treat yourself or someone special to this wonderful hamper containing a whole side of salmon, cutting board & salmon slicing knife all packaged in a large Alfred Enderby branded gift box. The perfect gift for the gourmet connoisseur and those with exquisite taste. Makes the perfect corporate gift and it's also ideal for a special occasion or a milestone celebration. Save £15 on this bundle worth £225 RRP.
This salmon keeps for 21 days chilled and unopened or can be frozen. We source our salmon from RSPCA assured farms in Scotland. Restaurant quality smoked salmon winner of 3 stars at Great Taste Awards in 2018 & 2020.
Pork & Stilton Pie from Adams & Harlow
Using generations of experience spanning over 100 years, Adams & Harlow pies are all handmade on the original premises in Spalding, Lincolnshire, using the finest ingredients. This Pork & Stilton Pie is a marriage of two counties, combining the best British Lincolnshire pork with Nottinghamshire's Cropwell Bishop Stilton in a crisp pastry shell cushioned with seasoned jelly.
Ottoman Turkish Delight with Pistachio from Grand Turkish Bazaar
This special Ottoman Turkish Delight with Pistachio is a Hafiz Mustafa brand product, brought to you by Grand Turkish Bazaar. This gourmet quality confectionery uses no glycose, no additives and no preservatives. It is freshly made and then sent vacuumed.
Festive Bagel Box from GrazeMe
Celebrate this Christmas with a beautiful array of fine bagels from GrazeMe. This box is crammed full of bagels with 3 delicious fillings – smoked salmon and lashings of cream cheese, roast chicken, cranberry sauce and brie, and ham hock, piccalilli and cornichons.
Luxury Christmas Ham from DukesHill
DukesHill was founded nearly forty years ago, with a vision of producing the very best hams, cured the "old-fashioned" way, and a true focus on flavour and texture. This commitment to quality led to DukesHill being selected by some of the top London Food Halls including Selfridges, Harrods, and Fortnum & Mason to produce their hams. Today the company produces and supplies an array of top-quality cured and fresh meats, smoked fish, cheeses, puddings, hampers and many more delicious products, by maintaining its traditional approach to crafting fine foods. working in partnership with British farmers and championing small artisan producers.
Christmas wouldn't be Christmas without one of DukesHill's finest hams – this limited-edition ham has been created exclusively for the festive season. Piglets are weaned on RSPCA Assured farms with plenty of space to exercise and access to feed and water to thrive naturally and healthily. DukesHill's on-site master butchers prepare the finest British pork legs to exacting DukesHill standards, removing the bone before curing using the traditional Wiltshire Cure. The hams spend almost a week immersed in DukesHill's own-recipe brine, to which they add a touch of unrefined brown sugar to give a subtle sweetness. They are then air dried for a further week to mature and remove excess moisture. The lengthy curing process is what makes for the most exceptional taste and exquisite, moist texture. The final steps are to generously stuff each of them by hand with sage & onion stuffing and steam cook for 12 hours, allowing the fat to render and soften, providing a glorious buttery textured finish. The hams are all painstakingly inspected, hand-skinned and trimmed. A diamond cut pattern is delicately hand-carved across the top of the ham before being coated in a mixed honey & wholegrain mustard glaze.
Festive Flavours Selection Box from Simply Cake Co.
Simply Cake Co. pride themselves in making luxurious bakes with amazing ingredients. You'll only find proper Belgian chocolate, free-range eggs and real butter in their bakery! What's better after a frosty morning hike or a longer hard day on the slopes than sitting in front of the fire with a strong coffee and a slice of cake. Simply Cake Co. have come up with a festive twist on some classic bakes including a mince pie blondie, gingerbread millionaire's shortbread and an Irish cream brownie that's sure to warm you up!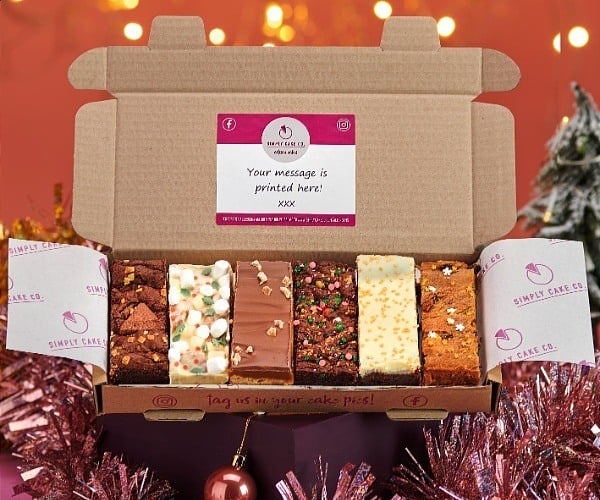 ---
IMPORTANT NOTICE:
If you are reading this article anywhere other than on A Luxury Travel Blog, then the chances are that this content has been stolen without permission.
Please make a note of the web address above and contact A Luxury Travel Blog to advise them of this issue.
Thank you for your help in combatting content theft.
---
Tropical Sauces Gift Box from RoniB's Kitchen
From the award-winning RoniB's Kitchen comes this set of tropical sauces that will send your palate to the beautiful islands of the Philippines where the sunsets over turquoise and emerald waters splashing over powdery white sand captures the fiesta vibe of the country.
RoniB's Kitchen sauces are lovingly made from family recipes using natural ingredients that introduces the bold and complex flavours of the islands, all delicately balanced to create layers of flavours that will dance in your mouth. A tasty gift for your foodie family and friends to enjoy!
Santa's Reindeer Pie from Brockleby's
Brockleby's pies have won over 30 accolades at the annual British Pie Awards, have been recommended by the Pierateers, and have been featured in numerous publications and television programmes. This Santa's Reindeer Pie is a festive favourite with delicious venison in a red wine sauce, topped with a glazed cherry.
Christmas House Platter Biscuits from Honeywell Bakes
Create a festive spread to be envied for! These biscuits from Honeywell Bakes look great at the dinner table, placed around an iced cake or arranged on the coffee table to create delicious Christmas memories. You can even personalise the banner to create a family gift.
All our packaging is eco-friendly, we source the best ingredients we possibly can, and a percentage from every sale is donated to our charity partner, 1% For The Planet.
Crown of lamb with winter fruits from Farmison & Co.
Farmison's crown of grass-fed lamb is a visually stunning British lamb centrepiece that tastes as good as it looks. Skilfully prepared by hand, this is a free-range rack of lamb that forms an impressive 'crown' of tender lamb that's perfect for the Christmas table. Filled with seasonal winter fruit stuffing to complement the natural flavour of the grass-fed lamb, this is a truly special joint that's sure to impress whatever the occasion. Traditionally roast for blushing pink lamb and serve alongside seasonal greens for an outstanding Christmas feast. For the perfect finish, pair with must-have condiments from our Christmas pantry.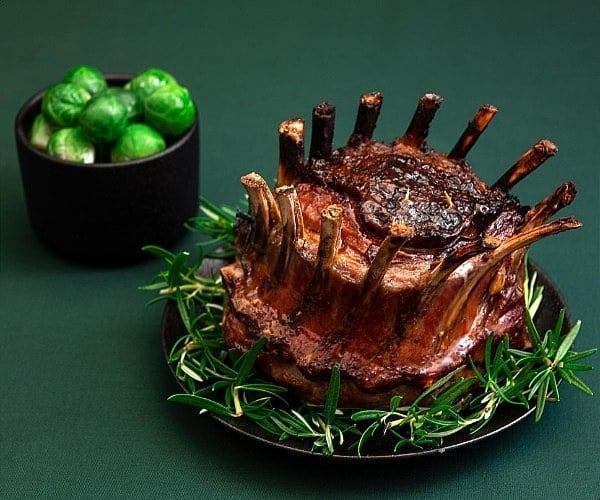 Christmas Eve Feast gift box from anydaymade
Why wait until Christmas Day for a festive treat? This Christmas Eve Feast gift box from anydaymade is a mix of sweet and savoury delights, essential for any festive feast. Included in the box is 1 x festive fig and port chutney (300g), 1 x Walnut and honey crackers (125g), 1 x Petit camembert (150g), 1 x Oak-smoked English cheddar (200g), 1 x Melrose and Morgan vanilla mince pies (6 pk) and 1 x anydaymade brandy butter (100g). All anydaymade products are sourced from small-batch, eco-friendly and sustainable suppliers, and all packaging is 100% recyclable.
Luxury Toasting Box from La Maison Guimauve
Bring alfresco vibes inside! There is nothing more fun and delicious than toasting fresh artisan marshmallows over an open fire. Now – thanks to La Maison Guimauve – you can experience all that fun and deliciousness indoors too and no need to rely on the British weather!
These toasting boxes can be used indoors or out, perfect for after dinner fun or sharing with a group of friends. The toasting tin is easy to light, with a burning time of 2 hours or more.
Ultimate Luxury Christmas Seafood Hamper from Fish for Thought
This is it. A collection of the most glittering, best-in-show handmade festive seafood dishes that will see you through the celebratory season in the finest style. Delicate Twice Baked Wild Crab Soufflé, indulgent Coquilles Saint Jacques, our legendary Cornish Lobster Bisque and our new, resplendent Salmon & Wild Prawn Wellington with Knightor Cuvée Sauce. What a spread from Fish for Thought!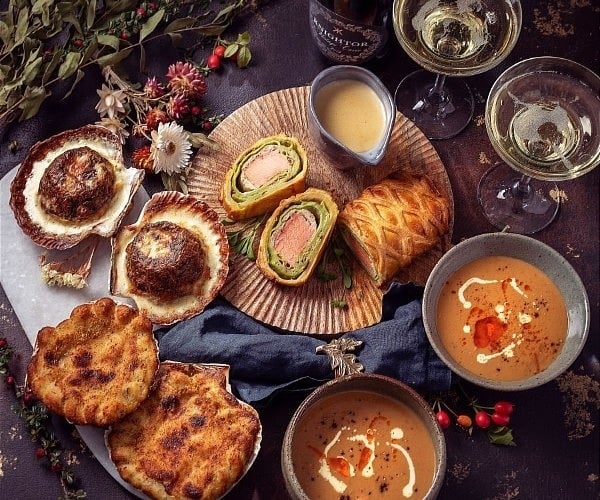 Gift hamper from Crown & Queue
Chockablock with Crown & Queue's delicious, and beautifully wrapped, dry-cured sausages, this gift hamper is the perfect gift that keeps on giving. It contains three Lincoln Imp sausages (3x 85g), two halves of Mother's Ruin (2 x 200g), one individual Devil's Mortar spicy spreadable sausage (180g), 180g of delicious Oinks – little snackable bits, just like PigTails – and two mixed sliced pack of Hoghton Loin, Black Pepper Belly & Martlemass Beef (2x 90g= 180g).
If you represent a product that you'd like to see feature in a future article like this one, please click here to subscribe to the retailer channel of A Luxury Travel Blog's mailing list.