13 Best Music Festivals in Minnesota To Experience (2023 Edition)
9 min read
Are you looking for the best music festivals in Minnesota 2023 has to offer? Well, you've come to the right place! This Midwest state hosts some incredible music events, and this list contains an incredible selection of upcoming Minnesota festivals that'll keep you dancing all year! 
Minnesota sits on the border of Canada and Lake Superior. It's known for its breathtaking scenery, most notably its many bodies of fresh water. It's nicknamed "the Land of 10,000 Lakes". These settings are popular locations for Minnesota summer music festivals. You can revel in the great outdoors while listening to catchy tunes and indulging in local food and drink vendors.
Or, if you're more of a city person, you'll also find music events in the larger cities as well. They're spread all over the state! Also, be sure to read my guides on Music Festivals in Michigan & Music Festivals in Canada for more nearby festival fun! 
---
1) WE Fest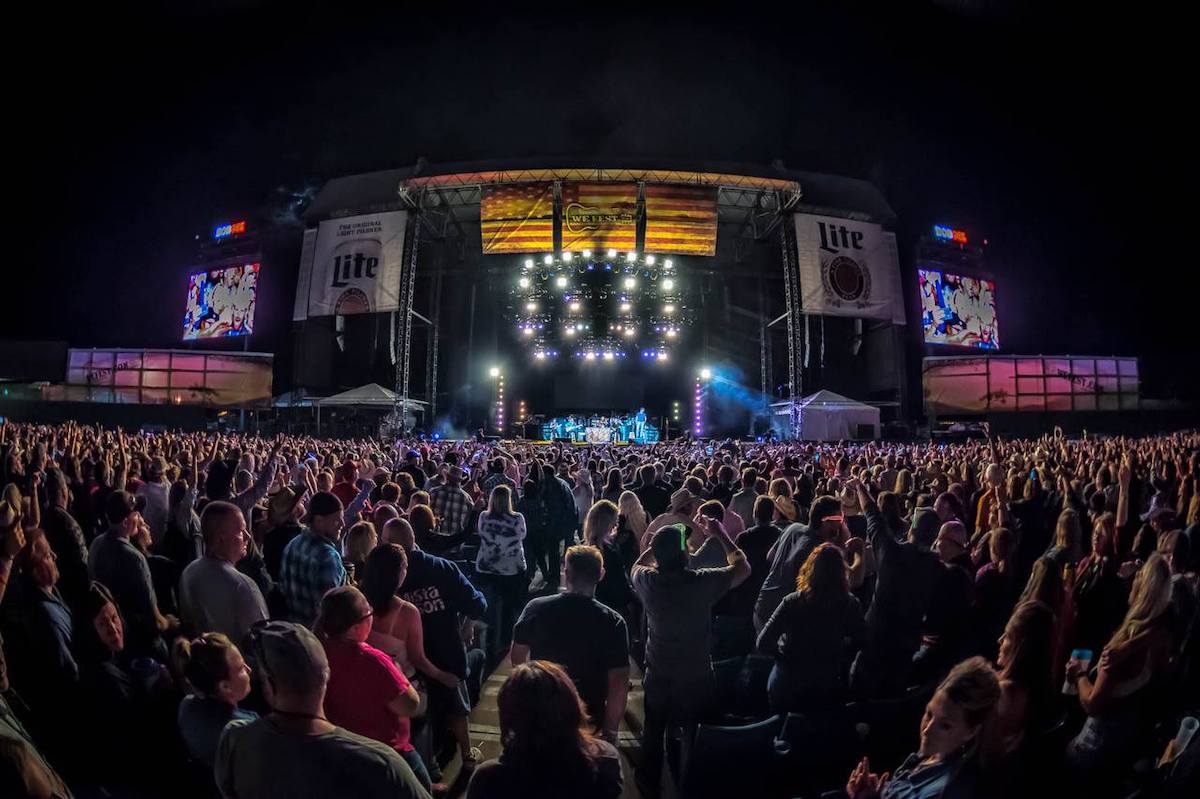 When: August 3-5, 2023
Where: Detroit Lakes, Minnesota
WE Fest is one of the top country music festivals in the US. It's held on the shores of Lake Sallie and the surrounding woods contain campsites for festival attendees to use during the event.
The 2022 lineup features a whole host of popular artists, like Jason Aldean, Miranda Lambert, and Luke Bryan. They definitely know how to keep the energy up and the party going.
Inside the venue, you'll find top-notch craft beer and food trucks that add to the fun festival atmosphere. Your ticket includes admission to all three days of the event, just make sure to purchase your campsite pass separately.
Join the WE Fest Facebook event for more details
---
2) Kick'n Up Kountry Music Festival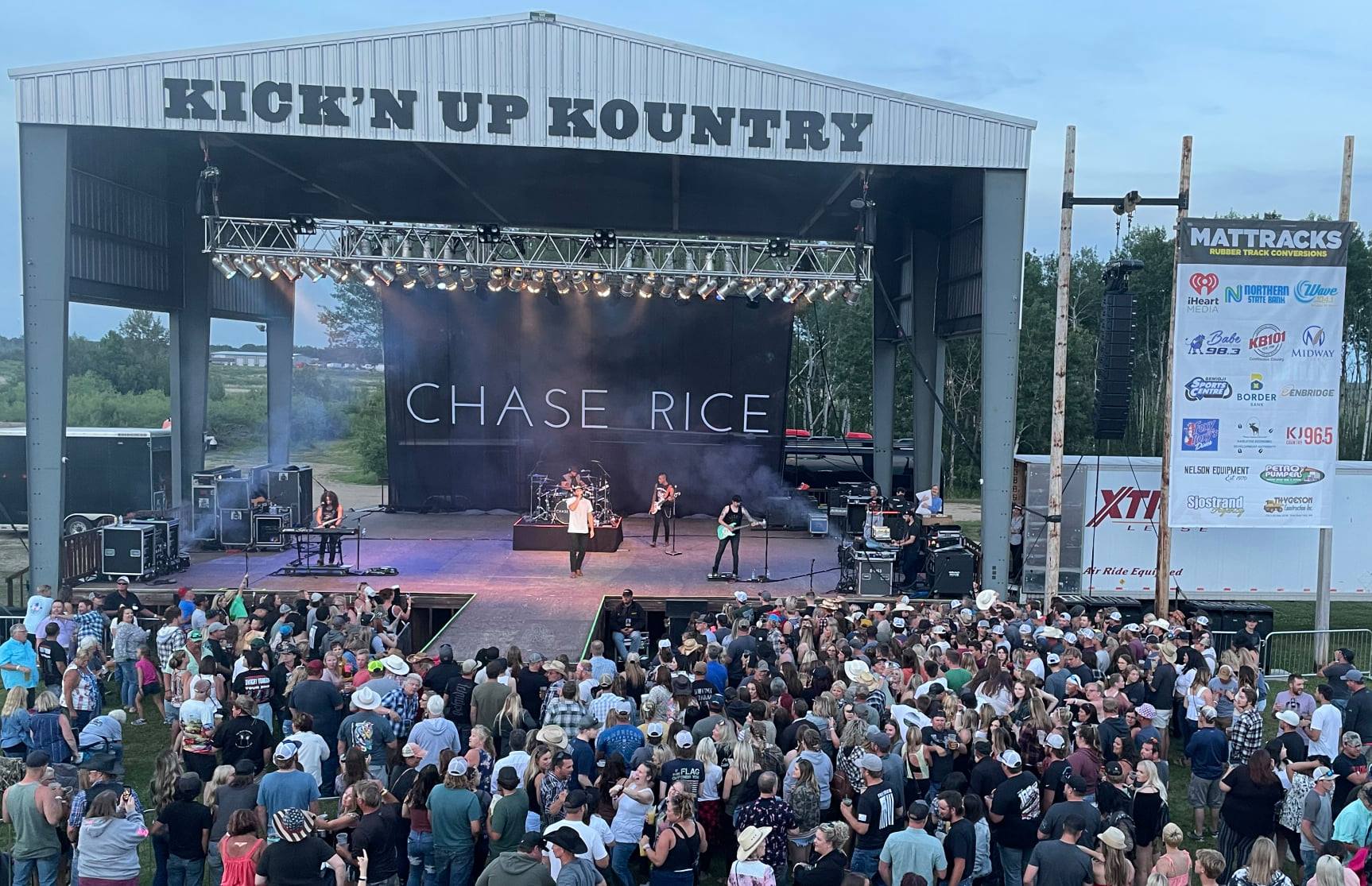 When: June 14-17, 2023
Where: Karlstad
The Kick'n Up Kountry Music Festival is one of the state's top country events. The 2022 lineup includes artists like Martina McBride, Tracy Lawrence, and Tobi Lee & Mustang Sally. For four days you'll enjoy country music and so much more.
The festival features lots of exciting entertainment options that promote a social atmosphere. There's an operating theme park, and admission is included with your music festival ticket. Daily events are also held, including a Dolly Parton and Willie Nelson look-alike contest.
The region's best food and drink vendors are there to serve up a variety of meals and refreshments. And lastly, thanks to the campsites within walking distance of the festival's main gate, you can enjoy four-full days of this country fest in Minnesota without having to leave.
 Join the Kick'n Up Kountry Music Festival Facebook event for more details
---
3) Twin Cities Summer Jam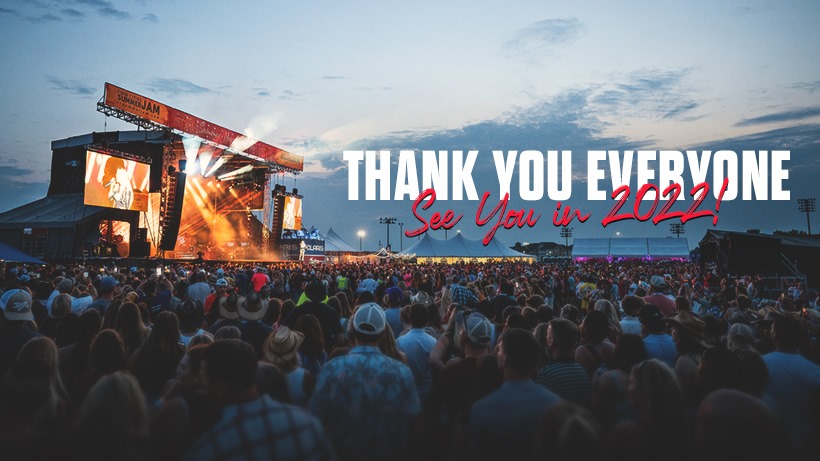 When: July 2023
Where: Shakopee
The Twin Cities Summer Jam is an annual multi-genre music festival that takes place in the Twin Cities metro region. There's truly something every music fan will appreciate at this event, the festival states:
"Our philosophy is simple. We plan to provide the BEST overall lineup year after year. Heavy on rock? More country? Lots of pop? All three? Those artists that blur the lines? Whatever it takes to give YOU the best music to jam to in any given year."
They pack three days full of musical acts in a fun and energetic atmosphere. And to add to the event, there are also lots of local food and drink vendors.
Twin Cities Summer Jam takes place in Canterbury Park, which can accommodate more than 25,000 guests. You can purchase a single-day ticket, a 2-day ticket, or a 3-day ticket. Make sure to get your ticket early, this is a popular event that is likely to sell out the closer it gets to the big date.
Join the Twin Cities Summer Jam Facebook event for more details
---
4) Winstock Country Music Festival

When: June 2023
Where: Winstead
Winstock Country Music Festival is one of the midwest's top country events. It's run entirely by volunteers and all of the proceeds benefit private education for students in and around the area.
The line-up for Winstock 2022 features big names in the country music industry, like Tim Mcgraw and Jake Owen. There are also plenty of emerging artists for you to discover and fall in love with.
If you want to experience the full atmosphere of the festival, you can camp out right next to the venue. You'll be within walking distance of the stage. There are food and drink vendors on-site to provide you with all of the fuel you need for two days of dancing and fun.
Join the Winstock Country Music Festival Facebook event for more details
---
5) Lakes Jam

When: June 2023
Where: Brainard
The Lakes Jam music fest in Minnesota is an event you won't soon forget. Each year it includes a line-up of first-class performers.
Apart from the music, there are multiple experiences for guests to enjoy, like lawnmower racing, poker tournaments, bean bag tournaments, and more. There is also camping on-site, so you don't have to miss a minute of all the action.
Lakes Jam also hosts social media contests that will get you pumped for the big day. Enter for your chance to win a meet and greet with select performers. On-stage tokens are other prizes you can win, which allow you to stand on stage during certain performances.
This rock and country music fest in MN is the total package.
Join the Lakes Jam Facebook event for more details
---
6) ​Lakefront Music Festival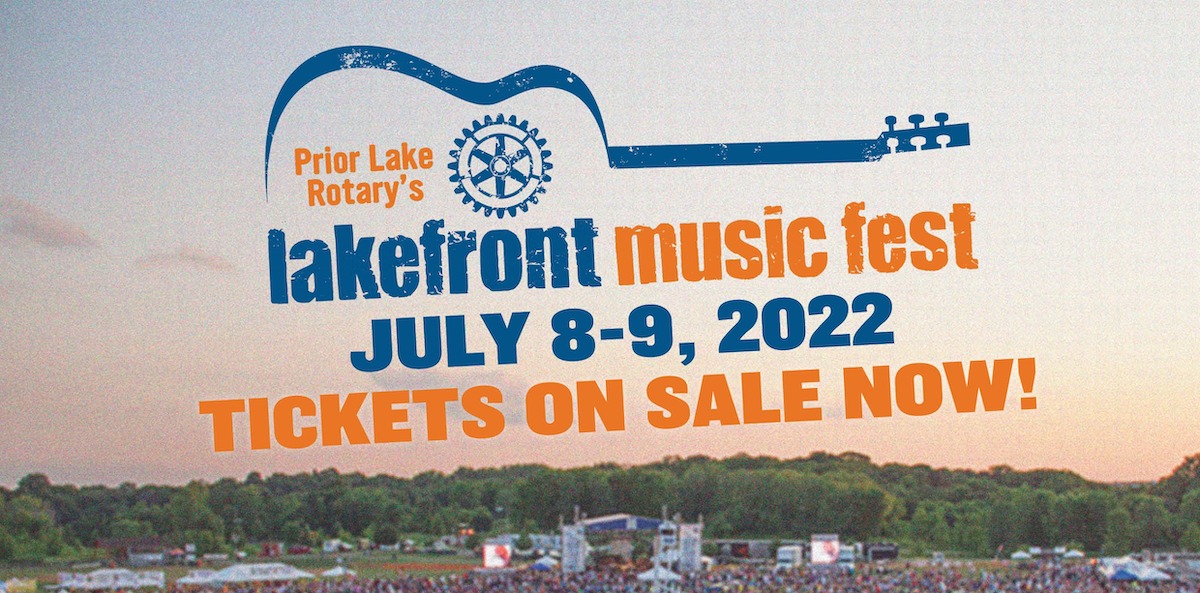 When: July 2023
Where: Prior Lake
Lakefront Music Festival is an outdoor event that takes place next to the scenic Prior Lake. It's the perfect setting to enjoy an outdoor summer music festival. It features both country and rock stars. The line-up for 2022 includes artists like Toby Keith, Sammy Hagar & the Circle, and Uncle Kracker.
The two-day event starts at 5:00 pm each day. This is also when the food vendors start selling tasty festival food, like corn dogs, firewood pizza, and turkey legs. Beer, wine, and soft drinks are also available for purchase. Start the night with dinner and a drink and end dancing and singing along to your favorite songs.
Weekend pass' and single-day tickets are both available.
Join the Lakefront Music Festival Facebook event for more details
---
7) Moondance Jammin Country Fest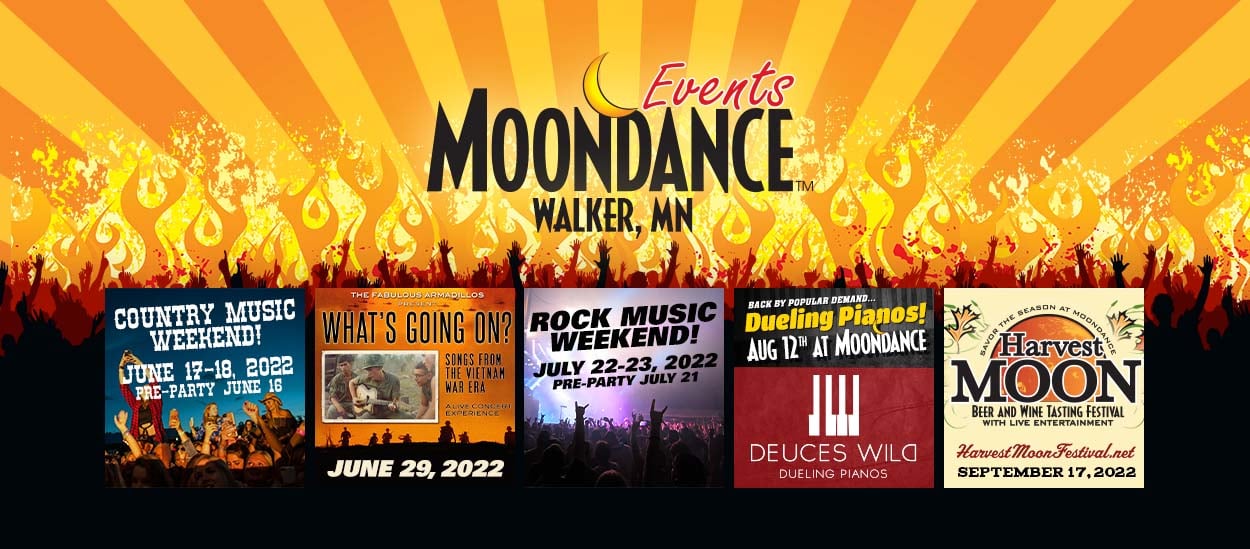 When: June 2023
Where: Walker
The Moondance Jammin Country Fest has been taking place for 15 years. Each June, country stars take the stage for a weekend filled with fun and easy-listening performances. On-site camping is offered with well-kept facilities. Come out and celebrate the summer with good music, local food, and cold drinks.
Join the Moondance Jammin Country Fest Facebook event for more details
---
8) Twin Cities Jazz Fest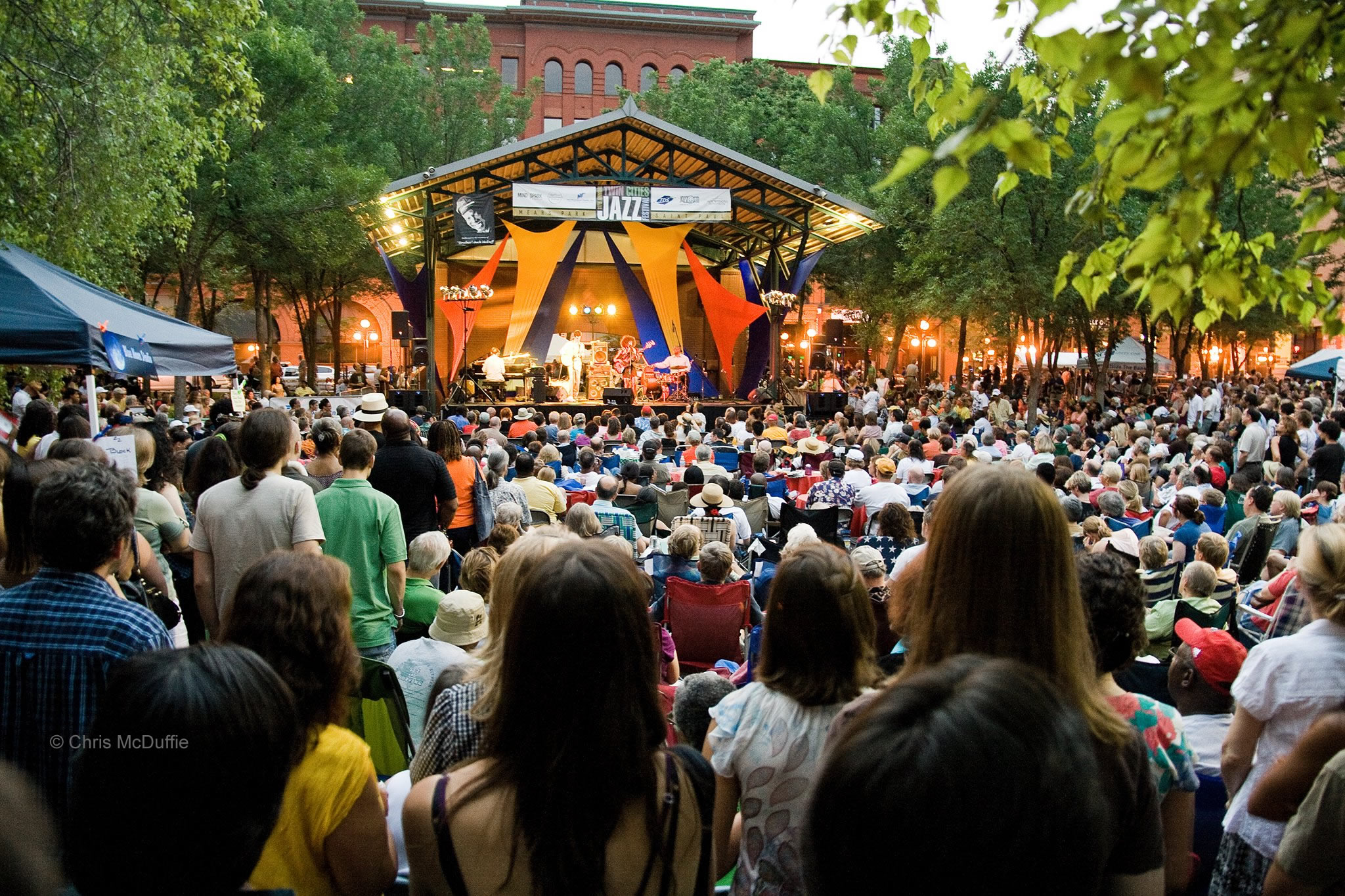 When: June 2023
Where: St. Paul
The Twin Cities Jazz Fest (previously called the Twin Cities Hot Summer Jazz Festival) was founded in 1999.
It takes place in and around Mears Park, in downtown Saint Paul. The main performances happen at the three outdoor stages in the park as well as an outdoor stage near to the Farmers Market. There are also about 15 other venues around this area that also host jazz musicians during the event.
The whole festival is walkable, with most of the venus within a close distance of one another. There are over 100 musicians who perform and all of the performances are free to attend!
Food and drink vendors are there each day to serve up tasty local favorites. Bring a lawn chair or a blanket and you'll be all set for a good time.
Join the Twin Cities Jazz Fest Facebook event for more details
---
9) Boats and Bluegrass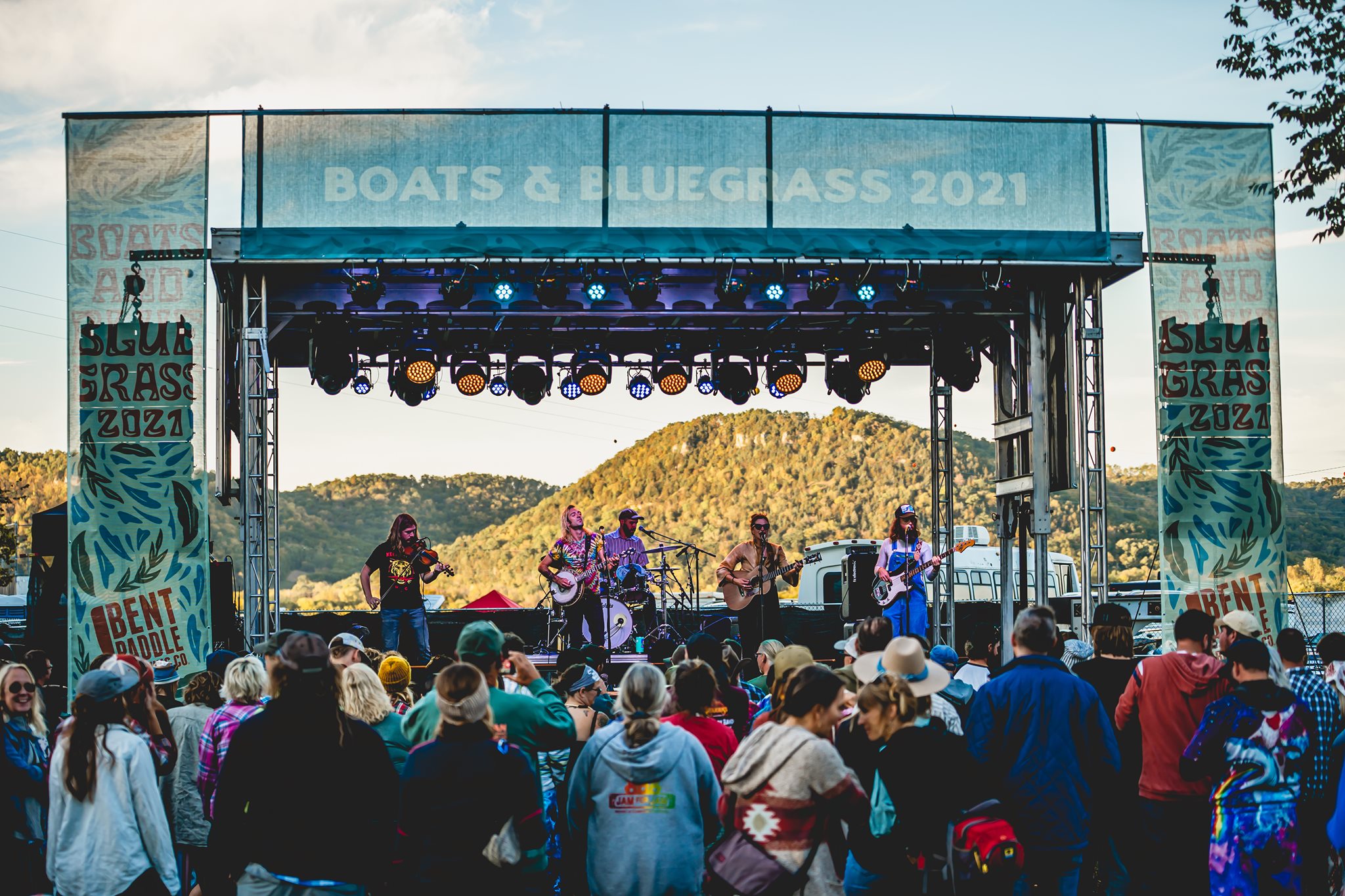 When: September 21-24, 2023
Where: Winona
You can't beat the setting of this music festival in Minnesota. It's set right on the scenic shores of the Mississippi River. The Boats and Bluegrass music festival has been taking place since 2005.
Bluegrass isn't all that's featured, there's also a good mix of other genres, so there's something everyone will enjoy. Usually, about 40 bands take the stage.
The festival will immerse you in nature. Your ticket includes access to one of three campsites. Canoe and kayaking trips through the backwaters of the Mississippi River are also organized for festival guests.
Make sure to get your tickets early, sales are capped at 1500 tickets. The festival organizers try to keep the event sustainable and environmentally friendly.
Join the Boats and Bluegrass Facebook event for more details
---
10) Revival Music Festival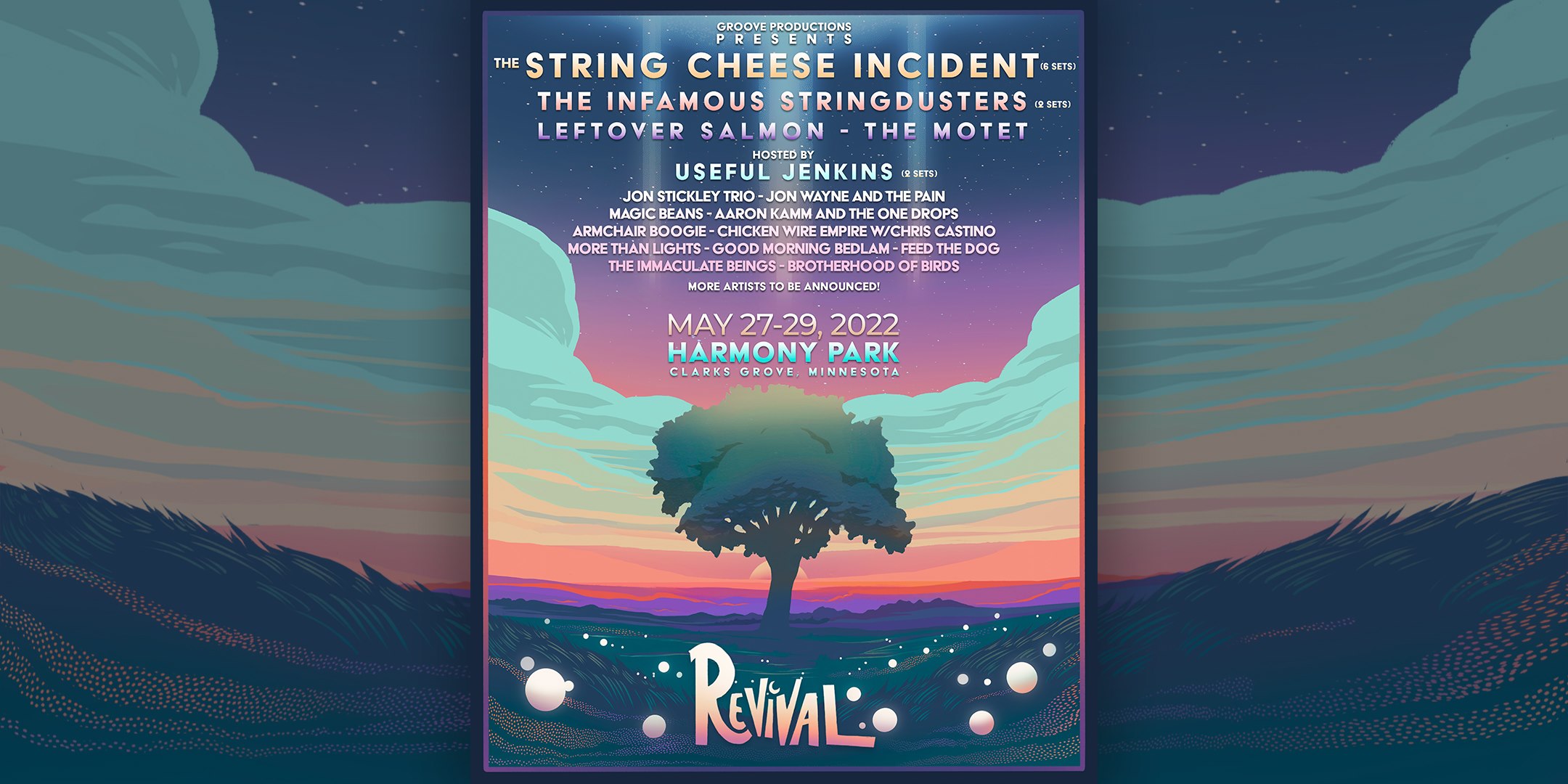 When: May 2023
Where: Clarks Grove
The Revival Music Festival is all about good times and great music. The 2022 lineup includes bands like The String Cheese Incident, The Infamous Stringdusters, and Leftover Salmon.
Your ticket to this three-day event includes access to the neighboring campsite. When you're not jamming to music, you can continue the party back at your tent.
The campsite is well-maintained, with shower facilities, a filter water bottle fill-up station, and an on-site pub. There is also lakeshore access and community fires. It's safe to say you'll have everything you need for a good time.
Join the Revival Music Festival Facebook event for more details
---
11) Bayfront Blues Festival
When: August 2023
Where: Duluth
The Bayfront Blues Festival is one of the Midwest's biggest outdoor blues festivals. It attracts close to 20,000 fans each year. It features blues and blues/rock music. Past years have included performances from artists like Little Richard, Buddy Guy, and Blues Traveler.
About 30 acts perform on the two stages for three full days of entertainment.
Join the Bayfront Blues Festival Facebook event for more details
---
12) Sister Cities Smokeout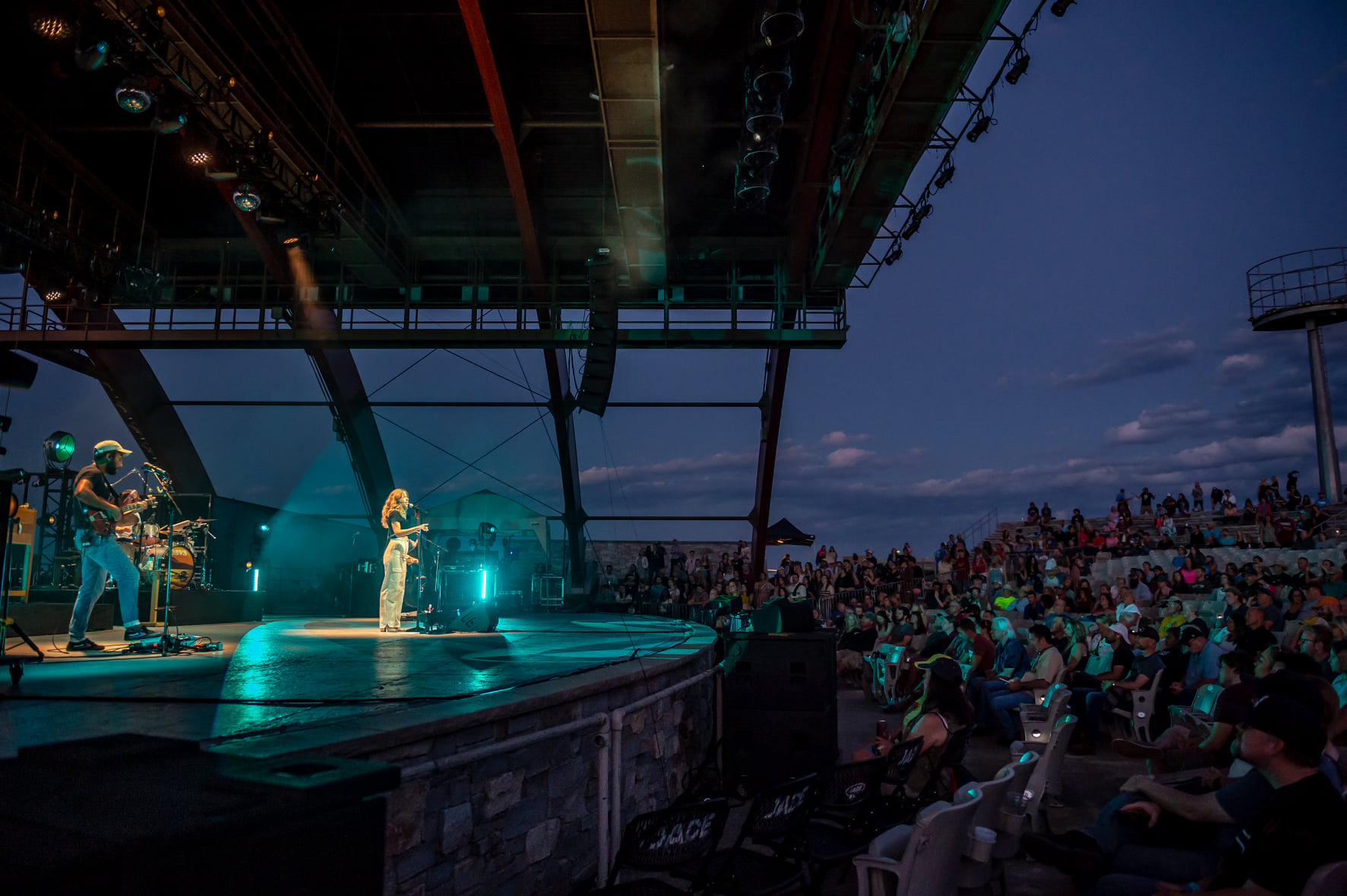 When: Dates TBA
Where: Moorehead
The Sister Cities Smokeout is a two-day event that features live music, great food, and cold beer – all the ingredients for a good time.
This Minnesota music festival's 2021 lineup included performances from artists and bands like Aaron Watson, Whiskey Myers, and Lake Street Drive.  Each year includes a stellar cast of country, rock, and blues stars.
The food trucks will keep you fueled during the festivities. Some of the state's finest BBQ pitmasters serve up the best finger-lickin' BBQ food in the Midwest. After you've had your fill, head over to the Bullet Tasting Tent where you can sample spirits for just $5. Make sure to wear your dancing shoes; the upbeat tunes, lively atmosphere, and easy-drinking beverages will keep you on your feet all day long.
Join the Sister Cities Smokeout Facebook event for more details
---
13) Duluth Homegrown Music Festival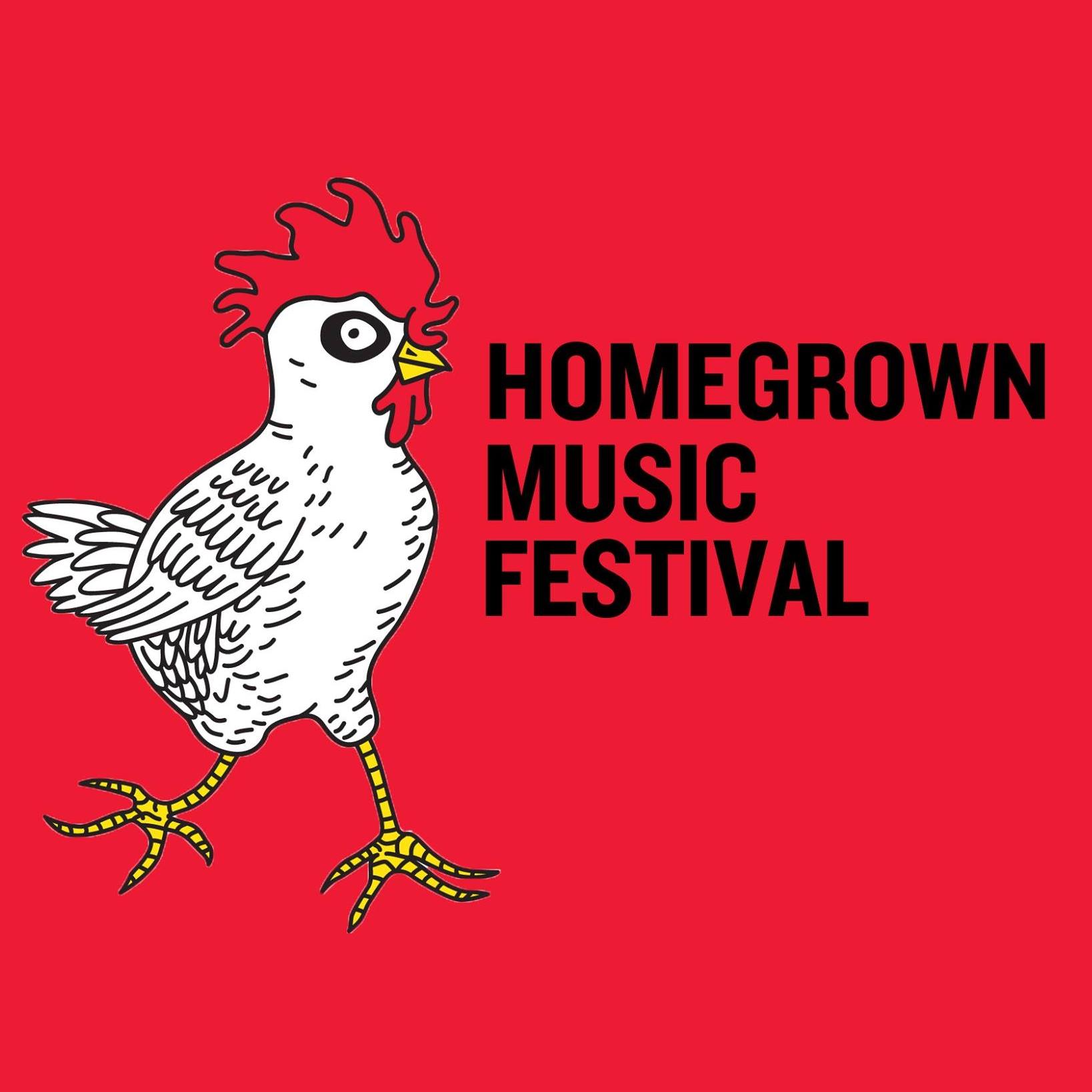 When: May 2023
Where: Duluth
The Duluth Homegrown Music Festival was founded in 1999. It showcases music from Duluth and the surrounding areas. When it first started, it only featured about 10 acts, but today, that number has grown to nearly 200.
This music festival is free to attend, although donations are encouraged.
Join the Duluth Homegrown Music Festival Facebook event for more details
---
14) Vicki's Camp N Country Festival
When: July 6-13, 2023 
Where: Redwood Falls
"Vicki's Camp N Country Jam wants you to have the ultimate VIP experience in making memories to last a lifetime…by celebrating with great friends, great music, great camping, great food and lots of laughter!  
Vicki's Camp N Country Jam is a small intimate festival that hosts national and regional country music artists in a beautiful country setting.
Have you ever been to a festival that has tens of thousands of people there? Did you ever say, "if only we could be at a festival that didn't have so many people, but have great artists?"  Did you always want to be "VIP" at a festival?  Well, that is why Vicki's Camp N Country Jam is here!
You will experience a time in your life where you are "VIP" everywhere you go…from the concert area, the beer garden, the food lines, the port-a-potties…to the campgrounds…there are no long walks to anywhere at the festival."

---
Am I Missing Any MN Music Festivals?
That concludes my picks for the top music festivals Minnesota offers. But seeing as this state has such an incredible music scene, I might have missed one or two. If you know of any that deserve a spot on this list, make sure to shoot me a message and let me know.
---
More Resources For Planning A Minnesota Music Fest
If you're looking for more information for planning your Minnesota music festival, here are a few more resources that you'll find helpful. 
---
Looking for more USA Music Festivals?
Take a look through some of my other festival round-ups for more epic 2020 adventures! 
---
THANK YOU FOR READING THIS LIST OF THE TOP MINNESOTA MUSIC FESTIVALS!
SHARE THIS LIST WITH YOUR FAMILY AND FRIENDS TO LET THEM KNOW YOUR PICK FOR THE TOP MUSIC FEST IN MN!