10 Best Coastal Walks and Hikes in Cornwall, UK
11 min read
Hiking in Cornwall is an absolute pleasure and can be enjoyed at any time of the year. From stunning clifftop vistas to hidden coves, abandoned villages and rural heathland, the coastal walks in Cornwall are as varied as they are beautiful.
Cornwall is one of my favorite destinations in the world thanks to its gorgeous beaches, great surfing opportunities, picturesque fishing villages, and miles upon miles of unspoiled coastal paths.
I've been hiking in Cornwall since I was old enough to walk and it's a joy I return to time and again. There are many hiking trails in Cornwall from easy day hikes to multi-day long-distance treks.
You can choose coastal footpaths, inland routes, or combine both. Cornwall is really geared towards being outdoors and it's easy to find refreshments and accommodation along the many hiking routes.
10 Best Hikes in Cornwall
Having spent many years traveling around Cornwall, I've completed countless hikes. I've done many more hikes than this in Cornwall, but I've narrowed down my favorites to this list of 10 based on accessibility, ease, crowds, views along the way, wildlife, and overall enjoyment on the trail.
Cornwall's hiking trails offer some unique opportunities for spotting wildlife. I've seen basking sharks, seals, kingfishers, and all manner of marine life on my many hikes across the county.
Hikers can sometimes even spot whales and dolphins from the clifftop making a Cornish hike even more memorable.
1. Polzeath to Port Isaac (One of the Best Coastal Walks in Cornwall)
The hike from Polzeath to the fishing village of Port Isaac is one of my favorite hikes and is the best coastal walk in Cornwall. This hike has it all; rugged cliffs, deserted beaches, panoramic views, and finishes up in Cornwall's most picturesque village.
This 10-mile Cornwall hiking trail is moderately strenuous but I've been doing it since I was a child, so as long as you're relatively fit, you're unlikely to find it too taxing.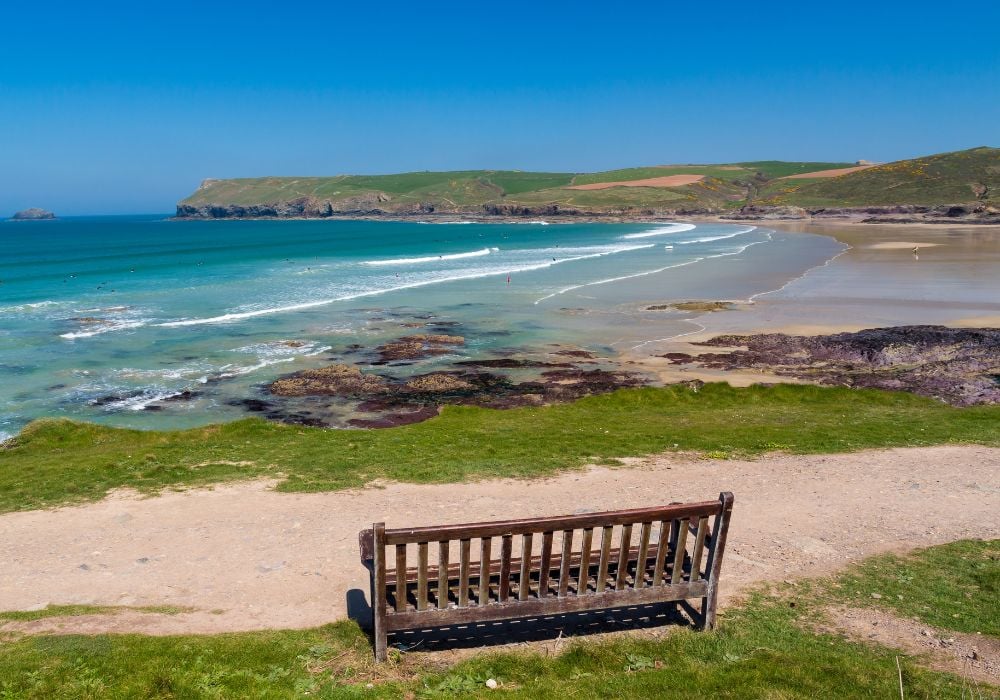 You'll take in some famous landmarks such as Pentire Point, the Rumps, the abandoned village of Port Quinn, and a lot more besides.
The hike takes around 4-5 hours and in summer the route is quite exposed so be sure to cover up and wear sunscreen. Good hiking boots or shoes are needed for some rocky parts down by the beaches.
The route can be hiked in either direction and you can take the No 96 bus back.
Trail Details and Information
2. The Camel Trail
The Camel Trail is an 18-mile track following an abandoned railway line and the River Camel between Bodmin and Padstow. Thanks to the flat terrain, the route is popular with cyclists, but it's also great for walking too and is one of the best easy hikes in Cornwall.
Hiking the 6-mile section between Padstow and Wadebridge is one of the great Cornwall day hikes as you follow the Camel Estuary inland. There are lots of great places to stop and have a picnic along the way and I have many happy memories of snacking on the river banks.
This is one of the easy hikes around Cornwall and is suitable for all fitness levels. The flat path along the Camel Estuary is one of my favorite Cornwall trails and is one I've enjoyed countless times since childhood to more recent times.
Trail Details and Information
Location: Padstow, Wadebridge, Bodmin
Length: 6 miles / 9.8 km
Duration: 2h10m
Type of Trail: Out and back
Elevation Gain: 380 feet / 116 meters
3. Padstow and Trevone Circular Walk
This moderately strenuous circular walk starting and finishing in Padstow offers some of the best hiking in Cornwall. The route has some fantastic views, lots of opportunities for spotting wildlife, and the added bonus of lots of excellent pubs and restaurants to relax in after your walk.
The scenery on this coastal path in Cornwall is incredible and it's a hike I've taken many times for the views alone. The trail includes coastal and inland sections with towering cliffs, secluded bays, rolling farmland, and of course the beautiful fishing town of Padstow.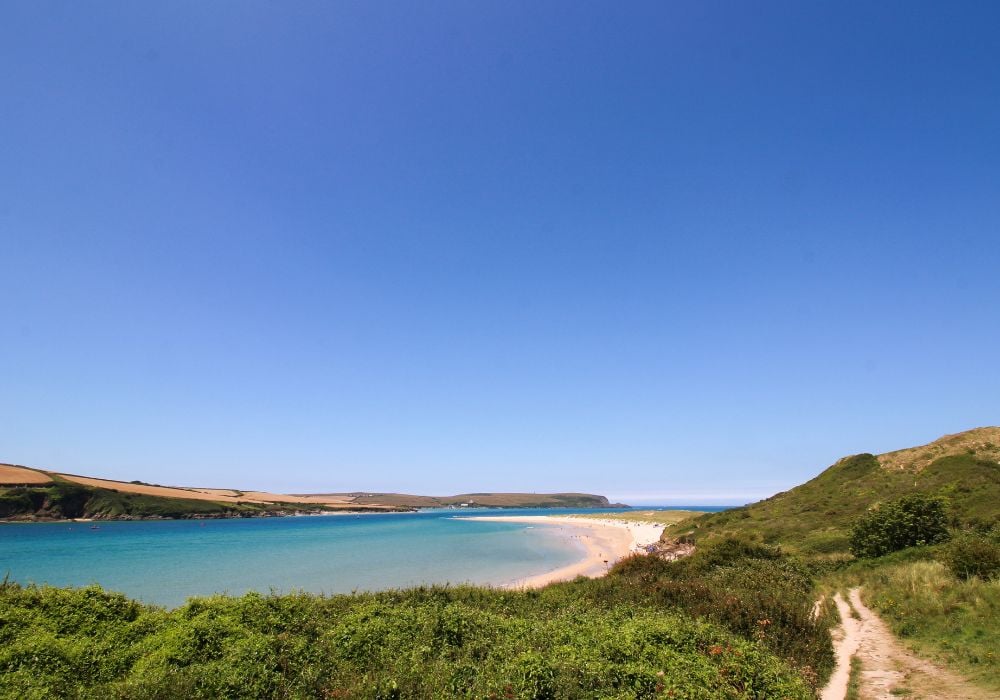 You'll need to be relatively fit as the trail covers rocky coastal paths and cliffs. It's a great walk to do with dogs and children who are used to hiking. This Cornwall hiking trail is best undertaken from spring to fall to get the most out of the experience.
Trail Details and Information
4. Penzance to Newlyn
The circular walk from Penzance to the small village of Newlyn is one of the best winter hikes in Cornwall as it's a short route and isn't as exposed as the paths on the northern coast. It takes in the gorgeous fishing port of Newlyn – one of the most picturesque places on the south coast.
The route takes in some interesting local attractions such as the Celtic chapel and the old fishing port as well as the Victorian tropical gardens and Penzance seafront. This walk is suitable for all levels of fitness and makes for a perfect stroll whatever the weather.
For those looking to explore more of the southern coastline, you can follow the coast path east to Marazion and St Michael's Mount. One thing's for sure, Penzance is the perfect base for coastal walks in Cornwall.
Trail Details and Information
5. The Lizard Peninsula
Cornwall's Lizard peninsula is one of the most scenic parts of the county with rugged cliffs towering above the blue waters of the North Atlantic. This is one of the best hikes in Cornwall for spectacular views and rare wildflower and wildlife spotting along the way.
The route starts and finishes at Kynance Cove, noted as one of the most stunning beaches in Cornwall. This 7-mile hike isn't too challenging and includes walking along beaches as well as some stony, clifftop paths.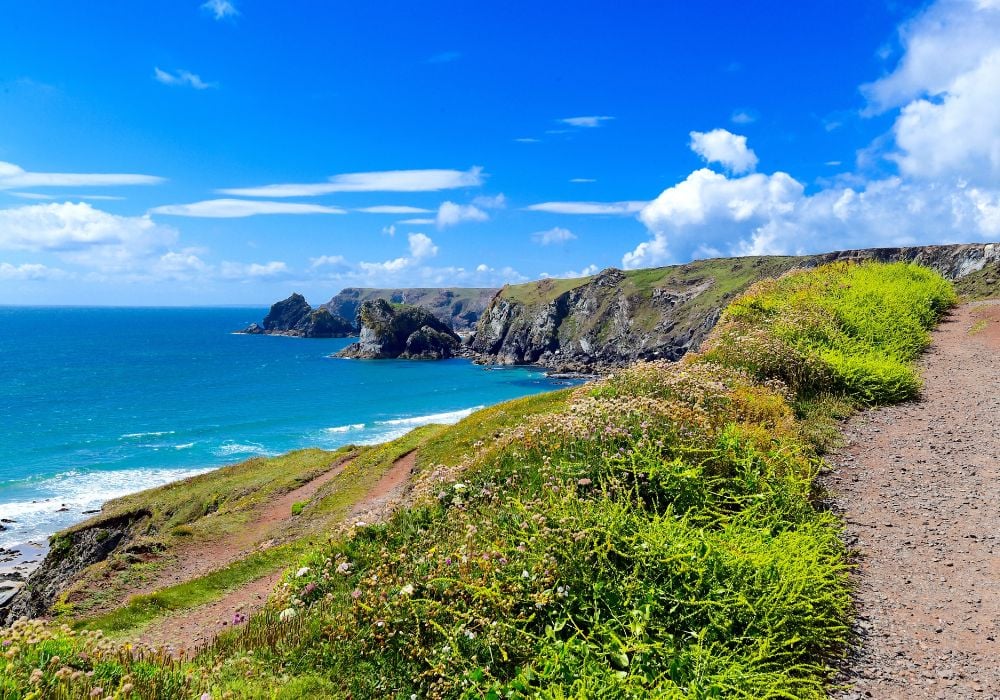 Pack your swimming gear if making this trek in summer as there are some fantastic beaches along the way, and as you'll pass through the town of Lizard, there are lots of great options for lunch (the Top House Inn is a perfect traditional pub that serves Cornish ales and hearty food).
Trail Details and Information
6. Porthcurno to Land's End
This easy route is one of the best hikes around Cornwall and takes in the westernmost point of mainland Britain at Land's End. The scenery along this stretch of coastline is phenomenal with breathtaking views out to sea and along the cliffs.
The route is out and back, but if you don't fancy the return journey you can hop on the Land's End Coaster bus back to Porthcurno. This is one of the best summer hikes in Cornwall and is suitable for all ages and levels of fitness.
You'll get to take in the stunning Porthcurno beach, one of the most beautiful beaches in Cornwall with almost turquoise waters lapping at the golden sands, and a rocky shoreline beneath the cliffs.
Be sure to pack sturdy footwear and your swimming gear.
Trail Details and Information
7. Bude Coast and Canal Circular Walk
This pleasant walk around the Bude coastline and canal takes in one of Cornwall's most popular vacation destinations (and passes some great pubs like the Brendon Arms).
The circular walk includes some stunning scenery along one of my favorite stretches of coastline. The canal was built to bring materials to the town from the nearby hills and is one of Bude's nicest features.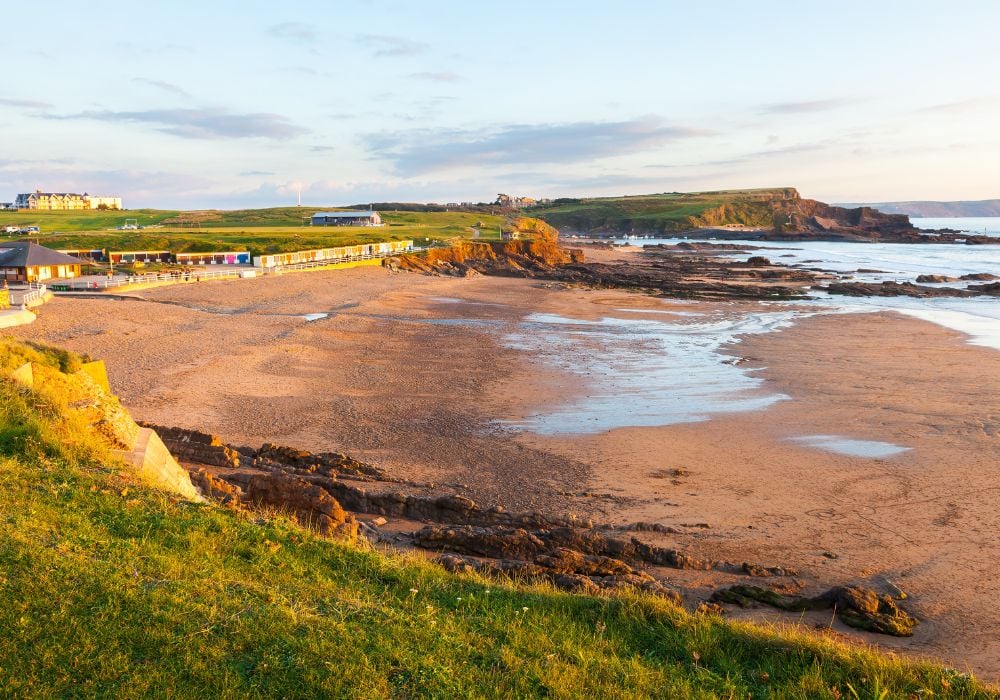 The route is a great way to explore everything this part of Cornwall has to offer; from the ocean to the town and open pastures and farmland.
Trail Details and Information
Location: Bude, see on AllTrails
Length: 6.4 miles / 10.3 km
Duration: 2h30m
Type of Trail: Circle
Elevation Gain: 640 feet / 195 meters
8. St Ives to Zenor
St Ives is one of Cornwall's top vacation destinations as the town is perched on a beautiful stretch of the coast with gorgeous sandy beaches and is backed by dramatic cliffs.
The town itself has something of a bohemian vibe with lots of art galleries, cafes, and boutique restaurants. At 12 miles, this is a moderately tough hike that'll take between five and six hours to complete, so a moderate level of fitness is required.
The views over the bays, inlets, and coastline are worth the effort as the area around St Ives is one of the best places to hike in Cornwall.
Trail Details and Information
9. Tintagel Castle Loop
Tintagel is one of my favorite places in Cornwall for its historic castle, allegedly the home of King Arthur. The small town is also located on a dramatic section of the coast with towering cliffs overlooking secluded bays and hidden coves such as Merlin's Cave.
This fantastic hike takes in the castle, cave, beaches, and even one of Cornwall's beautiful waterfalls at St Nectan's Kieve. It's a tough route with lots of steps and steep slopes so a moderate level of fitness is required.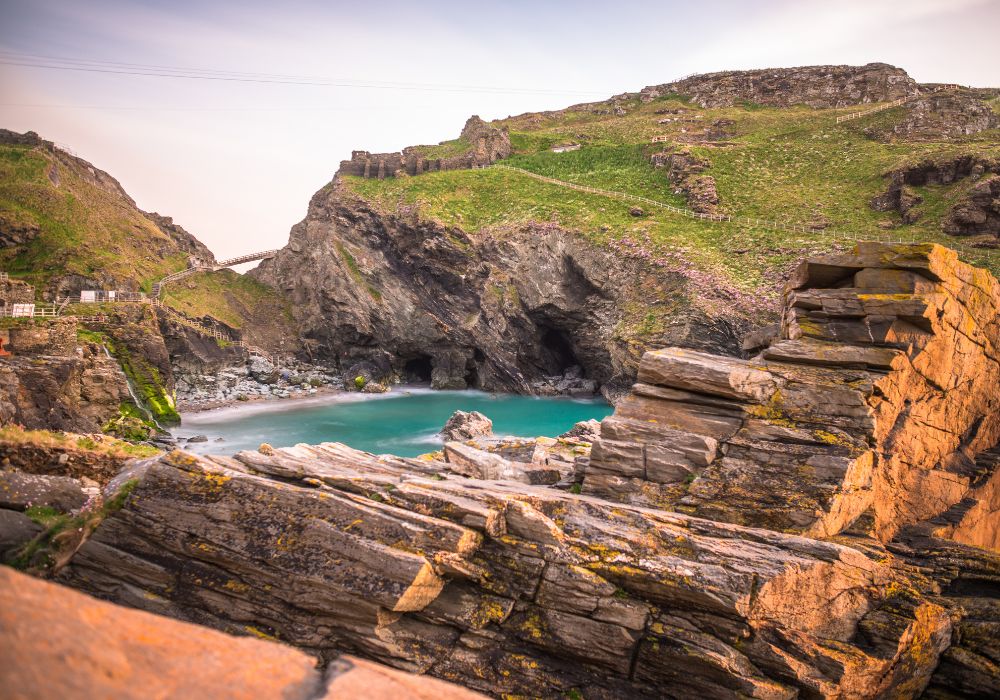 The paths can get muddy in winter so make sure you have boots and waterproofs. In summer, be sure to pack plenty of water and cover up with sunscreen. This is one of my favorite coastal walks in Cornwall thanks to the amazing views and historical landmarks along the way.
Trail Details and Information
10. Entire South West Coast Path
For adventurous souls who are looking for more than day hikes or a pleasant amble then tackling the entire 630 miles (1,014km) of the southwest coast path is a mammoth, but hugely rewarding undertaking – it's something I'd love to do one day.
The trail, which is the longest such hiking trail in the UK, starts at Minehead in Somerset and runs through Devon, Cornwall, back into Devon, and into Dorset on the south coast.
For those that don't have the luxury of the seven or eight weeks it takes to complete, you can also choose a section and come back and hike different parts as time allows.
Trail Details and Information
Where to Stay for Hiking in Cornwall
These are a few of the best areas around Cornwall that make great bases for hiking and walking in the region.
Padstow
The charming fishing port of Padstow is a great starting point for many of the best treks in Cornwall from the Camel Trail to Polzeath, Daymer Bay, and a lot more besides.
There's a ferry service crossing the Camel Estuary so you won't be confined to westerly hikes only.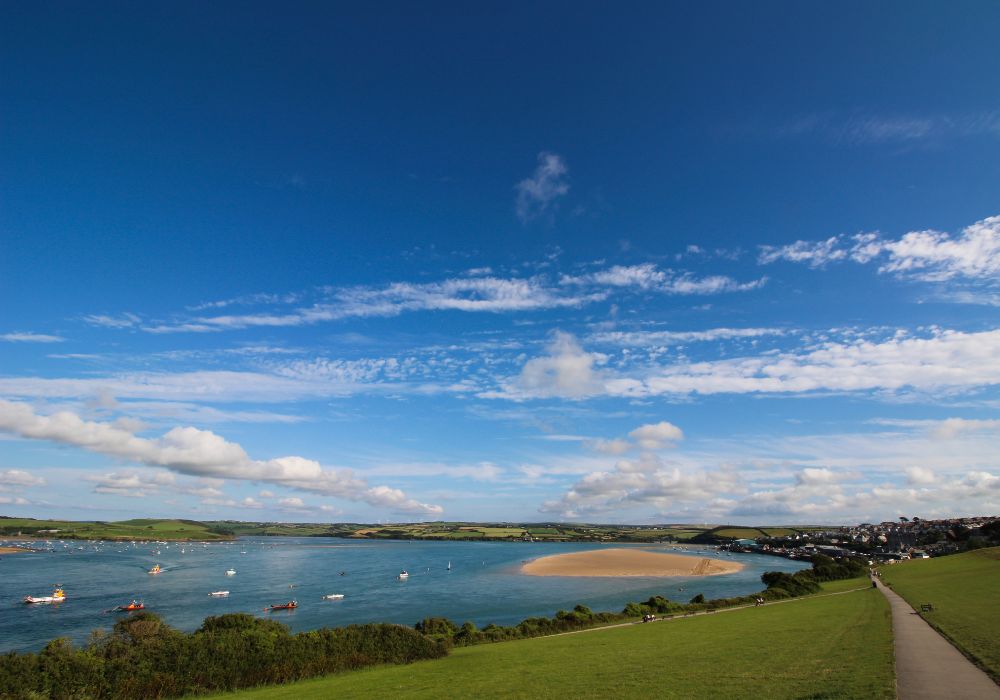 The Old Custom House is a beautiful hotel located in an old stone building right on the Harbour and is within easy reach of both the southwest coast path and Camel Trail.
Port Isaac
Port Isaac is one of the prettiest fishing villages in Cornwall and the southwest coast path runs right along the harbor. You can hike west towards Padstow or east towards Tintagel. There are also some great inland routes starting in Port Isaac that explore the beautiful Cornish countryside.
The Slipway is an excellent hotel just steps from Port Isaac's picturesque harbor and the southwest coast path.
Polzeath
Polzeath makes a great base for some of the best hikes in Cornwall including Polzeath to Port Isaac, Padstow to Trevone, and shorter hikes such as the routes to Pentire Point and the Rumps. The town has lots of bars and restaurants (the Oystercatcher is my favorite) and is the perfect base for beach and hiking holidays.
Polzeath Beach House is the perfect place to stay for hiking in Cornwall. The beach and southwest coast path to Pentire Point, Polzeath, and Padstow is just steps from this boutique hotel.
Penzance
Penzance is a great destination for hikers looking to explore the southern and western parts of the Cornish coast and delve into the county's interesting history of fishermen, pirates, and smugglers.
The Penzance to Newlyn hike is a nice easy one that starts in the town, but there's so much more to discover.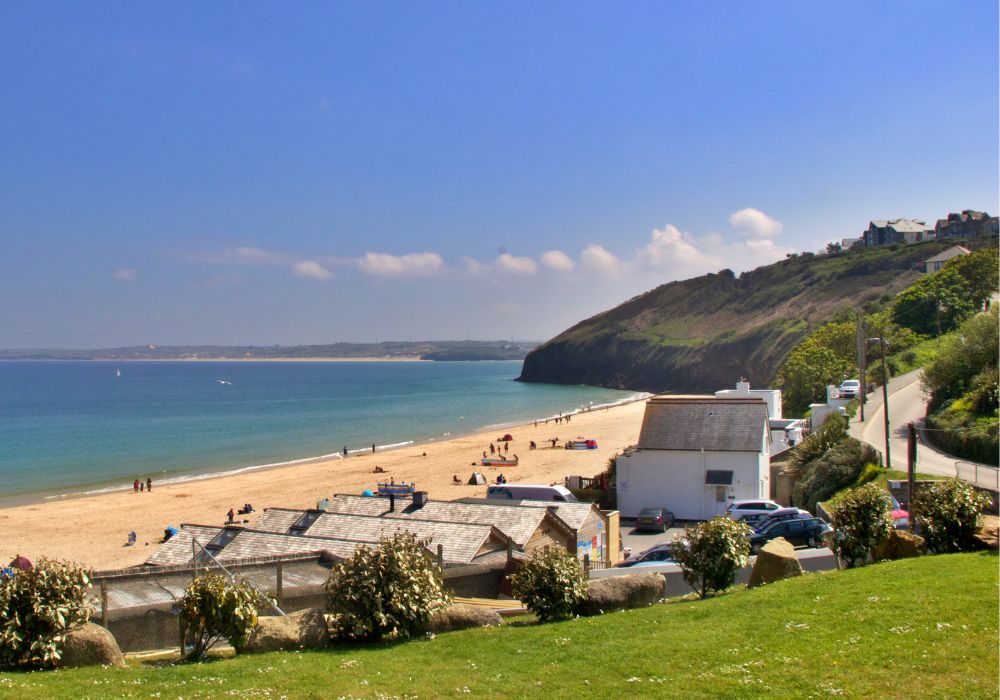 The Ship Inn is a traditional Cornish pub, restaurant, and hotel a stone's throw from the harbor and coast path.
Bude
Bude is one of my favorite towns in Cornwall thanks to its great beaches and easy access to the coast path and other walks. There's lots to do in the town itself from swimming and surfing to enjoying bars, restaurants, and walks along the canal. Be sure to check out my favorite watering hole, the Brendon Arms.
Holbein House is a bed and breakfast just 500 meters from the beach and southwest coast path that offers comfortable stays at reasonable prices.
Hiking in Cornwall: FAQs
Here are some answers to commonly asked questions about hiking around Cornwall.
What is the most popular hike in Cornwall?
One of the most popular coastal walks in Cornwall is Porthcurno to Land's End as this takes in the westernmost point of the mainland British Isles and some of the best scenery in the country.
What is the easiest hike around Cornwall?
The Camel Trail is the easiest hike around Cornwall as it's almost completely flat due to following the River Camel and an old, disused railway line.
Are there any waterfall trails in Cornwall?
There are some great waterfall trails around Cornwall including the falls at St Nectan's Kieve near Tintagel and Rocky Valley in nearby Boscastle. If you want to head inland then Bodmin Moor also has some great waterfall hikes.
What should I wear when hiking in Cornwall?
You'll need sturdy shoes or boots to hit the hiking trails in Cornwall as many of them include rocky cliff paths. It should also go without saying that it's wise to pack waterproofs as Cornwall has its fair share of showers.
What is the most beautiful trail in Cornwall?
Any section of the southwest coast path along the north coast is particularly beautiful. The areas around Tintagel, Port Isaac, and Polzeath offer some of the best views.
Is hiking in Cornwall dangerous?
Trekking Cornwall is very safe providing you stick to the trails on the coast paths and avoid going out in severe storms. Keep dogs and children close by when high up on the cliffs and don't go near any exposed edges.
What is the best coastal walk in Cornwall?
The best coastal walk in Cornwall is the section of south west coast path between Polzeath and Port Isaac. This route takes in some incredible scenery, old villages, secluded beaches, and lots of wildlife along the way.
How long is the Cornish coastal path?
The entire southwest coast path, which includes both Cornwall and Devon, is 630 miles (1,114km). The Cornwall section runs for around 422 miles (697km).
Is Cornwall good for hiking?
Cornwall is one of the best places in the UK for hiking thanks to its pristine nature, stunning views, beaches, fishing villages, and more.
In Closing
Hiking in Cornwall is one of the best activities thanks to the stunning scenery, wildlife, and many wonderful pubs and restaurants to discover along the way. One of the first things I do on any visit is to hit the coastal walks in Cornwall to blow away the cobwebs.
Whether you are looking for a short amble, a day hike, or something more demanding, the Cornwall walking trails should not be missed. Many of these hikes around Cornwall take in some of the county's most famous sights such as Tintagel Castle and Padstow harbor.
Of course, many of these Cornwall treks also include some fantastic beaches, so be sure to pack your swimming gear if hiking in the summer months. The only question now should be, which one of these great coastal walks in Cornwall should you choose first?
Like This Article? Pin it!